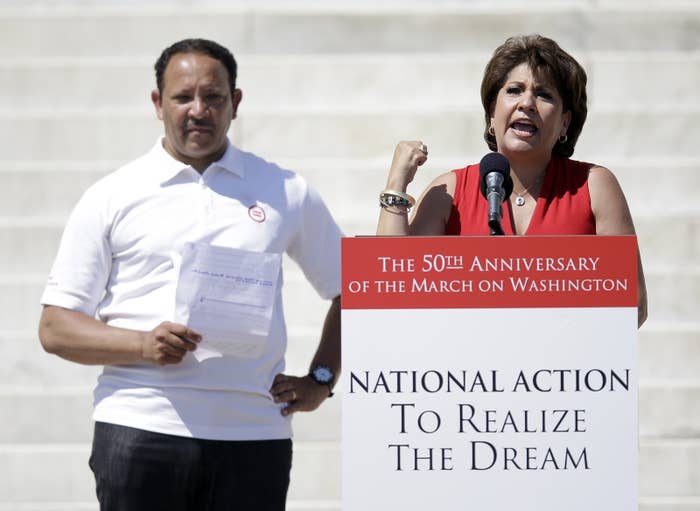 There's a new group tasked with attacking conservatives on a broad range of issues in order to better and more fully secure the Latino vote for liberals. But this group — called One Nation Forward — has also caused enormous friction inside one of the most influential donor networks in the country: the Democracy Alliance.

This past summer, at the sprawling home of Democratic donor James Gollin, some gathered with a specific goal in mind: engaging the Latino community ahead of the 2016 election.
Gollin is a member of the Democracy Alliance (DA), which directs millions toward liberal and progressive political causes and groups. And according to four sources familiar with the meeting, Eddy Morales, the director of the DA's Latino Engagement Fund — which earmarks $5 million annually for Hispanic groups — made two broad proclamations at the meeting. Morales told attendees that the major Latino organizations that usually do civic engagement — National Council of La Raza (NCLR), The Latino Victory Project, Mi Familia Vota, and others — do not have the capacity necessary to mobilize Hispanic voters. And he argued that a new group is needed to shoulder the load that those organizations cannot.
Months later, One Nation Forward has appeared on the scene, incorporated as a 501c(4) organization.
It seeks to, according to sources with knowledge of the group, do the hard-charging political work attacking conservatives on issues like the economy and health care that 501c(3) organizations are not able to do by law. One Nation Forward, its backers hope, will be the answer to the Koch brother-funded LIBRE Initiative that Hispanic progressives have been searching for for over a year.
But leaders of the organizations who usually rely on Latino engagement fund dollars told BuzzFeed News the secrecy of the project (the group has been working under "deep cover," as a source familiar with the project put it, for months) has sowed distrust and frustration.
"I'm alarmed that some of the progressive donor groups and in particular Democracy Alliance are looking at creating yet another organization to target Latino voters and do so in a way that is not seen as collaborative or as proven in terms of the record that other groups have had," said NCLR president Janet Murguia.
"Any good faith," she said, "is diminishing at a time when we need to be looking very strategically at leveraging all that can be done to reach Latino voters with a unified, coherent strategy instead of secret strategizing."
Murguia said her organization isn't perfect, but there isn't much dispute that it has a record, citing NCLR registering 50,000 voters in Florida during the 2012 cycle.
Cristobal Alex, the president of the Latino Victory Fund, which backs Democratic candidates, said the Democracy Alliance should take its limited and valuable resources and invest them in organizations that have a proven track record.
The current situation "creates unnecessary tension when we need to be unified," he said. "The threats can't be from within when we have a major threat in November."
"I thought the Democracy Alliance was about building the capacity of progressive groups that exist, not starting competitors in a field where there is intense competition for a small pot of money," said Frank Sharry, executive director of America's Voice, who also has received DA money. "At this point what is needed is not inspiration, but perspiration."
Gara LaMarche, the president of the Democracy Alliance, said that One Nation Forward is not a DA project. And while he said he views it as perfectly fine that Morales is involved with the organization, LaMarche said he doesn't know much about it.
Emails obtained by BuzzFeed News, however, show that Morales was not the only person affiliated with the Democracy Alliance to be involved with the project. Three other people affiliated with the DA are involved: Tori Yung Ming Miyagi, who serves as principal deputy of the Latino engagement fund and is responsible for grants, strategic partnerships, and fundraising and donor development, according to his LinkedIn page; as well as John Loredo and Tory Gavito, who lead DA donor tables, according to LaMarche. Gavito is executive director of the Texas Future Project executive director, an organization modeled on and supported by the DA.
In a Nov. 12 email, Miyagi wrote to founding members of One Nation Forward about coming to the DA to caucus about pitching and fundraising for the new group.
Asked about that email, LaMarche stressed that Loredo and Gavito are not DA staff but said once the group is off the ground, "if it wants DA assistance, it will have to get in line, and if Eddy or any other staff member is involved in it, they will have to recuse themselves from any decision-making."
LaMarche said that Morales denied to him that he had disparaged existing Latino organizations. Morales did not respond to repeated requests for comment but directed a spokesperson for the group to send a statement saying One Nation Forward will work hand in hand with other organizations "to promote progressive ideas and policies in support of the Latino community."
LaMarche said there is no reason to think that the Latino engagement fund would be directed toward One Nation Forward, citing DA policies that govern whether grants can go to groups that staff members are personally involved in. The DA is "trying to raise more money for Latino engagement efforts so I don't think groups should fear this is a diversion of funds from them," he said. Regarding the concerns of Murguia and others that the new organization might create a duplicate infrastructure, and sap limited financial resources, LaMarche said the "stakes are too high for there to be duplication of efforts."
A veteran operative who has worked with the DA in the past said the problem is that the $5 million Latino engagement fund would be a "nice number," say, for efforts in Nevada — rather than a national civic engagement infrastructure.
Murguia called the current funding level "crumbs."
Hector Sanchez, the chair of the National Hispanic Leadership Agenda, a coalition of 39 prominent Latino organizations, agreed, calling it "historical underinvestment" in Hispanic organizations.
"Everyone wants to talk about the Latino vote but there is no serious investment in Latino voter registration, GOTV, and Latino voter education," he said.
That's why, a different veteran operative argued, that One Nation Forward would indeed be filling a necessary gap as a persuasion, communications- and messaging-based effort, rather than one of voter mobilization.
"In recent years there has been a gap — a hard persuasion message to Latinos that is not coming from a candidate." The idea, the operative said, is to actually treat Hispanics like a swing vote, and not the same as black voters, and try to simply register and turn them out.
"The fact that some Latino leaders believe it's important to develop some potential capacity to deal with gaps does not by itself reflect a lack of confidence in the existing infrastructure," LaMarche said.
LaMarche and the Latino leaders frustrated with the DA both said the election is too crucial — and Donald Trump too much of a gift to mobilize Hispanic voters — for this tension to exist much longer.
"The more Trump doubles down on his messaging and attacks as it relates to bigotry and the Latino community, we've got a real opportunity here to leverage the Latino vote in a way like we never have before," Murguia said. "But that requires sound strategy and significant investments by the donor communities out there."
Hispanic voters are under assault from Trump, LaMarche said, increasing the urgency to get past these disagreements.
"It's absolutely not the time for there to be divisions and infighting among those on the same side," he said. "It would be a tremendous tragedy if we didn't raise all of the resources that we can raise so all the people that believe in immigration reform and economic justice would miss this opportunity because of scarce resources."
One thing is clear, though. One Nation Forward is a robust effort that is already drawing serious resources. Emails show that the group's name was put in front of a focus group more than once. Big donors have expressed interest in the group and a presentation was already made.
In an email exchange with the founding board members over whether they could all speak on a Saturday to get on the same page, Morales made clear that he has big plans for the group.
"I don't mind working on Saturdays to make history," he wrote.