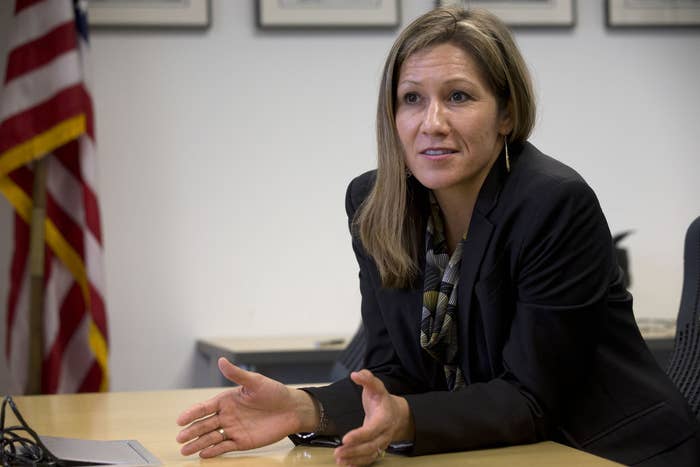 Amanda Renteria, the first Latina chief of staff for a U.S. senator, is a top contender for the high-profile national political director role in an eventual Hillary Clinton presidential campaign, two sources told BuzzFeed News.
Renteria met with Clinton the second week of February in New York City, where Clinton is said to have loved her, the sources said.
Roll Call reported on Thursday that Renteria is "poised to be named the national political director."
Renteria, 40, is a Harvard and Stanford grad, and an experienced Hill staffer, previously working for California Sen. Dianne Feinstein and then Michigan's Sen. Debbie Stabenow. Most recently, she ran a failed bid to oust incumbent Rep. David Valadao in California's 21st Congressional District, where she made outreach to Latino voters a priority, but lost by 17 points, during a Republican wave election.
Still, to Hispanics who have openly questioned whether Clinton would add high-profile Latinos to the top tier of her campaign, Renteria would signal that the presumed favorite for the Democratic nomination is taking outreach to Latino voters seriously.
"I think it's a big signal that Hillary knows she has to and is going to take the Latino community seriously," said Matt Barreto, co-founder of polling firm Latino Decisions.
"It shows it's going to have that sensibility and it's not going to be an afterthought," said Democratic strategist Maria Cardona, who is part of the post-election DNC task force report.
Clinton faced pressure last year from immigration activists to detail her position on executive actions that would defer deportations. (She ultimately tweeted her support for the president's actions.)
"The reason this is important is because Jeb Bush and Marco Rubio are starting to position themselves as candidates that could siphon Latino support," Barreto continued, pointing to a question Rubio received in New Hampshire this week from a voter who asked if he would commit to deporting every single undocumented immigrant in the country. Rubio said it was "not a realistic proposal."
But Clinton is no novice either — she has enduring Latino support that goes back decades from outreach with the community in South Texas in the 1970s.
In 2008, Guy Cecil served as Clinton's political director and Patti Solis Doyle was the highest-ranking Hispanic, serving as campaign manager, before being fired in a February 2008 shakeup.
The Mexican-American Renteria's parents were farm workers and she was described as a "rural Latina" to BuzzFeed News. She's said to be a darling of top Latino donors, who made their presence felt during Obama's reelection campaign to the tune of $32 million from the Henry Muñoz, Eva Longoria-led Futuro Fund, which led to the creation of the Latino Victory Project, that injected $88,000 for TV ads in the final days of the campaign. Renteria raised $1.8 million for her congressional run.
As recently as Jan. 23, Renteria was quoted saying her political future might be in Sacramento rather than Washington, D.C. and she hasn't tweeted since Jan. 26.
Asked how exactly Renteria could manage to penetrate the highest levels of Clintons orbit, a space already inhabited by longtime supporters, someone who knows Renteria said she is the kind of person who instills confidence and gets the job done. They also pointed to her charisma and invoked one of Clinton's mottos.
"She blooms wherever she is planted," the source said.