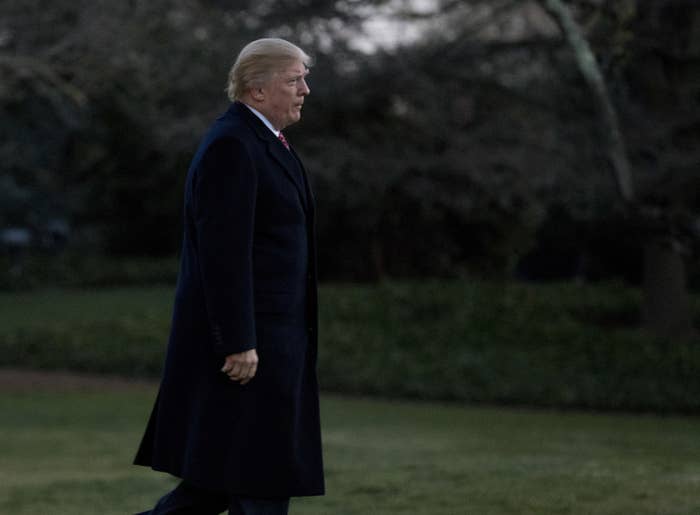 WASHINGTON — It's not a good time to be an immigration activist.
Advocates for undocumented immigrants have struggled since the Trump administration came to power, overwhelmed by the scope of the campaign promises the new president made to his base on immigration, inundated with phone calls from concerned immigrants with questions about their uncertain future, and powerless to stop ramped up enforcement and deportations.
They haven't even been able to enjoy the survival of Obama's Deferred Action for Childhood Arrivals (DACA) program — an unexpected treat that has gone sour in their mouths with the knowledge that it could be revoked at any time and chief strategist Steve Bannon is using it as a "strategic asset" bargaining chip for future immigration negotiations.
Now besieged activists are girding for a coming fight on the use of public assistance programs by undocumented immigrants, after draft executive orders were leaked to Washington Post and Vox that suggested the administration was considering targeting both those who entered the country legally and illegally and who use public benefits.
The draft order, obtained by BuzzFeed News, would require "DHS and the State Department to establish standards and regulations for determining when aliens will become subject to the 'public charge' grounds of inadmissibility and deportability" — or the likelihood they will require public assistance after entering the country.
Any efforts to change the law to deport immigrants in the country legally would be met with fierce opposition by civil rights and liberal groups.
The Trump administration would not confirm or deny the authenticity of the orders and whether or not they were imminent.
But speaking of advocacy on behalf of undocumented immigrants receiving public benefits a Trump official said, "There's a growing problem on the left where the law is a giant inconvenience on the political end. Political calculations are more important than the rule of law."

Marielena Hincapie, executive director of the National Immigration Law Center (NILC), said the floated draft order criminalizing the use of public assistance by immigrants has catapulted the issue to NILC's number one priority, calling it needlessly "inhumane and cruel."
After the draft executive order leaked, a regular NILC conference call that features 60 or so children's advocates, anti-poverty groups, pediatricians and health care workers, had maximum capacity of 1,000 people on the call, Hincapie said.
In her conversations, Hincapie learned of a mother who recently gave birth but asked to be taken off the list to receive formula from the Women, Infants, and Children (WIC) program for her U.S. citizen child because she was afraid it could lead to her deportation. In another case, a social worker called to find out if a DACA patient with cancer could still be treated.
In California, immigrants with legal status and undocumented alike are asking to be removed from county programs out of fear of Trump's plans and being targeted by immigration authorities.
Nina Buthee, executive director of the California Child Development Administrator's Association said that to be eligible for any form of California Department of Education administered subsidized child care, the child must live in California while services are being received. There is no need to provide proof of citizenship.
"We are finding that families are not dropping their children off at child care centers and homes, fearful that ICE may pick them up at their children's school. Additionally, families are not rectifying for care, as they want to stay under the radar screen. It is incredibly tragic that children are not getting access to early education services, out of fear that their parents will be taken away," she said, adding that it is also playing out in classrooms in the state.
"Children are building walls with bricks to protect their friends and families," she continued. "They are more emotional during drop-offs, as they don't know if they will see their parent again. This issue is having a very major impact on families."
A fight over the use of public assistance by immigrants would get ugly fast because of the emotional nature of individual cases and the fact that the Trump administration and other Republicans see it as advantageous terrain for them.
"There's a $20 trillion debt and Democrats want to protest spending taxpayers dollars on people who are here illegally?" the Trump official responded about mounting concerns from Democrats and activists that immigrants' use of public benefits programs will be targeted.

"No one is going to defend the woman that's getting welfare benefits," said a Republican strategist who speaks to administration officials on the position of conservatives.
But the coming fight would feature more than immigration groups.
The American Academy of Pediatrics (AAP), which also sees pushing back against the possible targeting of users of public benefits as a top priority for their organization. said that one in every four children lives in immigrant families and nine out of ten are US citizens.
"A pediatrician cares for children and anything that limits access to benefits on account of where children or their parents were born threatens their well-being," said Dr. Julie Linton, co-chair of AAP's immigrant health special interest group, and professor of pediatrics at the Wake Forest School of Medicine.
Linton said that her organization is in the process of collecting data that shows "pediatricians are reporting decreased patient visits in clinics on account of fear and uncertainty" in American communities.