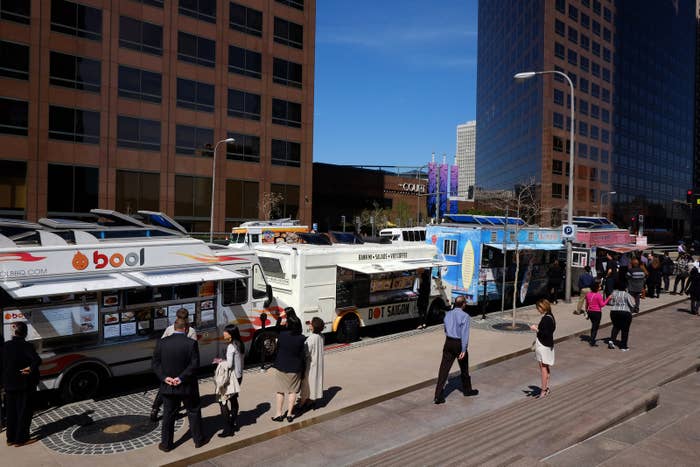 LAS VEGAS — A wall is going up outside the Trump International Las Vegas hotel Wednesday morning.
The Culinary Union, long a Donald Trump antagonist in Las Vegas, is going to "build" a wall of taco trucks outside Trump's hotel, just a couple miles from UNLV, site of the final presidential debate.
The groups aim to have at least five taco trucks outside the hotel, in addition to a banner in the style of a wall that participants will be able to sign.
"We're reminding Mr. Trump that immigrant workers here and across the country will be watching the debate and voting in November," said Yvanna Cancela, the political director for the majority Latino and predominantly immigrant union.

The Culinary Union has held nearly 10 rallies outside Trump's hotel since workers voted to unionize and won last December. They argue that Trump is illegally refusing to bargain with them.

The union will be joined by American Bridge, Latino Victory Project, PLAN Action, iAmerica Action, Center for Community Change Action, For Our Future, and 50 immigrant advocacy activists from Los Angeles and feature speakers like Democrat Ruben Kihuen, who is running to represent the 4th Congressional District in the House.
"We're protesting Donald Trump's hotel here in Vegas, where a majority of workers voted to unionize, and shamefully Trump has failed to sit down at the table with them," Kihuen told BuzzFeed News. "As he has demonized Hispanics, women, veterans, and the disabled, we will send him and those who supported him like my opponent Congressman Cresent Hardy a message that we're here and we vote."

"Everyone coming together is really about sending a message that we reject Trump and the politics of hate," said iAmerica president Rocio Saenz, who said she believes the Latino and AAPI communities will come out strongly to repudiate Trump and elect champions in November.

The Culinary Union and other groups have also worked to naturalize immigrants who want to vote against Trump in November, including some of his hotel workers.
Taco trucks, featuring perennially sky-high approval ratings, were dragged into the 2016 race by a Hispanic Trump surrogate who argued on MSNBC that Latino culture is very dominant, warning that eventually there would be taco trucks on every corner.

The Trump campaign said they welcome the tasty barrier.
"I never, EVER turn down a chance to eat some good tacos so I say 'thanks' for setting up shop right outside!" said senior adviser and Hispanic outreach director A.J. Delgado.