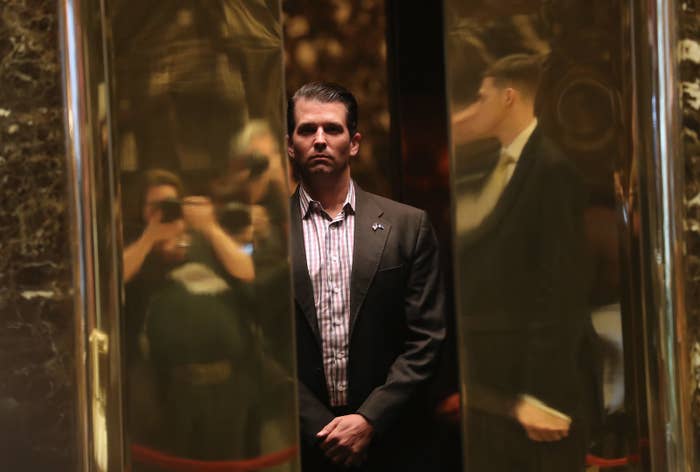 Trump World, caught off guard by the damaging new reports about Donald Trump Jr., is now buzzing over a key question: Who's trying to throw the president's son under the bus?

The disclosure of details regarding Trump Jr.'s meeting with a Russian lawyer — including a full email thread released by Trump Jr. himself Tuesday morning — was spurred by "three advisers to the White House briefed on the meeting and two others with knowledge of it," according to the New York Times, which has published three explosive stories in recent days about the president's oldest son's meeting with a Kremlin-linked lawyer who promised damaging information on Hillary Clinton.
Some in Trump's orbit are now pointing fingers as they try to figure out who the three people are, and they continue to defend Trump Jr. and describe the latest Russia-related stories as "nothingburgers."
"Who's throwing whom under the bus? These are power moves that people are making," said a source close to the administration, calling the tactics "Machiavellian."
Former Trump advisers Sam Nunberg and Roger Stone have tried to game out who could be trying to hurt Trump Jr. on Monday, Stone said, even before the younger Trump released emails that showed a Russian lawyer wanted to share "high level and sensitive information" that was "part of Russia and its government's support for Mr. Trump" — the kind of evidence of Russian motive that has been alleged and suspected but not been available in such a public and damning way.
Although there's no evidence to support the theory, the pair settled on former Trump campaign manager Corey Lewandowski, whom they clashed with during the campaign, as a likely suspect. Lewandowski was fired from the campaign by Trump's adult children the same month as the meeting, with Trump Jr. playing a key role.
"Donny was a vocal critic of Corey — he walked him towards the exits, and fits the broad definition of a White House adviser," Stone said. "I'm not unbiased, but he'd be my choice."
Lewandowski declined to comment on the record.
Others have eyed Trump's son-in-law Jared Kushner as a possible culprit. Kushner, who has been under scrutiny for reportedly trying to create a backchannel for communications between Russia and the Trump campaign, had joined Trump Jr. and then-campaign head Paul Manafort at the June 2016 meeting with the Russian lawyer. He has sought to distance himself from the meeting since it became public, with his counsel referring any questions to Trump Jr.
Another source close to the administration quickly offered a common refrain from Trump allies when the White House finds itself in scandal — the administration brought in too many establishment Republicans at the outset, and not enough true-believer campaign hands. "There aren't that many Trump loyalists in the White House," the source said.
A former Trump campaign aide joked, "I just wish we were organized enough to coordinate with ourselves — much less the Russians!"
The president has said little publicly about the scandal surrounding his son. Sarah Huckabee Sanders, as has become the norm, read a short statement from Trump about his son during an off-camera press briefing Tuesday. "My son is a high-quality person and I applaud his transparency," the statement read. Trump has yet to defend his son on Twitter, as he's done when his daughter Ivanka Trump was criticized, most recently during last week's G20 meeting.
But even as those close to Trump try to figure out who leaked the information, they continue to defend Trump Jr., despite the new emails that make it clear that he knew the meeting was with a "Russian government lawyer."
"Is it problematic? Sure, from a PR point of view," Nunberg said. "But it isn't the Kremlin. Is it evidence that they colluded? No." He added that the lawyer doesn't have a clear connection to Putin or Russian intelligence.
Another source close to the administration described the ongoing Russia investigation, including the latest with Trump Jr., as "great late-night comedy — that's the long and short of it."
The source said it wasn't wrong for Trump Jr. to accept the meeting in exchange for oppo on Hillary Clinton if the next steps were taken carefully. "All you can do is be smart about how you use the information."
But in a reflection of just how much the revelations have led to more questions than answers, Stone offered that the latest stories could also be coming from intelligence agencies, which have already drawn the president's ire.
"What would be smart about attacking the president's son?" Stone said of someone inside the administration going after Trump Jr. "I suspect the sources are in intel agencies."
The administration, which has used being under siege in the past to draw attention instead to leaks they perceive to be part of a larger campaign to hurt Trump's presidency, declined to comment on the matter beyond the president's statement, referring further questions to Trump Jr.'s outside counsel.
Asked whether the administration was concerned about who had provided the New York Times with information and emails related to Trump Jr.'s meeting with a Russian lawyer, a frustrated White House official curtly waved away the question Tuesday.
"I'm not talking about Don Jr.," the official said. "You can talk to Don Jr.'s people about Don Jr."