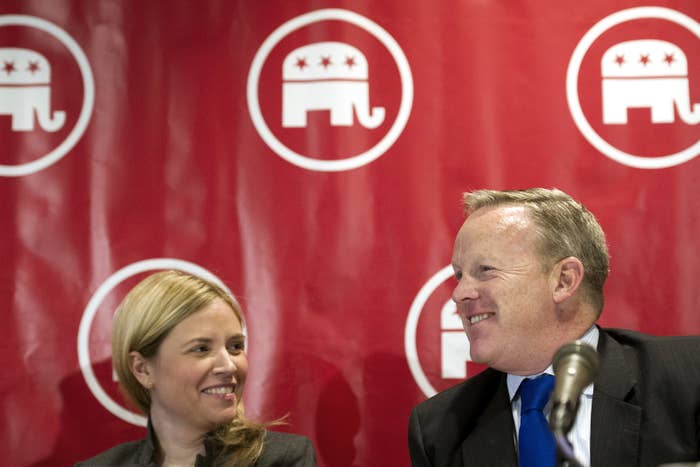 WASHINGTON — The pro-Trump outside group America First Policies was supposed to provide the administration and House allies with robust air cover and the ability to target opponents, but instead was criticized inside and outside the administration as a non-player in the failed health care fight that ended last week. The group needs help and White House deputy chief of staff Katie Walsh is leaving the administration to do just that.
An America First Policies document obtained by BuzzFeed News showed that while the group was criticized for not stepping up, it told donors an Obamacare repeal was among its top priorities to support the administration.
"Our group will focus on and help the White House with the following key policy initiatives," the document to donors of the non-profit said, with the first bullet point being "Repealing and replacing Obamacare," ahead of tax reform which the administration and House Republicans are now keen on addressing after the health care debacle.
The group also said it would focus on state races because "governors and state legislatures will inherit most of the responsibility of our replacement of ACA — having allies in those positions are critical."
Walsh, an ally of chief of staff Reince Priebus from their days at the Republican National Committee together, is moving on from the administration, but the White House was quick to frame her departure as a byproduct of her being the best person for the job to steer America First Policies, and not the first domino of a larger administration shakeup after stumbles in the first two months.
In a gathering with reporters ahead of the press briefing Thursday, chief strategist Steve Bannon, senior advisor Jared Kushner, and Priebus said Walsh was key to Trump's election win and was making a sacrifice by heading to the outside group.
"She's the vital link that pulls things together and makes things happen," Bannon told the group of reporters. "It was abundantly clear we didn't have air cover when it came to the calls coming into lawmakers," Priebus said.
But because of her ties to Priebus, the top officials thought it was important to stress that her departure was not a sign that he was on shaky footing.
"Reince is not next," a senior official said. "Reince is doing a great job."

And a White House official told BuzzFeed News that the reason Walsh is leaving is because America First Policies has been a disappointment thus far and the health care fight showed that the administration needs help from pro-Trump groups.
Leaders of the group "didn't know what the fuck they were doing," the official said. "They needed a pro to get in there,"