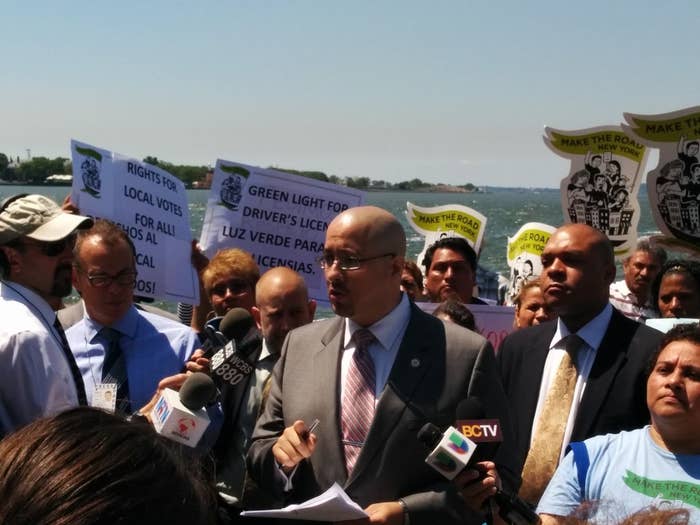 New York Democrats announced Monday new legislation that would grant state citizenship rights to undocumented immigrants.
The bill could represent a bold new advocacy strategy: using states' rights to secure legal protections for the undocumented.
New York State Senator Gustavo Rivera and assembly member Karim Camara's bill would allow undocumented immigrants to vote, drive, receive professional licenses, run for civil office, and receive Medicaid as well as in-state tuition in New York by making them New York state citizens.
"It's up to New York to figure out who its political community is," said Peter Markowitz, professor at the Benjamin N. Cardozo School of Law, who made the legal case for the legislation through the country's dual-sovereign structure. "New York gets to decide who is and who isn't a New Yorker. The federal government may not interfere."
The prospects for federal changes to U.S. immigration law took a hit last week after House Majority Leader Eric Cantor's primary election loss, attributed by some as the direct result of attacks by Cantor's opponent on his immigration record.
Flanked by activists in front of the Statue of Liberty Monday, Rivera struck a positive tone about the bill, called the New York Is Home Act.
Immigrants would be eligible to become state citizens if they show proof of identity, proof of three years of New York State residency, and proof of three years of New York State tax payments; the bill also requires a commitment to abide by state laws and uphold the state constitution, and a willingness to serve on New York juries and to keep paying state taxes.
Rivera said the idea has been in the works for two years and called the legislation "bold," not because of the pieces themselves, but because they are all in one bill.
"This is unlike SB1070," Rivera told BuzzFeed after the event. "Arizona said, 'We can do this and affect things on a federal level.' No, you can't. But the conversation we need to have is: What rights do we have in a state?"
Spokespeople for New York City Mayor Bill de Blasio and City Council Speaker Melissa Mark-Viverito, the first Latina in the role, said Monday they were reviewing the legislation.
"In light of inaction at the federal government, the administration is interested in learning about local initiatives to increase equality among immigrant communities," de Blasio deputy press secretary Maibe Ponet said.
"Given Congress's failure to address immigration reform, people are obviously becoming increasingly frustrated, a spokesman for Mark-Viverito said. "[The speaker] is supportive of increasing voting rights and will be reviewing the legislation."
Cesar Vargas, a DREAMer who has been fighting for the right to practice law as an undocumented immigrant, would benefit from the portion of the legislation that would give licenses for professions like lawyers, doctors, dentists, midwives, and others. He said he is set to work with the mayor and the city council speaker to "see how they can support undocumented lawyers."
"As we stand in front of the Statue of Liberty, we're reminded of the American dream, and I'm reminded of the dream of my mother for me to be a lawyer," Vargas said.
Many sought to draw a parallel between the fight for marriage equality — and its stops and starts over the years.
"This will get a lot of attention for New York," DREAMer Antonio Alarcon, 19, said. "It will take months to pass. We're going to be fighting for this like they did for marriage equality."
"Full equality and inclusion will gain momentum in our time," said Andrew Friedman, co-executive director of the Center for Popular Democracy.
He said his group is in discussion with four to five other states for similar legislation with the stated goal of putting "another horse in the race" in the way those who fought for marriage equality continued to refine what they were asking for.
Jose Davila, the vice president of policy and government relations at the Hispanic Federation, echoed the belief that the legislation comes at an important time for the fight to change U.S. immigration laws.
"Instead of tear families apart, we should be reframing the debate. What kind of state do we want to be?"