Day After Child Pleads With Pope To Ask Obama To Stop Her Dad's Deportation, He's Released
But it wasn't related to the child's visit with the pope. A 10-year-old from Los Angeles, Jersey Vargas, went to Rome and spoke with Pope Francis about her detained father — who could have been deported — a day before the Pope spoke with Obama about immigration reform. The family's lawyer tells BuzzFeed Mario Vargas is being released today.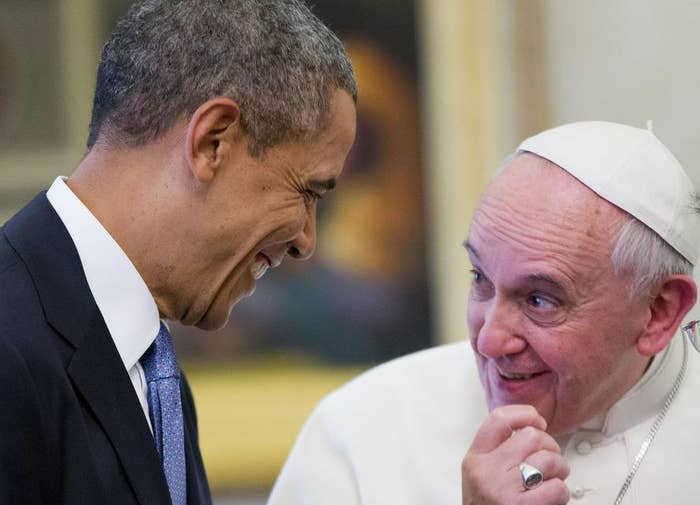 Jersey Vargas, 10, a U.S. citizen from Los Angeles, went all the way to Rome to speak to Pope Francis about her father, Mario — who was detained and could have been deported — ahead of the Pope's meeting with President Obama.
But the family's lawyer, Alex Galvez, told BuzzFeed that Mario Vargas will likely be released today and it has nothing to do with the Pope interceding in his conversation with Obama.
Galvez, who took the case pro bono, said there has been a lot of misinformation in the press. He said Vargas works in construction and couldn't find work in Los Angeles, so he went to Tennessee to work there and send his paycheck back home to support his family. In Tennessee, Vargas was detained because his car had a vehicle code violation, officials told Galvez. He was supposed to be held for three days but instead they forgot about him, Galvez said. When he contacted the jail Vargas was being detained in, they told him it was just a three-day hold and he asked why, if that was the case, Vargas had been held for more than two weeks.
The lawyer said Vargas' clean record and other circumstances are working in his favor for a release Thursday.
"They wanted to set the bond high but he's been here over 10 years, has U.S. children, has a [DREAMer] child, and no disqualifying issues so he's eligible for cancellation of removal."
Galvez said Vargas will be able to receive a work permit, a driver's license, and a Social Security number to work in Los Angeles. He said he will be released today in Louisiana, not in Indiana as was erroneously reported elsewhere.
Despite help from immigrant rights organizations to make his daughter's trip happen, and a blessing from Los Angeles Archbishop Jose H. Gomez, no one knew how likely it was that Jersey would even be able to speak with the Pope.
Yet, there she was Wednesday, speaking with Pope Francis.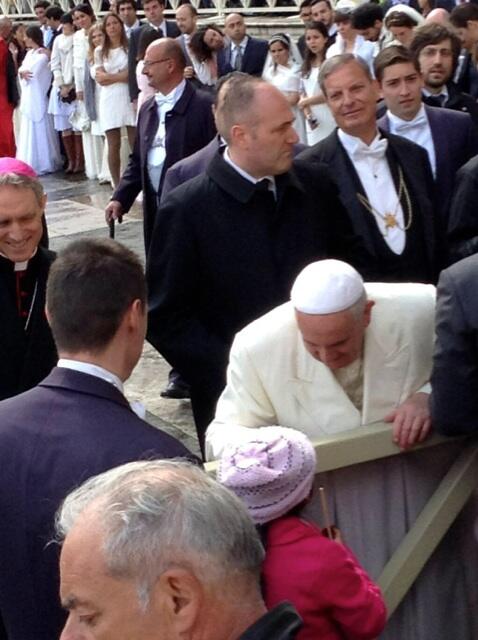 The Vatican and the White House confirmed that the president and the pope spoke about immigration reform among other topics.
"In the context of bilateral relations and cooperation between Church and State, the Parties discussed questions of particular relevance for the Church, such as the exercise of the rights to religious freedom, life and conscientious objection, as well as the issue of immigration reform," the Holy See press office said in a statement.
"I told him to pray for my family and to ask the president to stop deportation because it's separating my family," Vargas told Fox News. "He blessed me and told me he would bring this up with President Obama."
While Mario clearly didn't need his daughter to speak with the Pope, some say the case is an example of a broken immigration system.
"I'm proud as an American of little Jersey Vargas, who at age 10 is working every angle to keep her daddy in her life," Congressman Luis Gutierrez told BuzzFeed in a statement.
"How many kids have the guts to ask the Pope to ask the President to help her keep her family intact?"
Gutierrez said an emerging feeling at the White House is that the "President feels deeply that the deportation of parents hurts American kids like little Jersey Vargas, profoundly and forever," and blamed Republicans for refusing to allow a vote on immigration reform.
"We are simply a stronger nation when our children are able to be raised by their parents and not carted off to detention and deportation," he wrote.