Raul Grijalva: I'm Not Trying To "Torpedo" Julian Castro For VP
Bernie backer Rep. Raul Grijalva said a letter sent to HUD last week was about a policy issue — but his comments accompanying an article questioning Castro's progressive bonafides made it appear otherwise.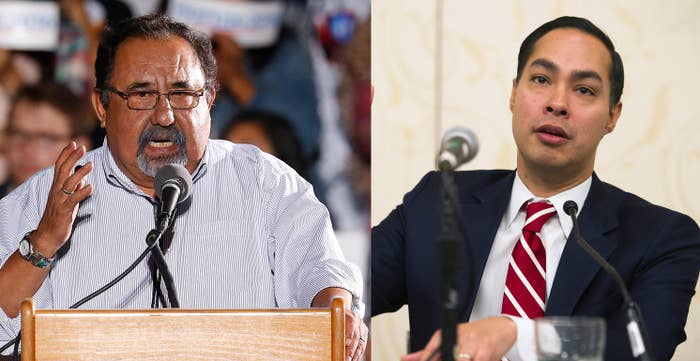 Comments from Rep. Raul Grijalva about a housing department policy under HUD Secretary Julian Castro sent shockwaves through the Latino political class on Wednesday.
Grivalja's comments on the HUD policy were included a Politico article that saw activists question whether the Obama cabinet member is progressive enough and qualified to be Hillary Clinton's vice presidential pick.
"Was my letter, my communication, meant to torpedo him? No, it wasn't," Grijalva told BuzzFeed News, expressing displeasure with the Politico article.

Grijalva noted that he is not new to the issues surrounding the 2010 Distressed Asset Stabilization Program (DASP), which allows HUD to sell mortgages going toward foreclosure to qualified bidders. Grijalva sent a letter to Castro last week saying the program has been selling homes that once belonged to "the families I've spoken with at rock-bottom prices to the Wall Street entities that created this situation in the first place." But he said he similarly raised the issue with Castro's predecessor.
Grijalva, who is a high-profile Bernie Sanders supporter, was joined in the article by activists who are Sanders supporters. Matt Nelson from Presente, a Latino advocacy organization, said Castro will be "toxic" to Clinton if he doesn't change his positions on foreclosures and loans. That organization was previously led by Arturo Carmona, who was Latino outreach director for Sanders, before recently being promoted to deputy political director.
"I supported Bernie a long time ago," Grijalva said. "Arturo and Presente being on top of this issue and insisting this disqualifies him, that's an organizational issue."

The Sanders campaign sent a statement to BuzzFeed News with the first line in bold, stressing that they did not have an opinion on Castro: "The Sanders campaign is not part of this effort being led by grassroots organizations."
But the statement went on to say that while a Latino vice presidential candidate would be "truly historic," the most important test "we must have for any nominee is whether they will put the needs of working and middle-class families before the interests of large corporations."
"Any major Democratic Party candidate should put working families before Wall Street greed and should oppose trade agreements like the TPP," the statement continued. "Displacing families from their homes and supporting outsourcing jobs is not a position that majority of America's working class can support."

Advocates are critical of, in particular, the fact that distressed homes are being sold to big banks rather than non-profit organizations.
In a statement, an official for HUD said providing an option for homeowners to remain in their homes was one of the reasons the DASP program was created. Feedback led them to make changes "including the creation of non-profit only pools and delaying foreclosure for a year."
A source familiar with Castro's thinking said he and Grijalva have a good relationship and he is happy to meet with him to discuss the issue. The criticism was seen by those close to Castro as advocates being driven by Sanders supporters within the particular organizations.
Furthermore, two sources with knowledge of the situation said HUD is set to roll out another set of changes to the program next week (previous changes were made in 2015), and they believe the activists had gotten wind of the coming announcement.
"They want to look like the beastslayer," one of the two sources said. "We did this and then a few days later they made changes."

A source from within the Clinton campaign said the criticism they view as transparently from Sanders campaign was evidence that Castro and his brother Joaquin have been effective surrogates and noted that it comes on the heels of Rosario Dawson criticizing Dolores Huerta, and Luis Gutierrez coming under fire for endorsing Clinton.
"They are systematically attacking our surrogates," the source argued.
The Latino political complex sprung into action to defend Castro's progressive bonafides, including Texas Democratic Party Chair Gilberto Hinojosa and Latino Victory Project president Cristobal Alex, noting that he championed universal pre-K and passed an LGBT non-discrimination ordinance. Castro is, of course, one of if not the most prominent young Latino Democrat.

"Let's be clear: Julian Castro is a known quantity to the Latino community," said National Council of La Raza president Janet Murguia. She said he opposed Texas' anti-marriage equality law and as a mayor in a state as red as Texas he was pragmatic, building "a bipartisan, private-public coalition that successfully got the voters of San Antonio to vote for a sales tax increase" in order to pay for the pre-K program.

Some were also critical of the optics of non-Latino organizations (Presente was the only Hispanic organization) attacking an up-and-coming Mexican-American Democrat in a party short on high-profile Latinos.
Calling the attacks on Castro "completely unfounded" and "short sighted," Alex said they "only serve to pit us against each ocher. These groups should be ashamed of targeting one of our own who has devoted his life to standing up for our community and for those in need."

League of United Latin American Citizens (LULAC) president Roger Rocha said the attacks were driven by Sanders supporters. "To me, it was just another way of attacking the Clinton campaign and that was very obvious," he said. "If Bernie was looking at Julian, do you think this article would have been written the same way?"
For his part, Grijalva said Castro has done good work opening up housing opportunities for LGBT people and people with prison records, but made it clear that he still has more questions for Castro should he be in the running to be vice president in the future.
"Politically, I would like to know more about a future vice president than I know now," Grijalva said. "I think that's a fair request: on issues like climate change, empowerment for our community, and on immigration reform."