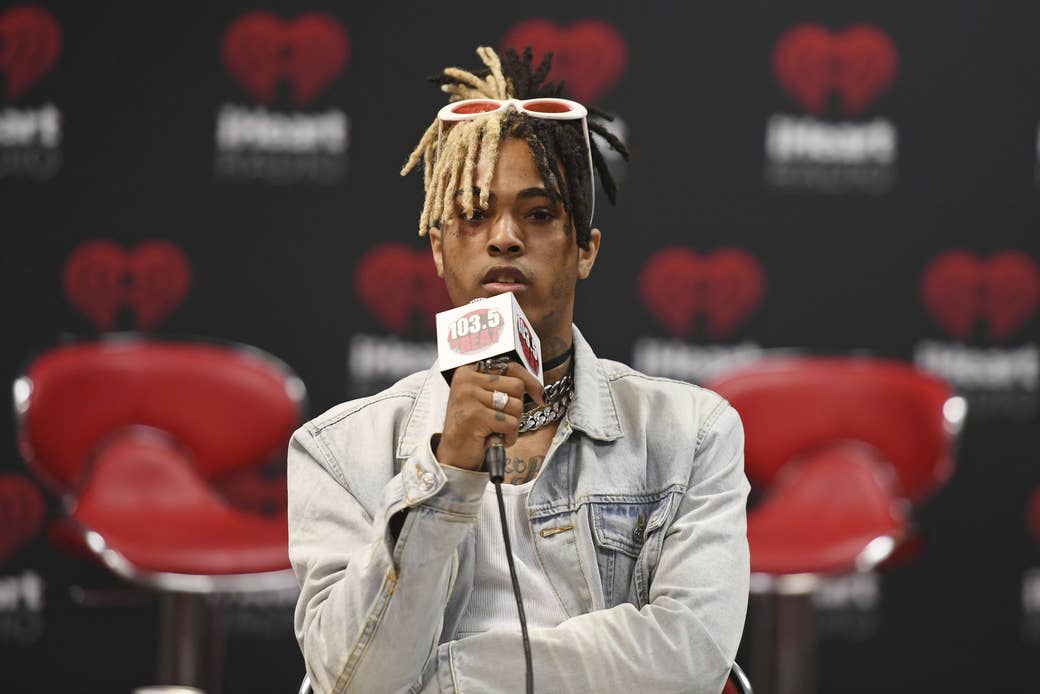 On Monday, 20-year-old Jahseh Dwayne Onfroy, better known as the controversial rapper XXXTentacion, was fatally shot outside of a motorcycle store in Deerfield Beach, Florida. According to eyewitness accounts, two assailants ambushed the rapper in broad daylight before fleeing in a dark SUV with a Louis Vuitton bag, possibly full of cash. One suspect, 22-year-old Dedrick Devonshay Williams, is now in custody.
Following news of XXXTentacion's death, hundreds of stunned fans mourned his loss. Massive crowds gathered on the streets of Los Angeles, and a vigil was held near the site of the shooting in Florida. Even more fans shared tributes on social media, including @bre73263935 who tweeted, "your songs helped people," and @mullakors who lamented, "I can't get over this shit." Among those memorializing the late rapper on social media were also several high-profile musicians, such as Kanye West, Diplo, and Lil Yatchy.
This outpouring of raw emotion is one part of the troubling legacy that XXXTentacion leaves behind in the wake of his short, chaotic life. A leading member of a recent wave of successful underground musicians dubbed the "SoundCloud rappers," XXXTentacion first made Billboard charts in 2017 after uploading his debut track "Look at Me!" to SoundCloud's popular streaming service. The unlikely hit, throbbing with darkly personal lyrics, volcanic energy, and lo-fi, distorted sound, rapidly came to signify the rapper's popular brand of music, known as "emo rap" to some and "sad hip-hop" to others.
Yet a greater part of XXXTentacion's legacy is one of stomach-churning violence. At the time of his death, the 20-year-old rapper had already amassed a number of criminal charges and was awaiting trial on 15 more felony counts, including aggravated battery of his pregnant ex-girlfriend that left one of her eyes "leaking blood." Also horrifying was the rapper's arrogant admission to interviewers that he once brutally beat a cellmate he suspected of being gay, to which he showed no remorse. Because of this history, many have criticized the impulse to make a martyr of XXXTentacion. In response to Lil Yatchy, @JmLillie wrote: "Support his legacy of domestic abuse, Nah I'll pass." Many others were critical of what felt like too little too late when it came to the troubled star, tweeting at celebrities like Kanye: "fake love."
I'm not here to make XXXTentacion out to be a sympathetic character. And I don't support excusing abusive behavior of any kind on account of creative genius. Despite the impact of his artistry, the rapper was dangerous, misogynistic, and anti-gay in his lifetime, and for that he deserved to be held fully accountable in a court of law to the extent that his victims saw fit. But if we're going to take XXXTentacion's history into account as we figure out how to weigh his memory, then we have to consider his whole history. How can we expect more from our culture's rising stars if, from beginning to end, all we offer them is violence?
With the reckoning of the #MeToo movement, we've seen our culture demand its artists be held accountable for their actions, regardless of the impact or popularity of their art. But, considering that pervasive violence is now a reality for youth in America, is our criticism of their identification with XXXTentacion and his music really that fair? If we are going to denounce XXXTentacion for his violent behavior, we also need to consider where that violent behavior originates.
If you can, for a moment, separate the late Jahseh Onfroy from his public image as the rapper XXXTentacion, here's what you have:
Jahseh Dwayne Onfroy was born on Jan. 23, 1998, to Jamaican immigrant parents, Dwayne Ricardo Onfroy and Cleopatra Bernard. There may not exist a less subtle nod to the black slave labor upon which the United States was founded than Onfroy's Southern birthplace, Plantation, Florida. The city of Plantation sits in Broward County, which is an area of southeastern Florida so devastated by the current opioid crisis — there were more than 11 deaths per week in 2017 — that in March of this year Broward County filed suit in federal court against major opioid drug manufacturers, citing public negligence.
How can we expect more from our culture's rising stars if, from beginning to end, all we offer them is violence?
In his earliest years, Onfroy seems to have been shuffled, at the hands of his single mother, between the care of multiple adults of questionable capacity. The reason for all this shuffling, according to Onfroy, was that his mother, who was 17 or 18 when Onfroy was born, "had it hard." Onfroy was 6 years old the first time he tried to stab someone, a man who was "messing" with his mother, presumably in front of the young Onfroy. This would be the first in a series of violent acts that followed Onfroy throughout the rest of his short lifetime.
As Onfroy began developing an interest in music, he was persuaded by family members to join the choir at Margate Middle School, but was later expelled for fighting. He then spent six months in a Christian boys' home, after which he was released to live with his grandmother in nearby Lauderhill, also in Broward County. After graduating to more serious offenses like armed robbery and oxycodone possession, according to this 2016 interview with hip-hop podcast No Jumper, Onfroy made it to 10th grade at Piper High in Sunrise, Florida, before dropping out of school altogether. He was soon serving time in Broward Juvenile Detention Center, where he befriended 16-year-old Stokeley Goulbourne, aka Ski Mask the Slump God. The two boys stayed in contact following their releases, forming the rap collective Very Rare. You already know how the story ends.
The question of worth seems to have haunted Onfroy, whose entire life was one cultivated by violence. His sophomore album ? begins with a warning for the listener that doubles as a set of instructions: "If you are not open-minded before you listen to this album, open your mind. … It's something you can find comfort in. It's very comforting, but discomforting at the same time." What follows is a somber and understated guitar riff that opens the track "ALONE, PART 3." "Can't seem to find someone's shoulder," Onfroy sings, his shaky, disappointed vocals more reminiscent of '90s alternative rock band Silverchair than confident, smooth-delivering rappers like Biggie, Tupac, or Dre. "ALONE, PART 3" never really comes to a climax. It's more apt to say the song unravels into a question, one that is sung in a nearly inaudible whisper-groan: "What is my worth?"
Violence was administered not only by Onfroy himself, but also upon Onfroy's entire generation by design of our nation and current cultural milieu. It's heartbreaking, but not surprising, that Parkland, Florida's Marjory Stoneman Douglas High School, where in February of this year 17 people were killed in the deadliest high school shooting in US history, also sits in Onfroy's home of Broward County. To hear the dedication offered to Parkland's young shooting victims that begins the track "Hope" is perhaps what Onfroy meant by the album disclaimer of "comforting and discomforting at the same time." At the same time listeners were streaming rapper XXXTentacion — and even if they ultimately chose not to listen to his music on account of his crimes — society was failing Onfroy and his peers, who were not so subtly despairing, screaming at us in outrage, shouting, "Look At Me!"
A few months before his death, Onfroy shared an oddly prophetic video, an impromptu manifesto of sorts, via Instagram Live: "If I'm gonna die or ever be a sacrifice, I wanna make sure that my life made at least 5 million kids happy or they found some sort of answers or resolve in my life," said the rapper. "I know my goal in the end, and I know what I want for everyone, and I know what my message is. So I just wanted to say I appreciate and love all of you, and I believe in you all. … You are worth more than you could believe." Regardless of his criminal charges, the enigmatic rapper had become an inspirational figure for millions of young Americans who face a daily dystopic reality of mass shootings, deportation, and increased mental illness and suicide rates, and who heard their anger, sadness, and frustration reflected in XXXTentacion's violently depressive tracks.
In The Art of Cruelty, writer Maggie Nelson investigates what Buddhists have called "styles of imprisonment," or art's unpredictable capacity to offer insight into "the sometimes simple, sometimes intricate ways in which humans imprison themselves and their others." This is just as true for the artwork itself as it is for the impact of our reaction to it. Perhaps the most devastating part of XXXTentacion's story is not that it happened, but the fact that it's over. We won't ever get to know what might have been, because unlike someone whose privilege allows a second act, XXXTentacion will never get a redemption arc. Instead, he gets a viral video of his lifeless body, slumped in the front seat of his BMW on Monday, leaked by TMZ. What kind of answer, what kind of worth, is that?
CORRECTION
XXXTentacion's legal name, Jahseh Onfroy, was misspelled in an earlier version of this post.