Area of Expertise is a column on niche interests, personal passions, and other things we might know or care a little too much about.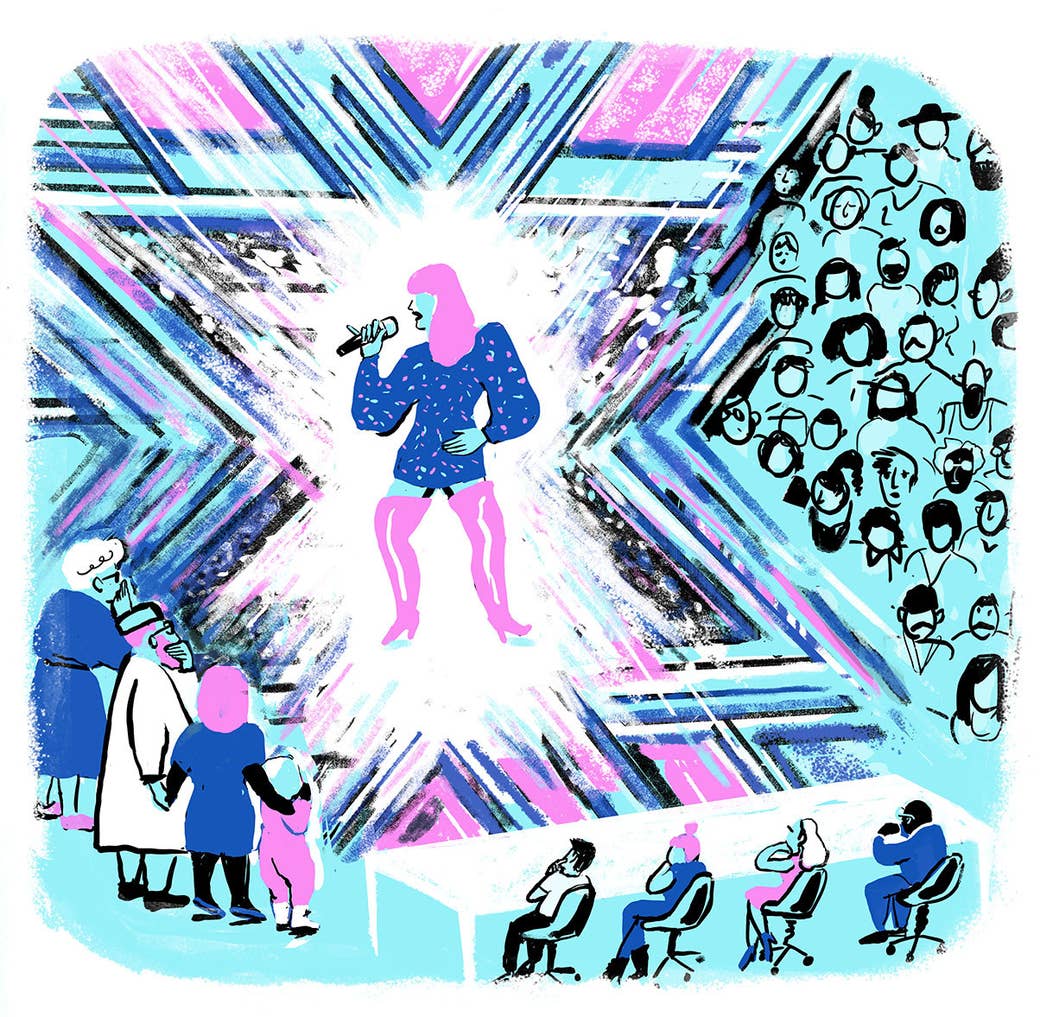 I don't know about you, but whenever I need to let loose a Kim Kardashian–esque ugly-cry, I binge-watch clips of reality TV talent competitions on YouTube. American Idol, Rising Star, The Voice, The Voice Kids, The Voice UK, America's Got Talent, Britain's Got Talent, New Zealand's Got Talent. México Tiene Talento works too — it doesn't matter that my Spanish is terrible (that's Spanish for "terrible"). The language of music is, as they say, universal. If the show features live vocal performance of any variety, chances are I've cried to it.
The scene is as grim as you might imagine: Picture me slumped and nearly horizontal in bed, with the sick glow of my laptop radiating across my damp, swollen complexion until 2, maybe 3, in the morning. No one would call me picky about my clip selection by the time the 11th hour rolls around, but I always prefer watching the audition clips first. They're less processed, more raw, more able to serve up the hyperreal sentiment I find myself needing from my position behind the screen, where the modern experience of human empathy is typically diminished to a few lackluster heart emojis.
I want so much more than heart emojis. I want pomp and circumstance, smoke machines, some kid-from-the-neighborhood's name flashing in bright, garish light. I want to share big Heartbreak and big Triumph. And, more than anything, I want to weep in collective relief with a live theater audience over the discovery that yes, Korea's Got Talent contestant Choi Sung-bong — a 21-year-old construction worker who, after being left at an orphanage when he was 3, spent his childhood on the streets of Daejeon, South Korea — is nothing short of a natural.
But when it comes to mainlining pure, uncut emotion, my drug of choice is and always will be The X Factor. The international TV franchise originated in the UK in 2004 as a creation of Simon Cowell — TV's "Mr. Nasty" — following his success as the caustic judge everyone loved to hate on American Idol and its shorter-lived British cousin, Pop Idol. The American version of The X Factor aired from 2011 to 2013, and though it hardly became the cultural phenomenon that Idol was in the early aughts, I'm proud to say I've cried (and cried) to all three schmaltzy seasons since then. Doesn't anyone remember college lovebirds and Season 3 winners Alex & Sierra? Love has wings, y'all, and it flew Alex & Sierra all the way to the top.

The procedural differences between X Factor: USA and American Idol are, in fact, negligible. Both shows award the winner a record deal worth a couple million dollars, both are judged by a panel of celebrity judges that includes Simon Cowell, and both allow viewers to pass Kantian judgment on contestants through a democratic, at-home voting process. In transitioning from Idol to X Factor, Cowell said his main goal was to "supersize everything," which is exactly what he did, combining the dramatic glitz and glamour of Idol with the homespun earthiness of the Got Talent franchise (while also leaving Ryan Seacrest's humiliating voiceover behind).
The X Factor audition operates more like a televised act of communal emancipation, one that frees both its contestants and its viewers from those painful versions of ourselves we'd prefer to bury deep in the past.
"Hey, rock star" is the greeting that 19-year-old Jillian Jensen, a normal girl from a normal town in Massachusetts, receives as she walks onto the stage in a particularly emotional judges' audition from Season 2. In the heavy black eyeliner and leopard print I'm sure many of us sensitive types favored back in the day, Jensen could be you, or someone you knew in high school. "I was bullied a lot," she tells the judges. And when L.A. Reid says, "Jillian, I don't know where the bullies are, but you're standing on the X Factor stage" (and in stilettos, no less), the effect is to remind us all how far we've come since sixth period English class. By the time Jensen starts singing, it doesn't matter that her voice is imperfect or that she croaks the lyrics of Jessie J's "Who You Are" through tears. It's the singing itself — not the competition — that's the saving.
In this way, the X Factor audition operates more like a televised act of communal emancipation, one that frees both its contestants and its viewers from those painful versions of ourselves we'd prefer to bury deep in the past. And the more average a contestant's story, the more burdened it is with everyday tragedy, the higher the emotional reward. Demi Lovato is crying before Jensen's song even ends.

Season 2 of The X Factor was also the first time the world was introduced to Camila Cabello, whom you might recognize as the chart-topping Cuban American pop star responsible for getting "Havana-ooh-na-na" stuck in your head last year. When asked by X Factor judges what she does when she's not singing, a then–15-year-old Cabello shrugged her shoulders and replied, "I would love to say something interesting, but all I do is sing karaoke and watch, like, One Direction videos."

She's so normal and relatable that the emotional stakes of Cabello's odyssey are raised somehow higher, even more so when you take into account that Cabello actually bartered her own quinceañera celebration in exchange for a ride to the judges' audition in North Carolina. She eventually makes it to the Season 2 finals as a member of newly formed girl group Fifth Harmony, where they perform a cover of Ellie Goulding's "Anything Could Happen" that even Harmony-hater Britney Spears admits is "magic." It's a story of epic hope and transformation for normal girls everywhere.
When I was 19, the same age Jensen was when she walked out onto the X Factor stage, I was far from living out my dreams. Instead, I was living in a residential treatment center for eating disorder patients, trying to will myself into wholehearted recovery. It was during that time that I befriended another ED patient, also 19, who loved watching reality TV talent competitions as much as I did. We'd share clips during the many listless afternoons spent lying around on the purple couch in the dayroom, our bellies painful and distended from all the Ensure and tube-feeding. I guess we wanted to know, as much as any of the contestants did, as much as Jensen, or Cabello, or Choi, that things could still change — that anything could happen. ●