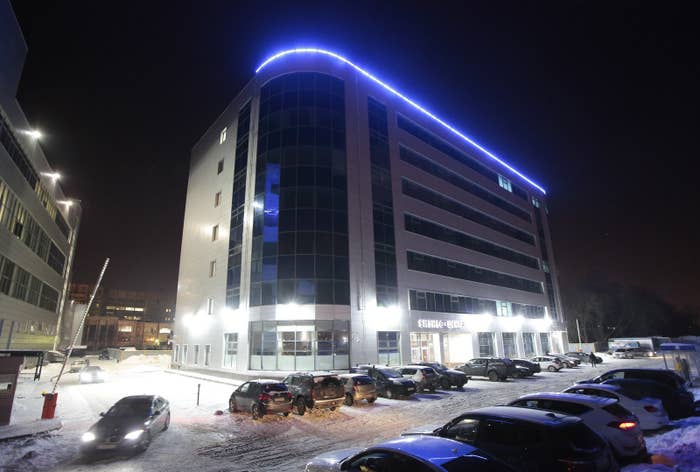 The husband of an alleged former manager of Russia's Internet Research Agency, who moved to the United States two and a half months ago, said the couple came to the country on a work visa.
Standing in the Bellevue, Washington, lobby of his employer, Wargaming, an international game developer with at least one office in Russia, Dmitry Fedorov said he received an L-1 visa through the company. His wife, Agata Burdonova, got her visa through him.
Burdonova was identified by an independent Russian news outlet, TV Rain, as a former manager at the Internet Research Agency, which special counsel Robert Mueller accused earlier this month of organizing the Russian meddling in the 2016 presidential election. TV Rain, which has broken a number of stories about the IRA, reported that Burdonova had relocated to Washington state.
Mueller charged 13 Russians with defrauding the United States by using fake social media accounts to sow political and social discord in order to interfere with the 2016 election and the political process. The IRA and two other companies Concord Management and Concord Catering, were also charged in the 37-page indictment. Burdonova was not among those indicted.

Fedorov said news reports that Burdonova worked at the IRA are false and that her past had nothing to do with how they came to the United States.
"She never worked for them," Fedorov told BuzzFeed News.
However, her former coworkers told TV Rain that Burdonova worked under Katarina Aistova, who was interviewed by the New York Times about the IRA in 2015 before she became the head of its media department. Burdonova posted a picture of herself with Aistova on Facebook and on VK, a similar Russian social media platform, and said she'd had a farewell party as she prepared to fly to the other side of the world.
Burdonova moved to Bellevue, Washington, on Dec. 7, a move she documented on her social media accounts.
Fedorov, wearing khakis and a hoodie in the lobby of Wargaming, which bills itself as offering "a unique world of epic online battles and ultimate struggle for global supremacy," was upset about the sudden interest in their lives. His LinkedIn claims he's worked for Wargaming since 2014.

Asked about the use of foreign fake social media accounts set up by the IRA to interfere with the elections, Fedorov said that was normal.
"That's how the internet operates. Basically it's not about Russia at all," Fedorov said. "There's lots of fake accounts."
Fedorov said he came to the United States on an L-1 visa and Burdonova on an L-2 visa.
The L-1A visa allows a US employer to bring in an executive or manager from one of its affiliated foreign offices, according to US Citizenship and Immigration Services. Employees coming to the US to establish a new office are allowed to stay a maximum of one year. Everyone else can stay a maximum of three years initially, with possible two-year extensions for a maximum of seven years.
Another type of L-1 visa is the L-1B which allows someone with specialized knowledge to come to the US from a foreign affiliated office with. Fedorov did not specify which one he had through Wargaming, which is headquartered in Cyprus with offices in St. Petersburg and Washington state.
Several IRA employees have taken short trips to the US to do work for the organization. Fedorov said Burdonova came to the US because of his job.
"Nothing about our current life is related to her," Fedorov said.
On her first photo of Bellevue that she posted to VK, she used the hashtag, in English, #ExtendedStayAmerica. She has maintained the same LiveJournal blog since 2009, claims on VK that her occupation is a blogger, and has posted several photos of herself at home with a computer.
Fedorov told BuzzFeed News Burdonova was currently unemployed.
L-2 visa holders, like Burdonova, are generally allowed to stay in the country as long as their spouses have a valid work visa. She's able to work in the United States with an L-2 visa by filling out an application for employment authorization and paying a fee, according to USCIS.
The pair live in downtown Bellevue, Washington, across from Seattle. Their downtown "premier apartment" building offers a rooftop terrace with fire pits, a 24-hour gym, and entertainment suites.
David Leopold, an immigration lawyer and a past president of the American Immigration Lawyers Association, said that in order to get the L-1 visa for managers the person has to be fairly high up in the organization.
"It can't just be anyone," Leopold told BuzzFeed News.
The L-1 visa can be used to get a US green card, Leopold said.
"L-1 managers can put someone in the position to be fast-tracked to a green card and pathway to citizenship," Leopold said. "It allows the company to petition right away for them."

Last week's indictment said that the IRA had the stated goal of "Spread[ing] distrust towards the candidates and the political system in general."
In 2016, the organization used fake online personas on social media platforms such as YouTube, Facebook, Instagram, and Twitter, shared derogatory information on Hillary Clinton, Ted Cruz, and Marco Rubio, and supported Bernie Sanders and then-candidate Donald Trump, the indictment said. They ran a Twitter account "March for Trump" and Facebook accounts "Clinton FRAUDation" and "Trumpsters United."
The IRA personas pushed a variety of political views, though conservative accounts received far more engagement online.

The charging papers also said members of the IRA traveled to the US with travel visas under false pretenses in order to collect intelligence for their operations. In some instances, they posed as US political and social activists.
Two of the accused, Aleksandra Krylova and Anna Bogacheva spent three and a half weeks traveling around the US, with stops in Nevada, California, New Mexico, Colorado, Illinois, Michigan, Louisiana, Texas, and New York, according to the indictment.
Another unnamed person who worked for the IRA traveled to Atlanta from Nov. 26, 2014, to Nov. 30, 2014.
"L1 managers can put someone in the position to be fast tracked to a green card and pathway to citizenship," Leopold said. "It allows the company to petition right away for them."