Woman Arrested In Baltimore Details "Traumatizing" Jail Conditions
An 18-year-old Baltimore college student who was arrested during Monday's demonstrations told BuzzFeed News that detainees were packed into cells, mocked, and held in terrible conditions.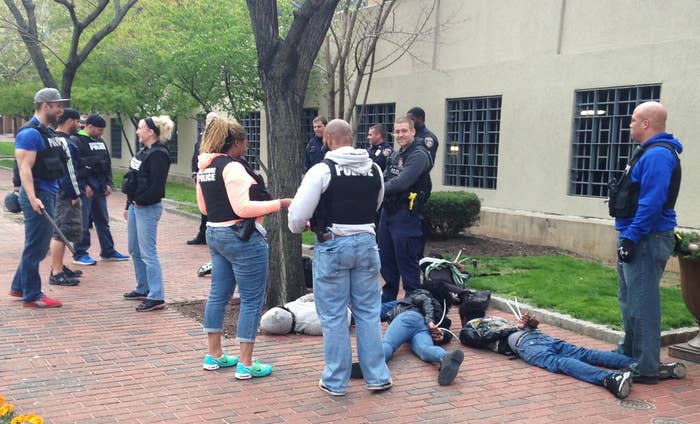 Saucha Robinson said the worst moment of being jailed during the unrest that hit Baltimore overnight Monday was when guards unleashed pepper spray to subdue two people who were fighting somewhere outside their cell.
"It started going into all of the cells," the 18-year-old college student said. "Everybody was choking and there was nothing we could do."
Later, a woman in her cell started to have an asthma attack. As Robinson helped lay her down, the other detainees started banging on the metal door to get the guard's attention. One of the guards who came up to the window said "What do you want us to do about it?" as the woman turned red, Robinson recalled.
The guards asked the woman to come to the window, but she was unable to on her own, Robinson said. After being helped up to the window, she was put on an oxygen mask.
Finally, at a hearing with a commissioner at 4 a.m. Tuesday, she was only asked if she needed a lawyer. She said she didn't need one.
"How will I know if I need a lawyer if I don't even know what I've been charged with?" Robinson recalled saying.
She was told she'd have to see another commissioner, but that never happened.
"I understand it was a state of emergency, but they have to be prepared for things like this," Robinson said. "There has to be a smarter way to go about it and protect the city and keep things under control."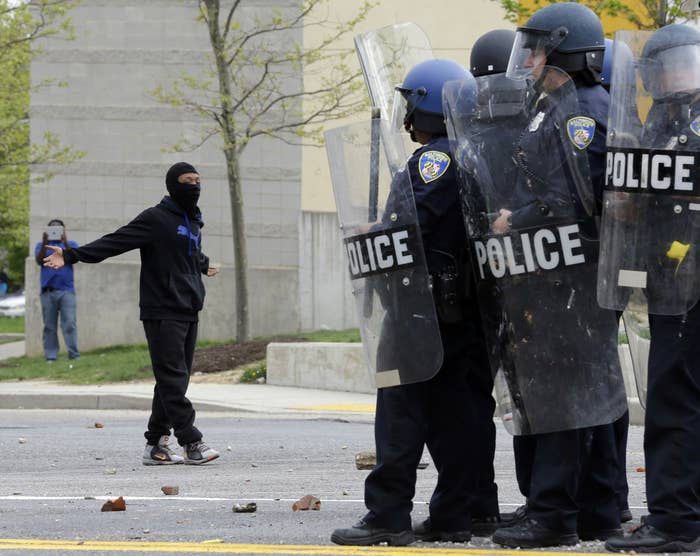 Robinson was among the 235 people arrested Monday during the city's protests over the death of Freddie Gray. Beyond the lack of information, she said she was held in a tiny cell with 10 other women under deplorable conditions.
Robinson said she got caught up in the arrests after she and two friends had walked out of Coppin State University to watch the protests. When the demonstration began to get violent about an hour later, police started rounding up everyone in sight, she said. It was at that point that Robinson said she and her friends attempted to return to the college, but she was arrested after being struck on the leg with what she suspects was a beanbag.
After being forced to sit on broken glass that cut her hands, Robinson said, she was placed in a holding cell inside Baltimore's Central Booking and Intake Facility with 10 women. And there she remained, from about 8 p.m. Monday to 7 p.m. Wednesday.
Inside the concrete cell, the women shared a sink and exposed toilet. Those who could sleep did so on the floor, or took turns on one of two concrete benches, Robinson said. The women eventually resorted to using bread slices handed out as food as pillows or seat cushions.
"It was traumatizing," Robinson told BuzzFeed News. "This was the first time I was arrested and it's unfortunate that it was under such extreme conditions."
Correction officers also declined to provide pads to women who were on their period, Robinson said. Soon, the cell soon started to smell like urine and body odor.
"We didn't have a choice but to smell each other," Robinson said. "When officers would walk by or open the door, they would make comments like 'Oh you all stink.' It was all very unprofessional."
A Baltimore public defender this week echoed similar concerns about the conditions inside the jail and said most were held without being formally charged or having a bail hearing.
Maryland Department of Corrections spokesman Gerard Shields declined to comment about the alleged conditions.