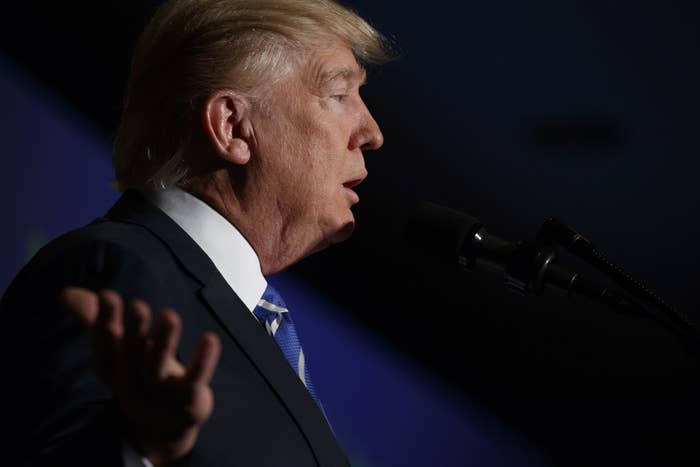 President Trump, speaking Wednesday at an event with law enforcement officials from across the country, claimed without proof that violence in Chicago is caused by undocumented immigrant gang members.

"So much of the problems — you look at Chicago and you look at so many other places — so many of the problems are caused by gang members many of whom are not legally in our country," Trump said.

Trump made the assertion at a conference for the Major County Sheriffs' Association and Major Cities Chiefs Association without offering any proof to back up his claim. A 2015 report from the American Immigration Council found that immigrants were less likely than native born people to commit crimes.
From 1990 to 2013, the number of undocumented immigrants in the US more than tripled from 3.5 million to 11.2 million, the report said. During that same period, FBI data found that the violent crime rate declined by 48%.
Charis Kubrin, a University of California, Irvine criminology professor who has extensively studied the correlation between immigrants and crime, said Trump's statement was too broad and diminishes the complexity of Chicago's crime issues.
"That just completely negates all of the other things going on in that city that contribute to gang problems, but on the other hand I don't want to say gangs don't matter," told BuzzFeed News.
While information on a person's legal status is not publicly available in FBI databases, Kubrin said researchers have found that immigrants as a whole do not increase crime rates.
"Immigration has no impact whatsoever on crime," Kubrin told BuzzFeed News. "When there is an impact… It's more likely to be negative, meaning more immigrants, less crime."
Kubrin and a colleague recently examined 50 studies published between 1994 and 2014 on the immigration-crime relationship and found that while some studies showed a correlation between immigration and increased crime, there were two-and-a-half times as many findings that showed immigration led to a reduction in crime.
"We find no evidence to indicate that immigration leads to more crime and it may, in fact, suppress it," Kubrin wrote in a piece for The Conversation.
An analysis of crime in the country's 30 largest cities found that violent crime is projected to increase slightly by 3.3%, driven in part by a 17.7% increase in Chicago. Chicago is also expected to account for 43.7% of the total increase in murders.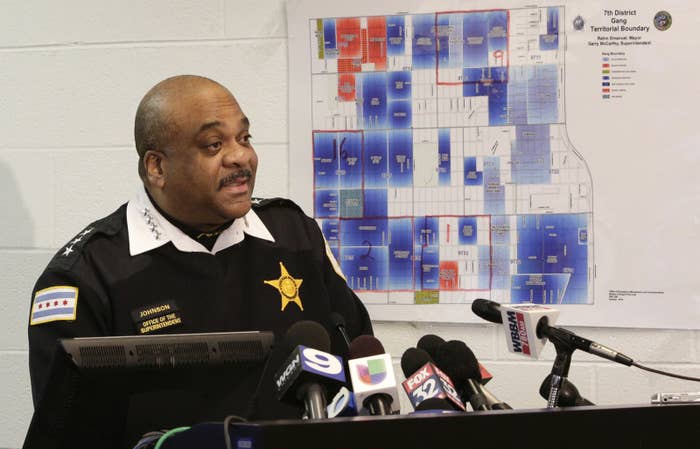 Trump also pushed Chicago police to tell federal immigration authorities who the undocumented gang members are.
"I want you to turn in the bad ones. Call Secretary Kelly's representatives and we'll get them out of our country and bring them back where they came from, and we'll do it fast," Trump said.
Chicago is among several cities that have doubled down as sanctuaries for immigrants after Trump won the White House. Days after the election, Chicago Mayor Rahm Emanuel sought to assure the city's residents.
"To all those who are, after Tuesday's election, very nervous and filled with anxiety as we've spoken to, you are safe in Chicago, you are secure in Chicago, and you are supported in Chicago," Emanuel said.

Emanuel's spokesman Matt McGrath criticized Trump, in a statement to NBC Chicago, but said the mayor would be willing to work with federal officials.

"With all the talk and no action, you have to wonder whether the administration is serious about working with us on solutions, or if they are just using violence in this great city to score political points," McGrath said. "We've been clear, there are ways the federal government can help, and we're happy to partner with the new administration whenever they decide to stop talking and start acting,"
In a statement, Chicago Police Supt. Eddie Johnson said he hopes Trump had an opportunity to hear from other police chiefs who are facing many of the same challenges his city faces.
"Including too-easy access to illegal guns, inconsistent sentencing, and a more fractured and decentralized gang structure where gunfire is as likely to erupt from a feud on social media as a battle over turf," Johnson said. "We're clear-eyed about the challenges we're facing in Chicago and will continue working day and night to address them, and we're eager to work more closely with the federal government."