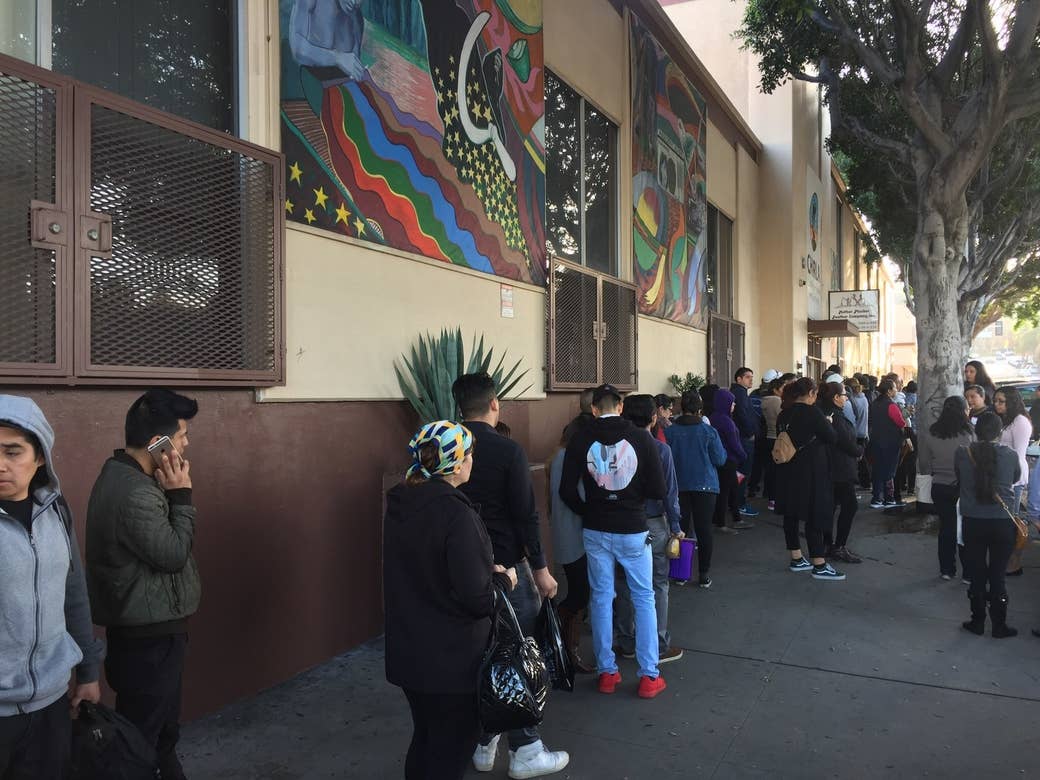 At 30, Jose is the sole breadwinner for his four-person household, a position he never imagined he'd be in and that is possible only because of a program that allows undocumented immigrants like himself to work legally.

Because of the Deferred Action for Childhood Arrivals program, known by its initials as DACA, Jose, who asked to be identified only by his first name out of fear of retaliation, was able to get a job doing customer service research at a bank, a far cry from the warehouse jobs he used to hold that paid cash. These days, however, the stability of a steady paycheck that DACA affords him is at risk. The Trump administration is trying to kill the program, its efforts temporarily halted by a federal judge who last week ordered the government to continue taking renewal applications.
The Department of Justice said it would appeal that decision to the 9th Circuit Court of Appeals and, in an unusual move, to the Supreme Court as well. That appeal might be filed as soon as Friday. In the meantime, the government said it would take renewal applications, but many recipients worry the window of opportunity will close quickly.
"There's a real sense of urgency, everybody that needs to renew and can should before the opportunity is taken away again," Jose told BuzzFeed News. "It's stressful, thinking you might lose it, especially once you're used to having a secure job and place to live."
On Thursday morning, Jose, whose DACA status will expire in August, found himself standing in line outside of the Los Angeles office of the Coalition for Humane Immigrant Rights' (CHIRLA). More than 100 others were in line with him, hoping to get help sending and paying for the $495 renewal fee. At 8:23 a.m. immigrant rights organization said it had reached its capacity for DACA renewals and asked people to return on Tuesday, the next day the organization will be taking applications.
Jose, who was waiting with his mother, didn't make the cut and headed home.
Jorge-Mario Cabrera, a spokesperson for CHIRLA, said he wasn't surprised that people had started lining up at 2 a.m. in hopes of getting help. In addition to the organization covering the renewal fee, there's no telling how long DACA recipients will be allowed to send in applications.
"This is a golden opportunity, but this is also a very small window of opportunity," Cabrera told BuzzFeed News. "This whole chaos demonstrates why we need a permanent solution."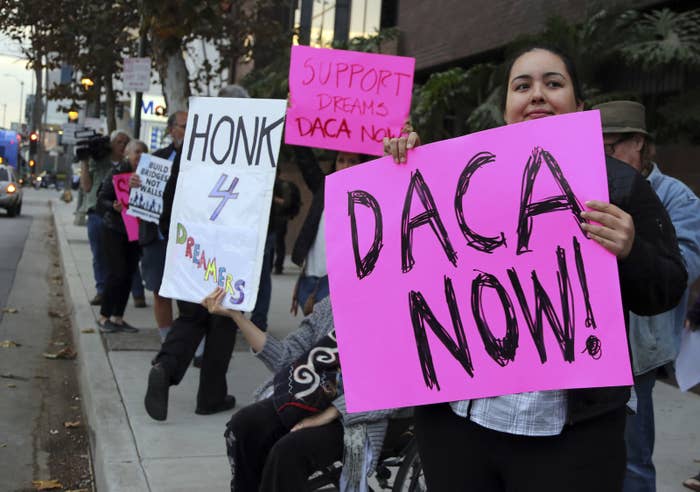 A permanent solution seems increasingly unlikely after Senate Republicans on Wednesday decided to forgo a bipartisan deal to protect the so-called DREAMers. Members of the GOP have proposed passing another stop-gap funding bill that would expire Feb. 16, much like lawmakers did in December, but Democrats have threatened to vote against any spending legislation that doesn't protect DREAMers.
Daniel Sharp, legal director at the LA-based Central American Resource Center, which is also helping people with DACA renewal applications, said that in addition to the rush to renew, DREAMers are feeling nervous because no one knows if there will be legislation to grant them more permanent status.
"We don't want to create a sense of panic or false hope," Sharp told BuzzFeed News. "We already know the Department of Justice is appealing to the 9th Circuit and Supreme Court, so what permissions are going to be authorized or ultimately approved is not something that we can speak to with certainty."
For many people who had DACA, the fear of reverting to undocumented status, losing their jobs and finding it harder to go to college is creating angst and uncertainty.
"Most are aware they're not going to be deported immediately after their permit expires," Sharp said. "It's the uncertainty of what do they do if they're applying for college. Do they have to change jobs or careers because of this? You literally can't (make) major life decisions. It's horrible."
According to the US Citizenship and Immigration Services, which processes DACA applications, about 793,000 people have received DACA status since its inception. According to court documents, as of September 2017, there remain 689,800 active DACA recipients. The status not only allowed them to work legally but also gave them protection from deportation.
A survey by Tom K. Wong, a professor at UC San Diego, found that 91% of DACA recipients were employed and 69% were able to get a better paying job after they were approved. On average, DACA recipients are 25 years old and came to the US when they were six and half.
Kenya, a 29-year-old mother, quietly watched as people at the front of the line got in ahead of her. She woke up early to get a spot at 5 a.m. She not only has to worry about her future, but also that of her two children, ages 8 and 9.
"If I'm jobless how is it going to be for my kids? I'm the head of the house," Kenya, who gave only her first name, told BuzzFeed News.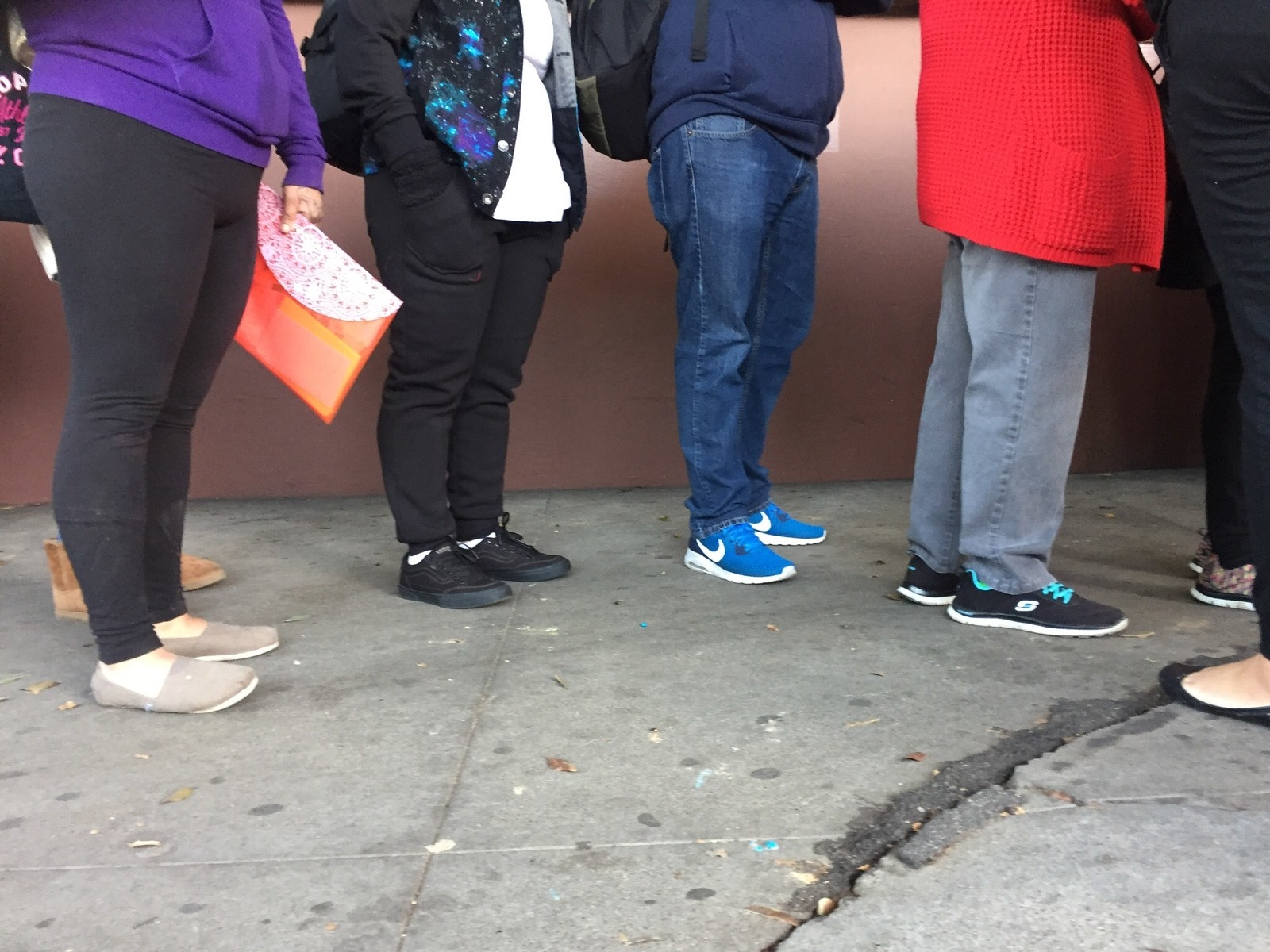 She works as a nurse assistant and a monitor tech at a hospital in Los Angeles. If her work permit runs out in March without a renewal she hopes she'll be able to continue to work there.

"I'm happy I have the chance to renew but I'm also worried about what will happen if I don't get it," Kenya said. "The government now knows everything about me. Before DACA, they didn't have all of my information."
Because DACA applicants had to submit rolls of information like school records, bills, and addresses, many of them worry the information could be used by US Immigration and Customs Enforcement to arrest and deport them. Even though there has been no reports of ICE agents using the data for deportations there's nothing stopping federal authorities from accessing that information.
Claudia, a 20-year-old college student, arrived at the CHIRLA offices at about 5:15 a.m., the line had already been fully formed when she got there. She brought a folding chair and a blue blanket, and waited with her father until the offices opened at 8 a.m. She declined to give BuzzFeed News her full name.
The Cal State Long Beach student helps support herself by working as a lifeguard. As the days ticked forward to March, when her work permit expires, she's grown increasingly nervous.
"Would I lose everything I have? Everything I've worked for?" Claudia told BuzzFeed News. "Now I feel like there's a chance, and I have to rush to renew it before something else happens."
She didn't know she was undocumented until 2012 when then-President Barack Obama announced the launch of DACA through an executive order and her parents sat her down to explain her status. Because of DACA she didn't feel the brunt of what it's like to be undocumented as an adult but now she's nervous she'll have to.
Claudia, who's studying economics, hopes to pursue a master's and become a financial analyst.
"I'm hopeful that I'll get my renewal but also hoping for something more permanent like a clean DREAM Act," Claudia said, referring to legislation that Democrats have been pressing for.
Eighteen-year-old Roger had been in line since about 5 a.m. with his brother and friend. This would be his first renewal, if US Citizenship and Immigration Services processes his application.
"Who knows when the next opportunity is going to come, if we'll get a second chance," Roger asked. "It just seems like when we fight for something we want and need the administration is always going to push back, but we just have to learn to accept it and move forward."
Walking away from CHIRLA, Jose said having a Social Security number was life changing because of the doors it opened. After hiding his undocumented status for years, DACA allowed him to feel like he was fully integrated into society – a "real person" as he put it.
"It's difficult to think about losing it, I was getting upset," Jose said. "But I've decided to remain hopeful and believe there's a better future for us."