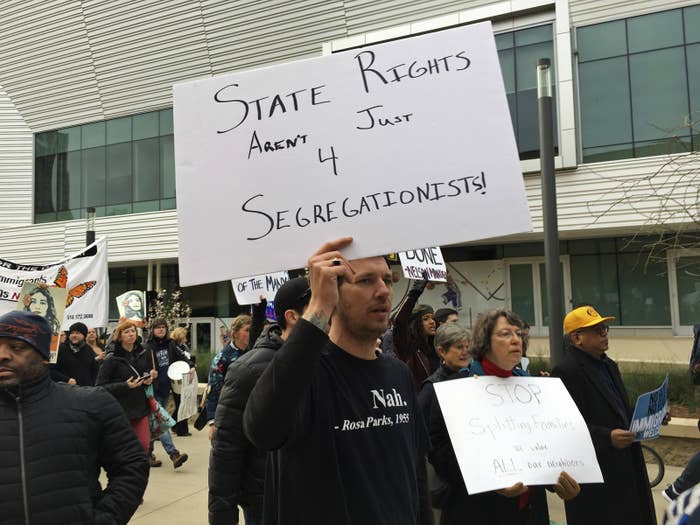 The Trump administration's lawsuit challenging California's so-called sanctuary laws will ultimately come down to how much power the federal government has over states.
Justin Levitt, associate dean for research at Loyola Law School in Los Angeles, said the 10th Amendment has been interpreted by the Supreme Court to say the federal government can enact its own laws and states can't actively interfere with that enforcement. However, the federal government can't seize local police and force them to enforce their laws.
"The fight is over exactly what federal law requires, and California said, essentially, in this area, we're going to do the very least we have to to comply," Levitt told BuzzFeed News. "The question will be what can California do to offer protection to its residents without crossing the line of getting in the way."
The Justice Department's federal lawsuit is going after three of California's so-called sanctuary laws meant to protect undocumented immigrants. It accuses the Golden State of violating the Supremacy Clause of the US Constitution, which says federal law overrules state law when they conflict. According to the lawsuit, California violates the clause because it undermines federal agents trying to enforce the nation's immigration laws.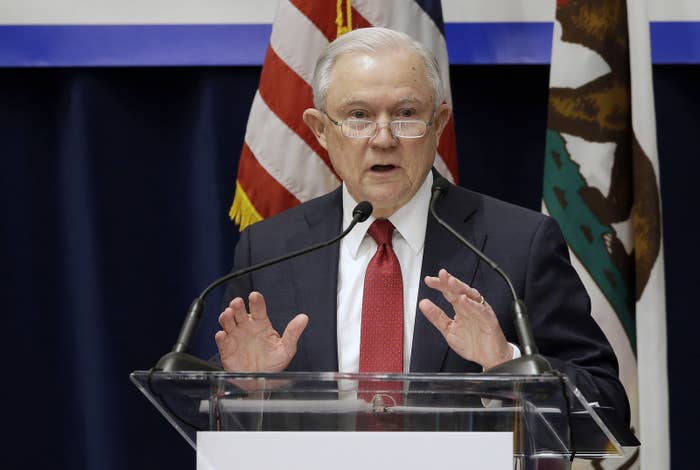 "California has enacted a number of laws designed to intentionally obstruct the work of our sworn immigration enforcement officers — to intentionally use every power it has to undermine duly-established immigration law in America," said Attorney General Jeff Sessions before the California Peace Officers' Association.
Levitt said the lawsuit doesn't make clear how the laws interfere with federal immigration enforcement and will be something the Trump administration will have to show in court.
"My guess is that some parts of what California has done will at least be clarified if not curtailed a little bit and some parts are going to be just fine," Levitt said.
California is home to about 2.3 million undocumented immigrants, the state with the largest unauthorized population, according to the Pew Research Center.
Kimberly West-Faulcon, a law professor at Loyola, said California doesn't have the constitutional authority to pass its own immigration laws.
In 2012 the Supreme Court found that Arizona's SB 1070, which sought to boost the state's ability to enforce immigration laws, were trumped by federal law. The ruling, which was hailed by immigrant advocates, will likely be used against California's sanctuary laws in this case.
SB 1070 made it a misdemeanor for an undocumented immigrant to be in the state or if they sought or engaged in work. The law also allowed state and local officers to arrest an undocumented immigrant without a warrant if they have "probable cause to believe" they are in the country illegally. Another section of the law required that officers conducting a stop, detention, or arrest, in some circumstances, try to verify a person's legal status with federal authorities.
The Supreme Court ruled against a majority of SB 1070, saying states are prevented from enacting laws in a field that is regulated by the federal government. Writing for the majority, Justice Anthony M. Kennedy, in the court's decision on Arizona's provision making it a misdemeanor to be in the state without papers, said it "intrudes on the field of alien registration, a field in which Congress has left no room for States to regulate." When a state law conflicts with a federal one, federal law trumps it.
However, the Justice's upheld the provision allowing state police to investigate a person's immigration status because the checks wouldn't interfere with federal immigration laws.
However, West-Faulcon said, California does have the power to pass laws relating to public safety and the welfare of its citizens.
"To the extent that the court agrees these laws are not immigration policy, it then becomes a question of whether it's within the power of the state to regulate their own law enforcement," West-Faulcon told BuzzFeed News. "California is going to be arguing how what they're doing differs from federal immigration laws and in no way encroaches upon the authority of the federal government."
California Attorney General Xavier Becerra, who is named in the lawsuit, said that unlike Arizona, his state is not trying to enact immigration laws, but public safety laws.
"We're not trying to get into their business," Becerra said at a press conference Wednesday. "That doesn't stop [Immigration and Customs Enforcement] from enforcing immigration law."
Just last week, ICE agents arrested 150 people suspected of being undocumented or violating immigration laws in Northern California.
One law restricts employers from cooperating with federal immigration officials. Another requires the state's attorney general to review state, local, and private detention facilities that house detainees on behalf of the Department of Homeland Security, as well as the circumstances of their detention.
A third law, SB 54, prohibits state and local police from notifying ICE when an undocumented immigrant will be released from state custody and places restrictions on detainee transfers. There are exceptions. Local jailers and police can work with ICE if a prisoner has been convicted of a felony under California law, has been jailed for a felony within the past 15 years, or has served time in the previous five years for a misdemeanor that could have been charged as felony.
Local police also can inform ICE of individuals when a judge has ruled there is probable cause to hold that person for a violent felony.
Still, the laws include clauses that say you can't do something that would violate federal law, Levitt of Loyola Law School said.
"It's kind of already baked into the statute," Levitt said. "California said essentially, in this area, we're going to do the very least we have to do to comply with federal law and not help any more than we have to."
In making its case against SB 54, the Justice Department also pointed to Section 1373 of the Immigration and Nationality Act (INA), which prohibits local and state governments from enacting laws that limit sharing information about a person's immigration status with the Department of Homeland Security.
Although SB 54 purports to be consistent with Section 1373, parts of the law explicitly forbid the sharing of information covered by the section which violates that part of the INA, the complaint said.
Ilya Somin, a law professor at George Mason University, said in his view, Section 1373 is unconstitutional because it conflicts with a Supreme Court's interpretation of the 10th Amendment finding that the federal government is not allowed to commandeer local governments to enforce federal laws.
"But I have to admit that Section 1373 is an issue the lower courts have been split over — there have been rulings both ways," Somin told BuzzFeed News.
The law requiring the inspection of immigration detention centers doesn't stop ICE agents, for example, from arresting or deporting immigrants, Somin said, adding that California has the right to inspect state facilities.
"The private ones are more arguable," Somin said. "The only impediment for the federal government is if the inspectors find something illegal going on there, even then the federal government and its minions don't have the right to engage in illegal acts."
The federal lawsuit is being heard in the Eastern District of California where it will likely be heard by a liberal judge, said Bill Hing, a professor at the University of San Francisco and director of the Immigration and Deportation Defense Clinic.
"The Eastern District is certainly not as well known as the Northern District in terms of its progressive bent, and it always depends on the individual judge," Hing told BuzzFeed News. "The Eastern District has a solid reputation for siding with the underdog if you will and for being open for actions against government overreach."