Washington Officers Justified In Fatally Shooting Unarmed Latino Man, Jury Finds
The six-member jury found that the officers were justified in Antonio Zambrano-Montes last year in Pasco, Washington.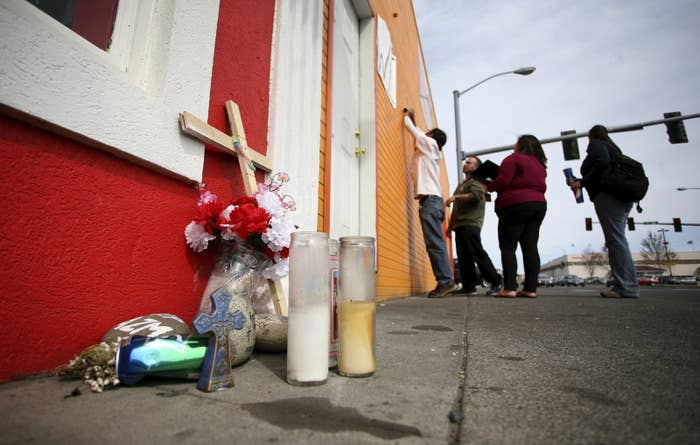 A jury in a coroner's inquest into the fatal shooting of an unarmed Latino man in 2015 that sparked protests in Pasco, Washington, has found that three police officers were justified in the killing.
In addition to the six jurors on Wednesday clearing the officers in the Feb. 10, 2015, shooting of Antonio Zambrano-Montes, they also found that the 35-year-old farmworker was in the process of committing a felony and was a danger to police and bystanders.
"A lot of the community was saying that the investigation into his shooting was tainted," Franklin County Coroner Dan Blasdel told BuzzFeed News. "It was important to me to show the public how the investigation was done and make it transparent."
Before Blasdel launched the inquest, local, state, and federal prosecutors had declined to press charges against the officers.
The shooting, captured on video, sparked protests and led to discussions about the relationship between the Pasco Police Department and its Latino residents.
In response to the decision, the Latino Civic Alliance said they would continue to work to change Washington laws related to police use of deadly force. The group's chair Nina Martinez said in a statement that officers should have de-escalated the situation instead of opening fire.
But, she applauded the coroner for pursuing the inquest.
"The inquest provided a hearing and an opportunity for an exchange of important information regarding the circumstance of his death," Martinez said. "This allows the community to move forward and it provides transparency to the process."

Authorities said the 35-year-old undocumented immigrant from Mexico was struck five to six times after officers fired a total of 17 rounds. Police said he had allegedly been throwing softball- and cantaloupe-sized rocks at passing cars in an intersection before police arrived. Two officers who responded were allegedly struck.
According to a forensic report, it was determined that Zambrano-Montes likely had a large rock in his hand when he was shot because one was found near him with his bloodstains on it.
Toxicology tests also showed that Zambrano-Montes was under the influence of methamphetamine at levels that were over three times the median range for DUI cases when he was shot.
Witnesses told police that he yelled at officers to "shoot me, kill me," minutes before officers opened fire.