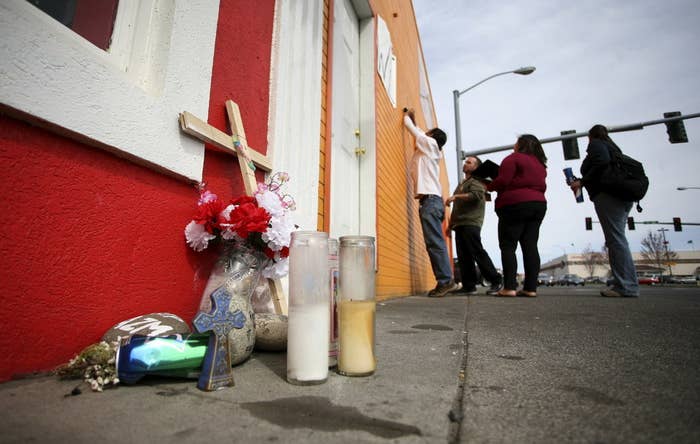 The ACLU on Thursday sued a Washington state city that was the site of a police shooting involving an unarmed Latino man, saying it's at-large voting system shuts out Hispanics.
The lawsuit — also filed by Bertha Aranda Glatt, a longtime resident who lost her bid to be elected to city council — accuses Pasco, Washington of violating the Voting Rights Act and robbing Latinos from having a voice in city government. Although five candidates are nominated by district and two are elected at-large, in the November election all members of the Pasco City Council are elected by voters who cast their ballot for all contenders regardless of whether or not they live in their district.
"The Latino community is a significant portion of the city's population," said La Rond Baker, staff attorney with the ACLU of Washington. "Yet their interests are not adequately represented on the Pasco City Council. All voices of the community need to be represented on the city council."
According to the U.S. Census, Latinos make up about 56% of Pasco's population, and the ACLU said Latinos account for 32% of its voting-age population. But despite a Latino candidate running for city council in nearly every election since 1990, none has ever won a contested seat.

The city of Pasco did not immediately respond to BuzzFeed News requests for comment.
Last year the fatal police shooting of an unarmed undocumented immigrant in Pasco sparked protests and led to discussions about the relationship between the police department and its Latino residents. Some believed the shooting of Antonio Zambrano-Montes, captured on video, would be Latino's Ferguson moment, but it never caught the momentum of other similar police shootings of black men.
Felix Vargas, chair of local advocacy group Consejo Latino, told BuzzFeed News he was hesitant to draw a close link between Zambrano-Montes' shooting and the voting issues in Pasco. Both involve different laws and different situations, Vargas said.
"Still the fact that we would have a new election system would empower the community to have more representation in city government," Vargas said. "Latinos will have more say in how policing is conducted in the city."
In addition to policing issues, Vargas said district elections would also give Latinos more sway in education, economic development, and programs for senior citizens.