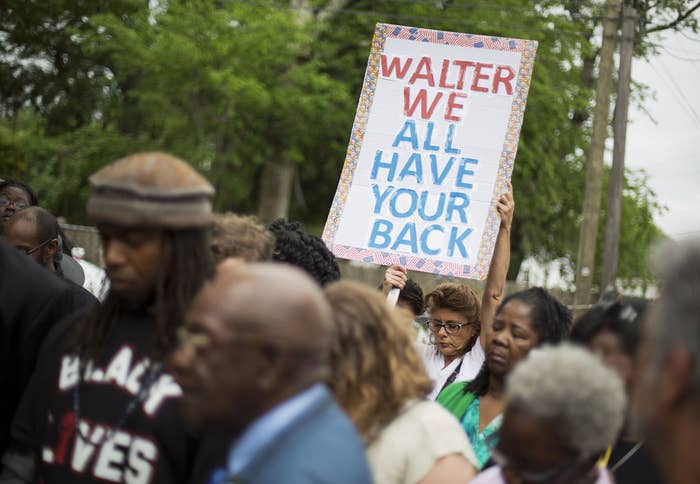 A police response to a burglar alarm in Texas quickly turned into a brief but high speed pursuit that ended with two bullets lodged into a man's chest, his body lying on the side of a highway and a community demanding clarity.
Officials with the Grapevine Police Department said 31-year-old Ruben García Villalpando didn't heed Officer Robert Clark's instructions. Dash video from Feb. 20, police said, shows Villalpando ignoring Clark's orders and approaching the squad car with his hands up before being fatally shot outside of the camera's view.
Despite protests and demands to release the dash video, authorities said they withheld it at the request of the district attorney's office, which was conducting an investigation. Villalpando's brother-in-law, Fernando Romero, who was allowed to view the video, said it proves Clark erred in shooting Villalpando.
The pervasiveness of cameras — more than half of Americans now own a smartphone — has made video footage a critical element of the fight over police misconduct. Incidents captured on video in New York City, California, South Carolina, and Oklahoma have raised questions about the actions of officers and the reliability of police accounts. While cameras can capture police misconduct, they can also protect police from complaints, and crucial details can occur before or after the video is taken.
In the South Carolina shooting of Walter Scott, patrolman first class Michael Slager, 33, who was later charged with murder, said he shot in self-defense after the 50-year-old attempted to overpower him and take his Taser. However, cell phone footage shows Scott being shot at eight times as he tried to run away. The video doesn't show the moments leading up to Scott fleeing, though law enforcement experts and usual police defenders have already turned their backs on Slager.
Romero, who has become an official spokesman for Villalpando's family, said a part of him had abandoned hope that the dash camera video would be released, but the footage of Scott's shooting has emboldened him to push for it to see the light.
"It really left an impression on me to keep putting pressure on the D.A. and police department," Romero said in Spanish.
The Grapevine Police Department said Villalpando pulled over to the side of the highway and exited the vehicle with his hands up. Clark ordered him not to move, but Villalpando walked toward the officer with either his hands up or on his head.
Villalpando then walked to the front bumper of Clark's police car, out of the camera's view, authorities said. Clark continued to tell Villalpando to get to the back of his car before the officer opened fire, striking Villalpando twice in the chest.
Romero admits that Villalpando didn't behave correctly, but said he didn't deserve to die. He said Clark launched into a series of expletives once Villalpando pulled over.
Villalpando slowly made his way to the front of the car with his hands up or on his back, Romero said. He didn't move fast or hide his hands.
"I think we all need to come together as one unified voice and demand the video," Romero said. "So that this doesn't happen again."
Daniel Kennedy, a criminology professor at Oakland University in Michigan, believes video footage could help prove wrongdoing and also be used to exonerate officers. The problem with video, he said, is most of the time it fails to capture the entire incident.
"By the time the operator realizes something is going on they generally missed the beginning," Kennedy said.
He added that body cameras are increasingly becoming the norm for police departments. A survey conducted by the Police Executive Research Forum found that 25% of the 254 police departments they surveyed used body cameras.
Video evidence of alleged police misconduct is not new, Kennedy said, but we can expect to see a rise in cell phone footage now that millions of Americans have cameras built into their phones.
About 64% of Americans now own a smartphone, the Pew Research Center found, up from 58% in early 2014.
This week the family of Pedro Rios Jr., a 14-year-old boy fatally shot by Chicago police during July 4 weekend last year, filed a federal wrongful death and excessive force lawsuit against the city and police department.
Chicago police said Rios was carrying a .44-caliber revolver during the incident, the Chicago Tribune reported. A spokesman for the Fraternal Order of Police, the world's largest organization of sworn law enforcement officers, described the weapon as a "Dirty Harry-looking gun."
The lawsuit said a police vehicle struck Rios after he ran into an alley and didn't pose a threat, when an officer, who exited the vehicle, shot him twice in the back.
The Chicago Police Department referred questions to their attorneys who didn't respond to requests for comment.
The family's attorney, Mark A. Brown, with Chicago-based firm Lane & Lane, filed an emergency motion Friday asking for the identities of the officers and video evidence of the shooting. Brown said three records requests were denied by the city.
Rios was shot near a security company that recorded the entire encounter from at least four different cameras, the lawsuit said. Brown told BuzzFeed News the videos are in the hands of the Chicago Police Department.
Like in the shooting of Scott, Brown said he believes video of Rios' shooting will likely not match up to law enforcement's statements. He hopes the South Carolina shooting will encourage the judge to force the Chicago Police Department to hand over the videos.
Brown believes law enforcement agencies shouldn't withhold video footage because of an ongoing investigation. In Scott's shooting, police released the dash cam video days later.
"In cases like South Carolina the video was very strong and people were allowed to judge for themselves," Brown said, "instead of having to rely on statements from officers who may not be telling the truth."
Romero says he too will keep pushing for his brother-in-law's last moments to become public.
"They should let the public see the video," he said. "What do they have to hide?"