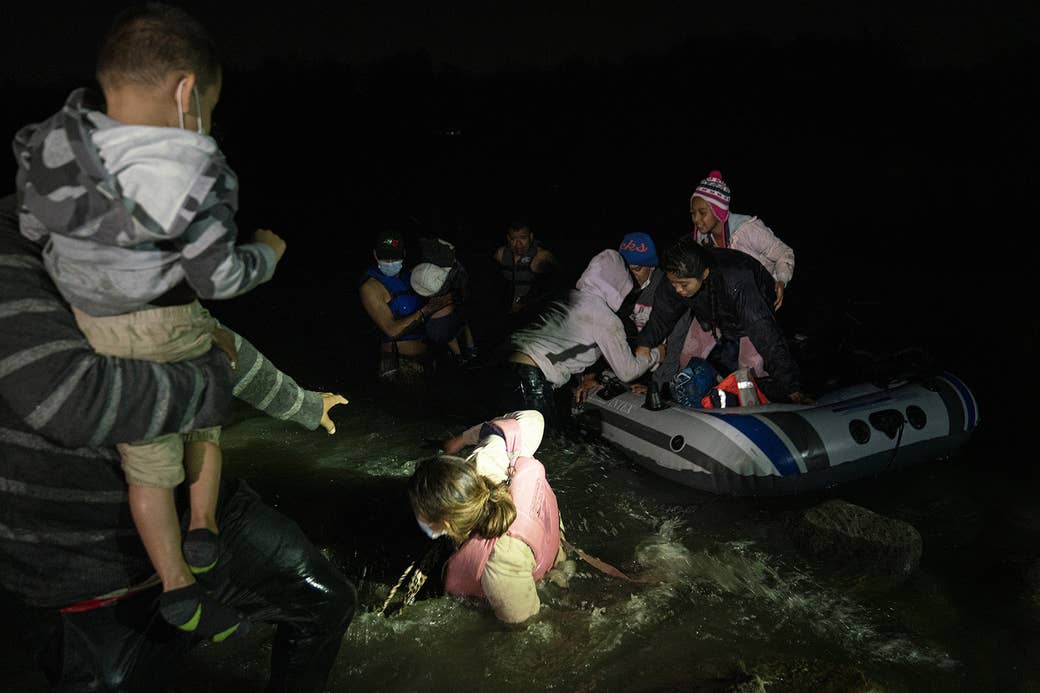 ROMA, Texas — Moments after hastily disembarking from an inflatable raft and touching US soil for the first time, four teenage girls who crossed the border without their parents, a man traveling with his nephew, and a small family all broke down in tears.
Their cries along the banks of the Rio Grande Thursday night were a mix of joy for having made it to the US, the painful memories of what they had endured to get there, and the fear of what lay ahead.
"People say, 'Don't come, it's too dangerous,' but there are no options for us back home," Kevin, a 28-year-old Honduran man who made the journey with his wife and son, told BuzzFeed News. "We have to take that risk."
Immigrants, especially an increasing number of children, are making a gamble that the confusing and disparate enforcement of border policies will mean they will be lucky enough to slip through and stay rather than be sent back to dangerous Mexican border cities, or separated from their loved ones. The higher number of immigrants being met by Border Patrol agents after crossing into the US have led to bipartisan calls for President Joe Biden to do more to dissuade them from making the journey in the first place.
But Kevin, who asked to only be identified by his first name, said he didn't know what the political environment was in the US and maintained that he would've made the journey anyway. Holding his son in his arms, Kevin tried to calm his wife's nerves by reminding her to breathe. In a scramble to get out of the inflatable raft, she had fallen into the water.
Kevin was a barber in Honduras and made enough to support his family, but the coronavirus pandemic put him out of business. Then two hurricanes pummeled Central America, destroying their home. They tried rebuilding, but the double whammy of the pandemic and the hurricanes forced them to leave their home in January.
They slowly made their way north on their own because they couldn't afford the thousands of dollars it takes to hire a smuggler, instead taking dangerous routes as they attempted to evade Mexican authorities and criminals who prey on immigrants until reaching the US border.
They weren't alone. The number of immigrants encountered along the US–Mexico border this year has been steadily increasing since the spring of 2020, but even more so this year. In February, US Customs and Border Protection agents encountered 100,441 immigrants along the border, an increase from 78,442 in January. A CBP official said that in March, border agents have encountered an average of about 5,000 immigrants a day, which would be a total of 155,000 for the month.
The Biden administration has kept a Trump-era pandemic policy of immediately sending asylum-seekers back to Mexico or their home countries without due process, otherwise known as expulsions. But since November, the US hasn't applied the policy, known as Title 42, to unaccompanied immigrant children since the Trump administration was stopped by a federal court. And while US officials have repeatedly warned that they will continue to turn all others back under Title 42, that hasn't been the case as more immigrants cross the border, forcing authorities to release some of them into the US. About half of all immigrants are currently being expelled.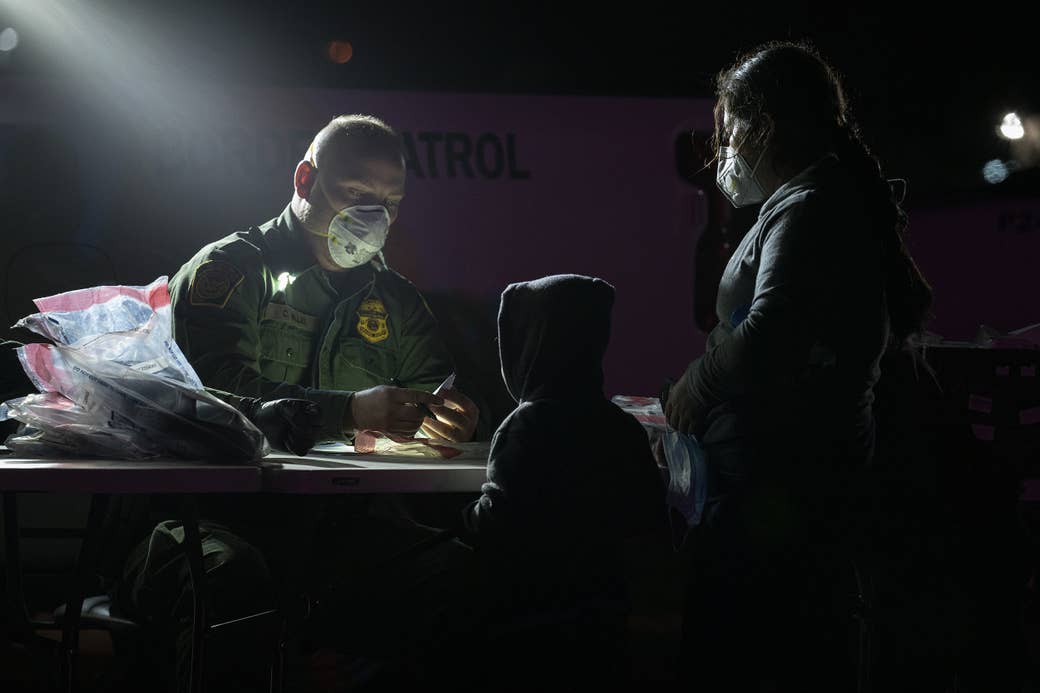 A CBP official said that of about 6,000 immigrants that agents encountered along the border on Thursday, about 2,200 were part of family units. Of those, 1,900 were allowed into the US and 300 were expelled under Title 42.
Part of the issue has been Mexico's decision to stop taking some families back after they're caught in the US. In the Mexican state of Tamaulipas, immigration authorities have stopped accepting some expelled families with children ages 6 or younger, forcing CBP to either let them into the US or fly them to other parts of the border like El Paso, Texas, to expel them into Mexico there. That means who gets to stay in the US versus being expelled is largely luck at this point because the policies are not being applied evenly across the board.
A senior CBP official said sometimes they send people who have been in their crowded border facilities for a long time to El Paso, where they are expelled to the Mexican city of Ciudad Juárez. Other times they transfer people who haven't even been processed yet.
"So it's sort of a mix of both. And it really depends upon who we have in custody at the time," the official said. "And so it is a little bit of an unknown as to what population gets transferred."
The percentage of immigrant families who are being released into the US has been larger in March than in previous months, but the CBP official said agents continue to try to expel immigrants under Title 42 "as much as we possibly can." Meanwhile, the Biden administration is also in negotiations with the Mexican government to get them to accept more immigrant families.
Seconds after also wading onto the banks of the Rio Grande Thursday night, Gerbert's 4-year-old nephew kept asking if he was going to leave him, an almost prescient question.
"No, I would never leave you," Gerbert, 27, said while fighting back tears, not realizing that they would most likely be separated.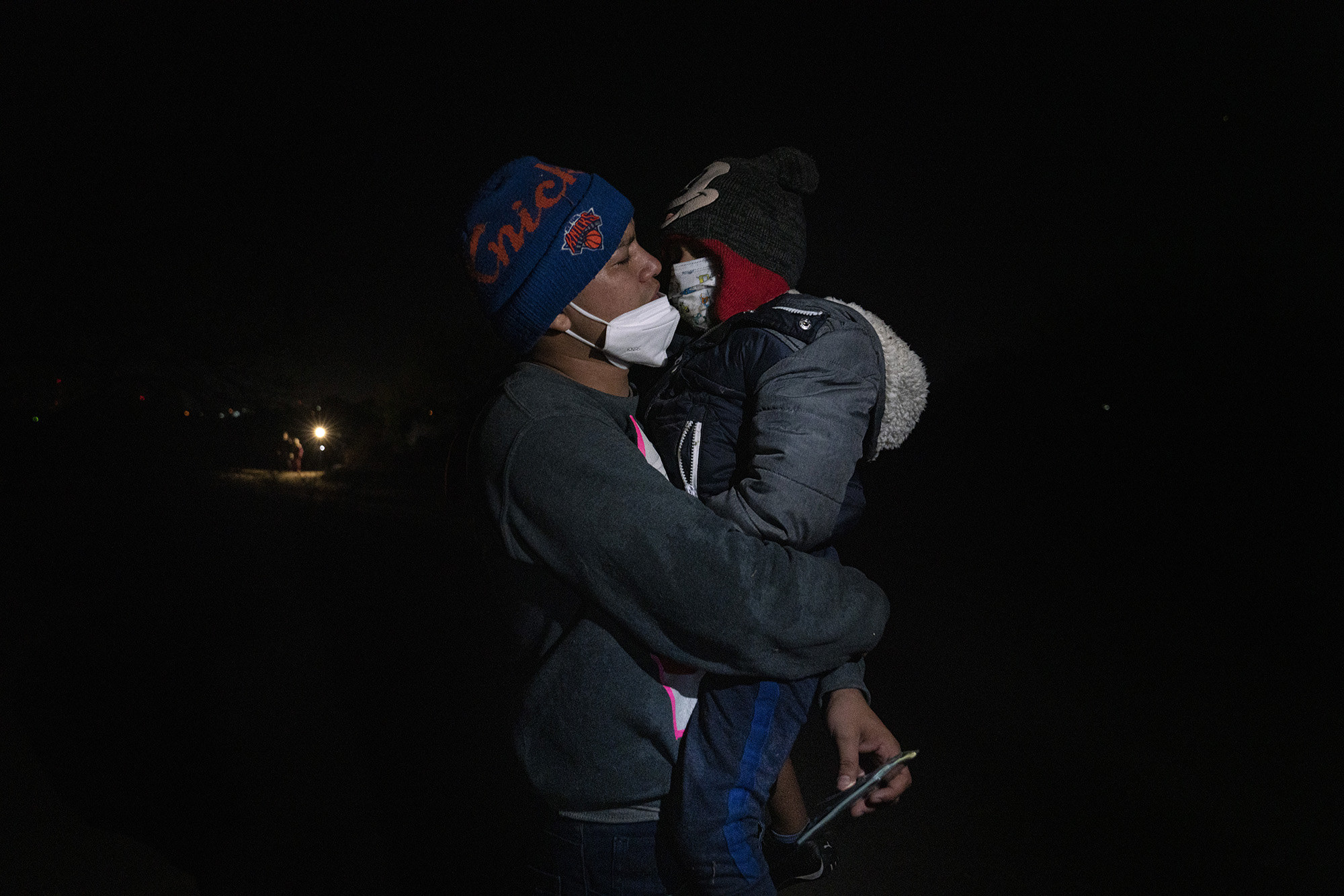 US border authorities have long separated children from adults who are not their legal guardians, even if they are aunts, uncles, or grandparents who for all intents and purposes have raised them. The separation of "psychological parents," as some describe them, has long been criticized by immigrant advocates.
If the 4-year-old is separated from Gerbert, the child will be sent to overcrowded CBP facilities while he waits to be placed in a shelter operated by the Department of Health and Human Services. But the Biden administration is struggling to open up more bed space, many times leaving unaccompanied children in border facilities meant to house single adults and past the legal three-day limit. Some unaccompanied minors were held inside a Border Patrol tent facility in Texas for as long as eight days in crowded areas without showers or the ability to call their families, attorneys said.
About two years ago, Gerbert's sister was being threatened by gangs in El Salvador and decided to flee with her son. The single mother left behind her youngest in the care of Gerbert, who has raised him ever since.
Last year, Gerbert said, a group of gang members raped him for being gay, and as a result, he contracted HIV. Eventually, the harassment proved too much, and seeing that travel restrictions in Central America were less strict, he also decided to leave.
"I can't live in my country," Gerbert said. "The gangs are looking for me, and if they find me, they will kill me."
Moments later, after being informed that he would likely be separated from his nephew under US policies, Gerbert broke down once more.
"He can't be without me — I can't live without him," Gerbert said. "He's my everything, he's my adoration."
As the group started to walk toward a residential neighborhood in Roma where Border Patrol agents were waiting for them, the four teenage girls walked down the dusty road holding hands.
Among them was a 13-year-old bundled up in a sweater, pink jacket, and colorful beanie. Her ripped jeans were soaked nearly to her waist. A local pastor who greets immigrants and gives out water asked the girl where her mother was.
She said that almost halfway up through Mexico, she, her mother, and a brother were taken off a bus by Mexican authorities. The Salvadoran teen didn't remember what happened next — she was scared and half asleep — but it was the last time she saw her mother. She kept heading toward the border in the hopes of reuniting with her grandmother in the US.
The pastor then called the girl's grandmother to let her know the girl had made it.
"Hi, grandma," the girl said between sobs.
"Don't cry, mamita," the grandmother responded. "You're OK, they're going to take care of you."