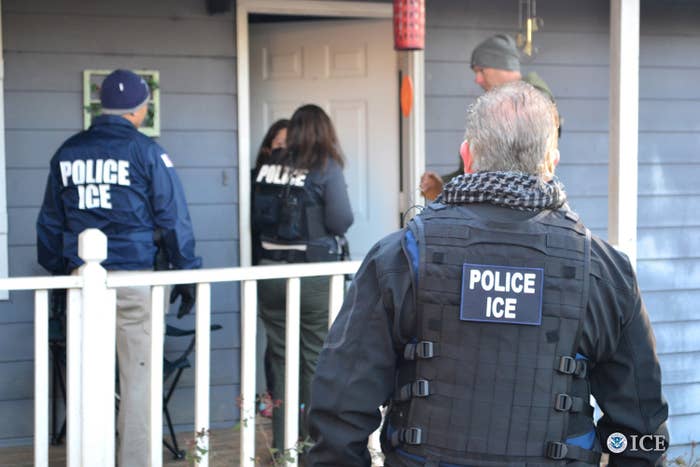 Federal authorities arrested more than 680 undocumented immigrants in a series of raids across the US last week, sparking fears of a nationwide crackdown under the Trump administration.
Immigration, Customs and Enforcement (ICE) officials, however, insisted the raids, carried out in major cities in multiple states, were routine, and noted that other roundups under President Obama had netted far more arrests, including more than 2,000 people during a five-day operation in 2015.
But their message was crowded out by President Trump, who took credit for the raids as making good on his tough-on-illegal-immigration campaign pledge.
The raids, combined with Trump's comments, sparked widespread condemnation from immigration advocates and local officials, who said the arrests would undermine community trust and split families.
But during a news conference Monday with Canadian Prime Minister Justin Trudeau, Trump defended the enforcement raids again.
"I said at the beginning we are going to get the bad ones, the really bad ones, we are going to get them out," he said.

In a statement, Department of Homeland Security Secretary John Kelly said the operations targeted undocumented immigrants with criminal records, as well as people re-entered the country illegally or who had been ordered deported by a judge. Of the 680 arrested, 75% had been convicted of a crime.
ICE said it arrested 51 people in the San Antonio, Texas-area, 41 in the New York-area, 161 in Southern California, 235 in seven Midwestern states, and 190 in Georgia and the Carolinas.
"The focus of these enforcement operations is consistent with the routine, targeted arrests carried out by ICE's Fugitive Operations teams on a daily basis," Kelly said.
Days after taking office Trump signed an executive order that essentially made all of the nation's 11 million undocumented immigrants a priority for deportation.
However, David Marin, field office director for ICE enforcement removal operations in Los Angeles, said the sweeps had been planned before Trump took office.

"This operation was in the planning stages before the administration came out with the current executive orders," Marin said during a phone call with reporters.