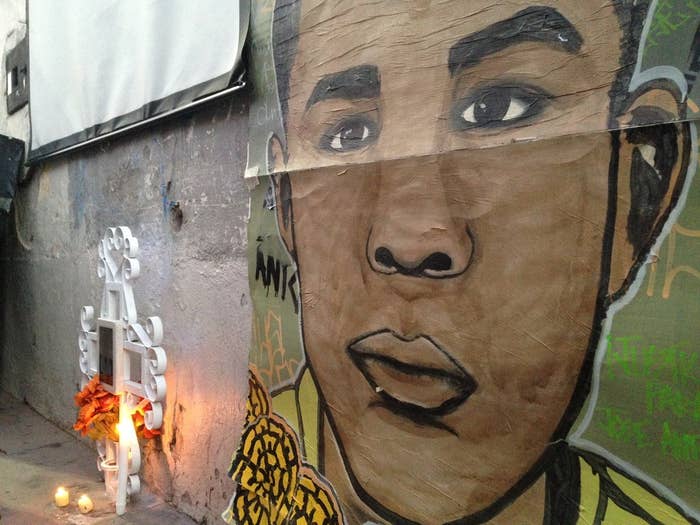 Federal authorities charged a U.S. Customs and Border Protection agent with second-degree murder in the 2012 shooting death of a Mexican teenager across the border.
The U.S. Attorney's Office alleged that Lonnie Ray Swartz unlawfully shot Jose Antonio Elena Rodriguez with a semi-automatic pistol, according to a federal indictment filed on Wednesday.
Rodriguez's family also filed a federal lawsuit, alleging that the killing of the 16-year-old was "unreasonable" and "excessive."
Lee Gelernt, an attorney with the ACLU who filed the civil lawsuit alleging Rodriguez's Fourth and Fifth Amendments rights were violated, said this is the first indictment of a Border Patrol agent for a cross-border shooting that he's aware of.
"There are other case and it seems like there should have been prior indictments," Gelernt told BuzzFeed News. "There was no justification whatsoever in the shooting, given the circumstances we would've been extremely upset if there was no indictment.
Rodriguez was shot on Oct. 10, 2012 as he walked on a street that runs parallel to the U.S. border fence in Nogales, Mexico. The federal complaint alleged that Border Patrol agents on the U.S. side of the border fired between 14 to 30 shots into Mexico and struck Rodriguez at least 10 times.
Border Patrol said its agents were chasing a group of people they believed were trying to enter the U.S. illegally and fired across the border after rocks were thrown at them.
Dennis Smith, a spokesman for US. Customs and Border Protect, said they don't have a comment because of pending litigation. Swartz has been placed on administrative paid leave, Smith added.
Rodriguez's family said Jose was walking home from playing basketball when he was shot and did not throw rocks.
BuzzFeed News previously reported that since 2010, Border Patrol agents have shot at least six Mexican nationals across the border without legal repercussions.
Gelernt, who is also deputy director of the ACLU's Immigrants' Rights Project, said this was the first step in remedying problems within U.S. Customs and Border Protection.
"It's still too early to know whether this indictment fits into the larger picture," Gelernt said. "There are lots of claims of abuse where Border Patrol has not taken action."
In 2014 a federal appeals ruled that a Mexican teenager killed in another cross-border shooting near El Paso, Texas, was protected by the Fifth Amendment. The ruling allowed the teenagers family to file a claim against Border Patrol agents.