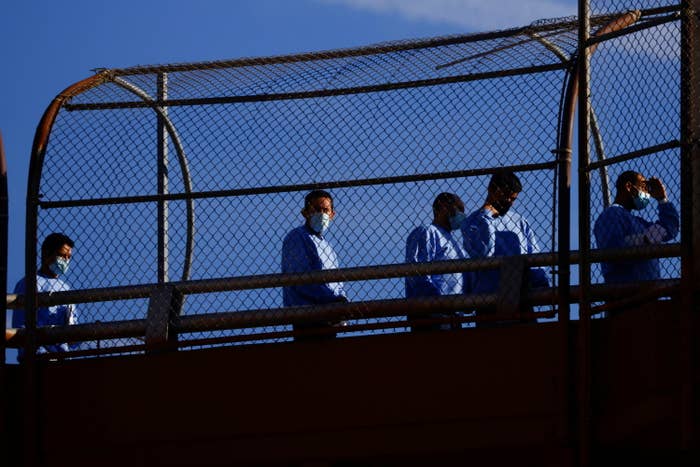 Attorneys said they've identified at least 24 immigrants — including some with medical issues — who shouldn't have been placed in a Trump-era program that forces them back to wait in Mexico while their US asylum cases are completed, according to attorneys and an email obtained by BuzzFeed News.
As the Biden administration prepared to reimplement the Migrant Protection Protocols (MPP), which forced more than 71,000 immigrants to wait in Mexico, often in dangerous conditions, officials said they were working to restart it in a way that protects people with known physical and mental conditions, as well as others who might be at increased risk of harm in Mexico because of their sexual orientation or gender identity.
However, some immigrants who attorneys argue fall under those categories have been placed in MPP, also known as "Remain in Mexico," since the first people were sent back to Mexico on Dec. 8. So far, lawyers have identified 12 members of the LGBTQ community and 16 cases of medical conditions that they argue should have exempted the immigrants and asylum-seekers. (There was some overlap, with four of the LGBTQ immigrants also having medical conditions.)
The email from the Border Project, a pro bono endeavor to provide legal aid to immigrants operated by the Jones Day international law firm, was sent to legal service providers and details some of the concerns they had with the recently relaunched MPP. The Border Project had agreed to provide legal services at the El Paso Central Processing Center on a short-term basis after the Biden administration, under a federal court order, restarted the program, which included setting up a hotline for immigrants.
The Border Project said it identified at least 24 immigrants who should have been excluded from MPP, and had escalated their cases to Customs and Border Protection (CBP), including one man who was raped and threatened with death in Mexico after men learned that he and his partner were gay.
Attorneys also spoke with immigrants with health conditions they said should have kept them out of Remain in Mexico, such as cancer, HIV, and a recent amputation. The man had parts of his fingers amputated by the cartel in a video call with family to extort money from them, the email states.
At least nine of the 24 were taken out of MPP after the Border Project and its partners contacted CBP about their cases, and they are waiting for the results from the rest, the email adds. However, at least one immigrant who was taken out of MPP after attorneys identified him was still returned to Mexico.
"CBP reported that they are working to locate him in Mexico and to bring him into the US," the email states.
The Department of Homeland Security (DHS) said in a statement that particularly vulnerable immigrants, including those with physical and mental health challenges, the elderly, and those at risk of discrimination because of their LGBTQ status, will be exempted from MPP on a case-by-case basis.
The first vulnerability assessment is made at initial processing, the agency said. However, the DHS acknowledged that circumstances can change, and immigrants who may not have been vulnerable when they were placed in MPP can become so at a later date. Consequently, an immigrant's vulnerability can be considered at each point of the process, and the DHS said it encourages people who believe that their circumstances have changed to make CBP personnel aware.
Guidance on the reimplementation of MPP issued by the DHS said the following groups of immigrants should not be placed in the program: immigrants with known mental or physical health issues, including a disability or a medical condition related to pregnancy; those with particular vulnerabilities given their advanced age; and people who face increased risk of harm in Mexico because of their sexual orientation or gender identity.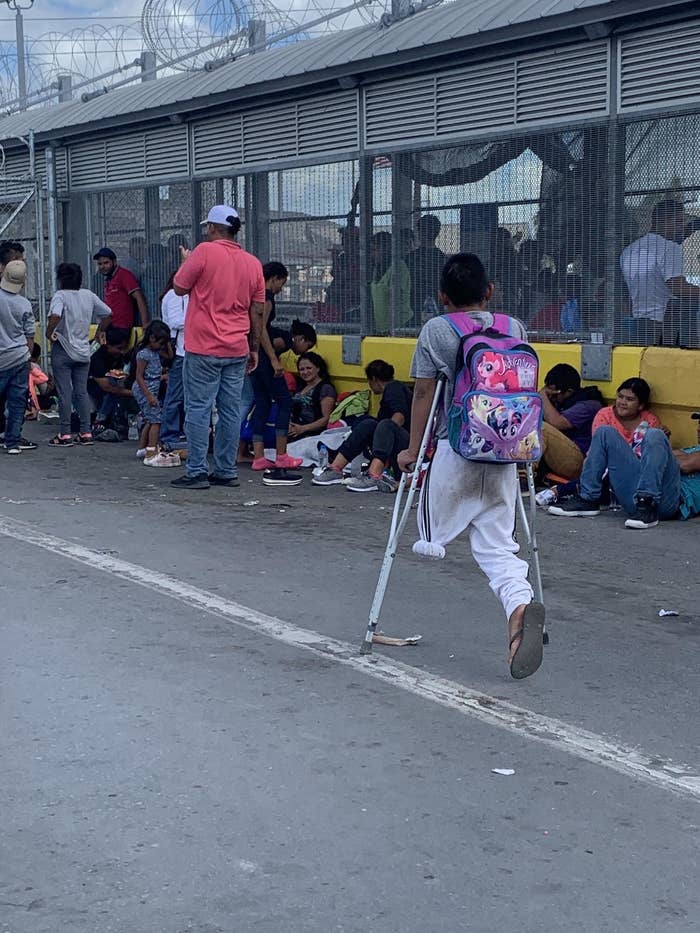 Lisa Koop, associate director of legal services at the National Immigrant Justice Center, has been working with immigrants placed in the Remain in Mexico program to provide legal aid and identify those who might be classified as vulnerable. One man had a traumatic brain injury, and another has cancer and needs treatment, Koop said.
"By the government's own terms, these categories of people are not supposed to be placed in MPP," Koop said. "Yet we're seeing an alarming number of people who meet those categories who are still being enrolled in MPP."
Lawyers have been working to raise the alarm on these cases with CBP, Koop said. Immigrants have told Koop that US border officers aren't asking probing questions about their health, their sexual orientation, or their gender identity.
Sending vulnerable immigrants back to Mexico under MPP was also an issue during the first iteration under the Trump administration. According to guiding principles for the policy, immigrants with "known physical/mental health issues" were prohibited from being placed in the program. Nevertheless, a report obtained by BuzzFeed found that this was not well explained to border agents and that immigrants were still returned to Mexico despite having medical issues.
Those sent back during the Trump administration included a 6-year-old Honduran girl described as having "crippled" legs, according to an internal government report obtained by BuzzFeed News that was addressed to senior DHS leaders. An 11-year-old boy with severe epilepsy and convulsions that prompted vomiting and memory loss, a Honduran woman who cannot hear or speak, and a woman with a serious precancerous disease were also caught up in MPP.
It can be a difficult process to get out of MPP even if attorneys accompany immigrants to official border crossings to ask CBP officers to have them taken out of the program. Adults and children can also spend hours on international bridges even as temperatures drop during the winter to plead their case.
President Joe Biden had made good on a campaign promise to undo MPP, and even allowed some immigrants to enter the US to continue their cases. But earlier this month, he was forced to bring back Remain in Mexico in order to comply with a federal court order when a judge determined that the administration erred in the way it had rolled back the policy.
The first two immigrants were returned from El Paso, Texas, to the Mexican city of Ciudad Juárez on Dec. 8.
The process for placing people in MPP may get better as time goes by, Koop said, but if the administration wasn't ready to have safeguards in place for vulnerable immigrants, they should have delayed reimplementing the policy.
"The courts required them to make a good-faith effort," Koop said. "It didn't require them to barrel ahead before they had safety measures in place."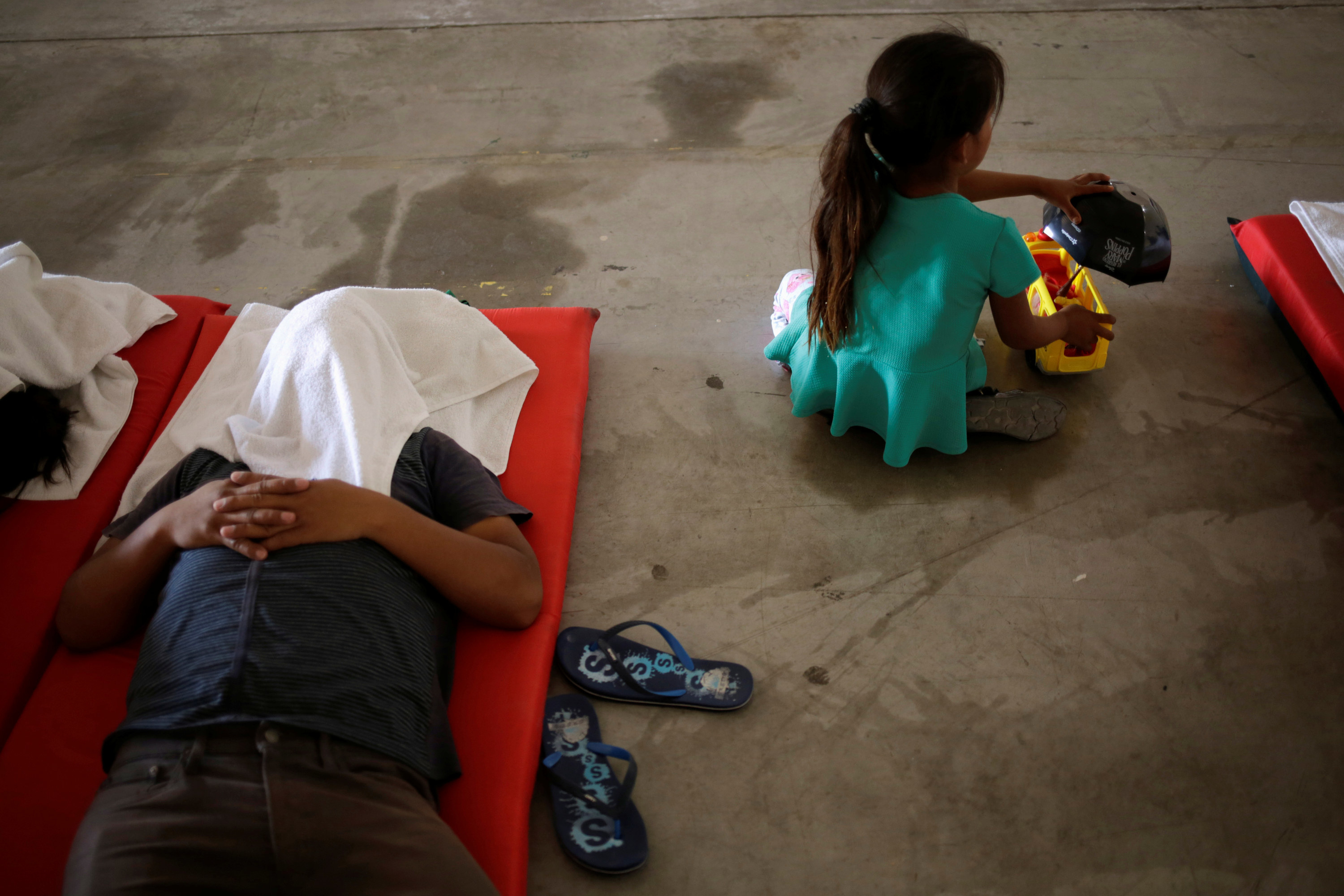 In addition to the health issues, Border Project attorneys also said they were concerned about men being separated from their wives or adult children. One immigrant reported being separated from his wife, who was six months pregnant, epileptic, and asthmatic. His wife was allowed to enter the US, and he was placed into MPP. Another immigrant was separated from his wife, who has a heart condition, while another immigrant is deaf.
The email from the Border Project said it highlighted the issues attorneys saw, with the understanding that many in the administration had worked "tirelessly" to provide legal services to immigrants enrolled in MPP and in CBP custody.
"We have no doubt that these efforts — and other attempts to inject the rule of law into MPP — have been undertaken with the best intentions by people who care passionately about access to justice," the email states. "We have also encountered good intentions by some CBP officials."
One CBP officer at the El Paso Central Processing Center identified immigrants and reached out to attorneys on her own accord, the group said. Others at CBP worked to fix technological issues with the phone lines and help the Border Project identify immigrants who provided incomplete information in the hotline voicemails, the group added.
From February 2019 to February 2021, Human Rights First counted at least 1,544 public reports of murder, rape, and other attacks committed against people in MPP across the US–Mexico border. Since Biden took office, Human Rights First tracked another 6,356 reports of kidnapping, rape, and other attacks against immigrants expelled under Title 42 or blocked in Mexico who were subjected the same dangers as people returned to Mexico under MPP.