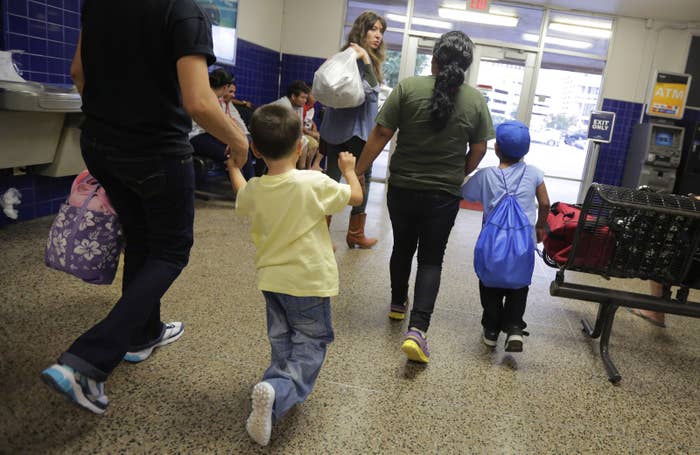 Shortly after being placed in a federal holding cell last year after a long journey from Honduras, 5-year-old Daxany and her teenage brother Ervin were told they had to say goodbye to their mother.

Ervin had overheard authorities telling his mother that because she had been previously deported and crossed the border again illegally, she was not allowed to stay with her children.
It would be two months before they were reunited with their mother.

While the Trump administration has said it considering separating illegal immigrant families at the border as a deterrent, authors of a new report say federal agents are already engaged in the practice as a form of punishment, often regardless of humanitarian concerns.
The report, Betraying Family Values: How Immigration Policy at the United States Border Is Separating Families, was released Thursday by immigrant advocacy groups who argue the practice is unnecessary and cruel.
"Not only do these stories make us upset for the emotional traumatic impact, but they also highlight significant administrative and fiscal waste," said Jennifer Podkul, director of policy at Kids in Need of Defense.
The report comes as the Department of Homeland Security confirmed it is considering separating immigrant mothers and their children who are caught together in an effort to deter migrants from attempting to cross the border illegally.
DHS did not immediately respond to a request for comment.
Border agents routinely separate families as punishment through what the DHS calls its Consequence Delivery System, which is meant to deter future migration, the report states.
Podkul said it's also a waste for the government because in some cases family members are pursuing separate immigration cases for the same relief.
At the heart of the issue, the report said, is there is no agency-wide policy defining what constitutes a family, traceable documentation of those familial relationships, or a requirement for documentation of all family separation incidents.
"Some of the shortcomings were a result of an out of date immigration enforcement system that's used to responding to single men coming to the US looking for work," Podkul said. "The new policies of the new Trump administration already implemented will only exacerbate the type of cases we highlighted."
Katharina Obser, senior program officer at the Women's Refugee Commission, said while they don't support separating families in detention, they also don't find that detaining families together is a suitable alternative.
"We have spoken to countless of detained asylum women who said they would make the same choice despite traumatic treatment," Obser said. "They do it only when they feel they have no other choice."
The report was published by the Women's Refugee Commission, Lutheran Immigration and Refugee Service, and Kids in Need of Defense.