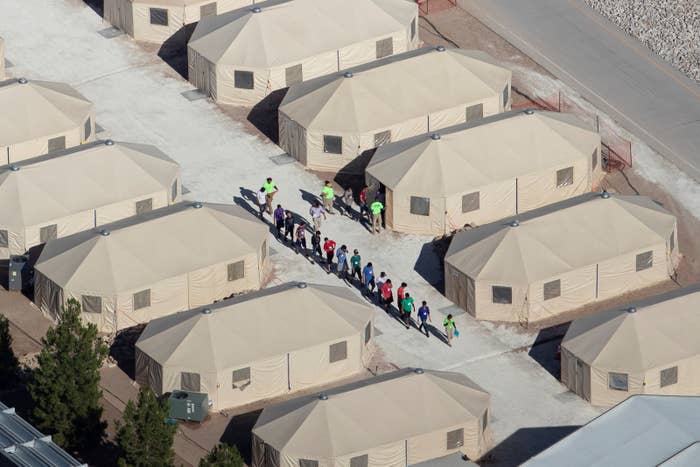 The last immigrant child held inside the "tent city" in Tornillo, Texas — a facility born out of the Trump administration's efforts to separate families at the border last spring — was released Friday morning, government contractors said.

The now-defunct camp was opened in June 2018 as a result of the Trump administration's "zero tolerance" policy and the resulting separation of families. As of December, the facility held about 2,800 teenagers, many of whom were separated from the hundreds of parents who crossed the border illegally and were charged with illegal entry.

"The last children left this morning," said BCFS, the San Antonio–based contractor running the facility for the government, in a statement to BuzzFeed News. "The shelter is now empty. We are continuing demobilization."
The vast majority of the children were released to sponsors, including family, and about 300 were transferred to other facilities operated by the Office of Refugee Resettlement, BCFS said.
Rep. Will Hurd, a Texas Republican who represents the area where the "tent city" was established and oversees 820 miles of border in his district, welcomed the closure of the facility.
"Our strategy to solve our broken immigration system should never include the use of children as a deterrent," Hurd told BuzzFeed News. "The Tornillo temporary facility was a symptom of a bad policy."
In December, the Department of Health and Human Services (HHS), which is charged with the care of unaccompanied children, said it was reversing a controversial background check policy that slowed the release of hundreds of kids who had entered the US by themselves. The additional background checks generally failed to produce new information showing the child would be at risk.
Almost 6,200 unaccompanied children in total were detained at the facility in the months it was in operation.

The Tornillo facility's closure came in the aftermath of a government watchdog report that found that HHS was not conducting required FBI fingerprint background checks of workers at the site. The department's Office of Inspector General also found that the Tornillo site lacked enough staff clinicians "to provide adequate mental health care" for unaccompanied children.
The facility was supposed to be a temporary solution to meet the demand for bed space because the government didn't have enough in its shelter system, which was buckling as a result of the Trump administration's systemic separation of children from their parents at the border. When it opened in June, the site had a 30-day contract and housed 326 individuals, which ballooned to 3,800 last month, according to a fact sheet from HHS.