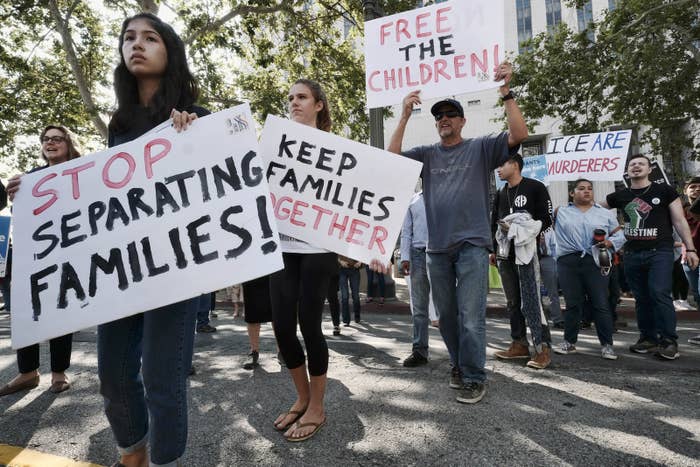 A federal judge on Friday rejected the Justice Department's claim that lawyers for the American Civil Liberties Union should take the lead in locating parents who were separated from their children and then deported without them.
At a hearing in San Diego, US District Judge Dana Sabraw said the government's inability to track down these parents and reunite them with their children was a direct result of its actions and that it was the government's responsibility to undo the damage it had caused.
He told the government to assign people to track down the missing parents and said he would issue a written order soon laying out what he wants the government to do.
"The reality is that for every parent who is not located, there will be a permanently orphaned child, and that is 100% the responsibly of the administration," Sabraw said.
The comments came a day after lawyers for the Justice Department said in court filings that ACLU lawyers "should use their considerable resources and their network of law firms, NGOs, volunteers, and others" to establish contact with parents no longer in the United States.
More than 2,500 children were separated from their parents at the border as a result of the Trump administration's "zero tolerance" policy. The policy called for charging every person caught crossing the border with illegal entry.
The move resulted in the systematic separation of children from their parents because the kids couldn't go with them to federal custody while they waited to see a judge for the federal misdemeanor illegal entry charge.
Following intense backlash over the practice, President Donald Trump signed an executive order on June 20 ending the practice for parents with kids, though the policy remains in place. Sabraw later ordered the government to reunite the families as part of a lawsuit brought by the ACLU over family separations.
Sabraw also said it was "unacceptable" that there was no plan on the government's end to locate and reunite the deported parents of 410 kids currently in the custody of the Office of Refugee Resettlement or the parents of 68 children released into the US.
He called for the government to appoint one or two people from the State Department or Department of Health and Human Services to take responsibility for locating the parents and said he would issue an order spelling out what the government is to do. He said he would hold another conference next week on the matter, though he did not specify a day.
"There has to be someone to hold accountable and to supervise the entire process," Sabraw said.