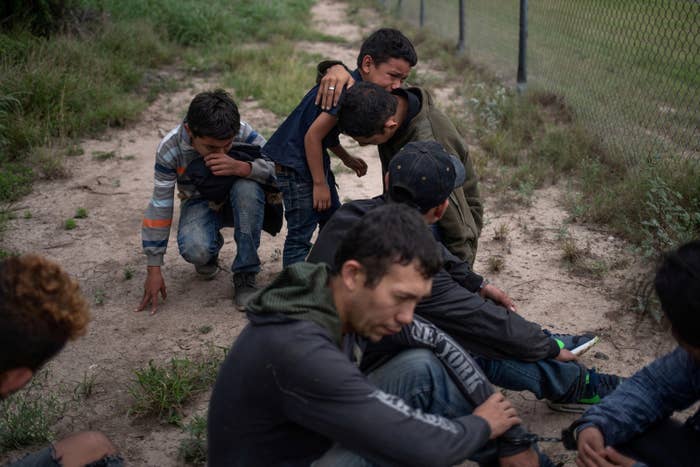 Immigration advocates and legal experts pushed back Tuesday after Trump administration officials blamed Democrats for loopholes in immigration law that they said force immigration agents to separate children from their parents at the US-Mexico border.
"Seeking asylum is not a loophole, it is an international right and a right guaranteed by our own domestic laws," Michelle Brané, the director of migrant rights and justice for the Women's Refugee Commission, said during a conference call with reporters. "Family separation is not required by any law, this is a Trump administration policy clearly designed to punish parents, who are just trying to get their children to safety."
That call came hours after Trump policy adviser Stephen Miller told reporters on a different conference call that the administration had no choice but to ramp up the separation of families because smugglers were taking advantage of "loopholes" to pose as families to gain entry to the US.
"The current crisis … is the exclusive product of loopholes in federal immigration law that Democrats refuse to close," Miller said. "If we were to have those fixes in federal law, the migrant crisis emanating from Central America would largely be solved in a very short period of time. Families would then therefore be able to be kept together and could be sent home expeditiously and safely."
The back and forth came after days of outcry over the administration's increasing practice of separating children from their parents at the border amid a flurry of reports that the nation's immigration services have lost track of nearly 1,500 children who were placed in foster homes as unaccompanied minors.
President Donald Trump tweeted over the weekend, calling for putting pressure on Democrats to end "the horrible law" that separates children from parents once they cross the border.
But that description of what the law requires is inaccurate, immigration advocates said. Instead, the Trafficking Victims Protection Reauthorization Act requires proper screening of children's asylum and trafficking claims to make sure they are not sent back to gangs or trafficking cartels, said Jennifer Podkul, policy director for Kids in Need of Defense (KIND).

"The basic procedural protections these children receive are vital to ensuring that they receive meaningful access to US protection so we do not return them to grave harm, or even death," Podkul said. "Certainly not 'loopholes,'" she added.
US authorities also are restricted in how they deal with immigrant children by a 1997 court settlement, known as the Flores agreement, that says the US can't hold undocumented families in detention for longer than 20 days. Miller said that court order allows families to disappear, "never to be seen again," while they wait for the immigration case to be decided.
Earlier this month, Attorney General Jeff Sessions announced that he had instituted a "zero tolerance policy" for undocumented migrants caught trying to enter the US undetected on the southwest border by referring all of them for prosecution for entering the country illegally. Under the new policy, 638 adults have been referred for prosecution between May 6 and May 19, officials said in a Senate hearing.
The move in effect separates parents facing misdemeanor illegal entry charges from their children, placing the kids into the custody of the Office of Refugee Resettlement (ORR). The same agency, which is part of the Department of Health and Human Services, told Congress in April that it had lost track of 1,475 children who were placed in sponsors' homes between October and December 2017.
Children being separated from their undocumented parents was an issue during the Obama administration too, but Lee Gelernt, deputy director of the American Civil Liberties Union's immigrants' rights project, said that it has never been as systemic a practice as it is now.
"What's happening is really brutal, as bad as anything I've ever seen," said Gelernt, who is spearheading a lawsuit to prohibit family separation unless the parent is deemed unfit. "There is no law that remotely requires the separation of children."
Under Trump, children are being separated from their parents even when migrants present themselves at ports of entry seeking asylum — something the law permits.
"It's perfectly legal for parents and children fleeing horrific violence and dangerous situations to apply for asylum in the US," David Leopold, former president of the American Immigration Lawyers Association, said. "Yet, the president of the United States and his willing collaborators are using children as hostages to pressure their parents not to seek safe haven. This is what an authoritarian regime does: manipulates families for a political objective."

Vera Bergengruen contributed additional reporting to this story.