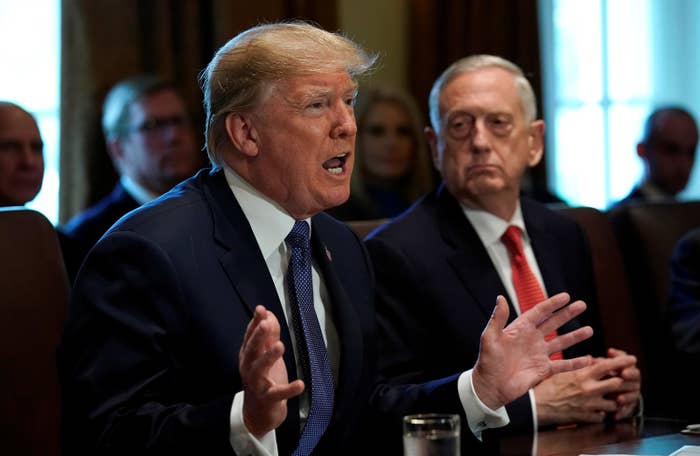 In calling for the termination of the diversity visa lottery program that the man suspected of killing eight people in a terrorist attack in New York used to enter the United States, Donald Trump has joined a chorus of people who've objected to the program over the years.
Two bills already had been filed in Congress to do away with the program, which was begun in 1990 to help Irish immigrants but in recent years has been responsible for an increase in the number of Asians and Africans granted green cards.
Anthony Romero, executor director of the ACLU, said Trump's calls to end the program and statements about "extreme vetting" following the attack represent a trifecta of unconstitutional and wrong-headed policies.

"His call for more 'extreme vetting' and an end to the diversity visa program — which will unfairly target Muslim and African immigrants — would double down on his Muslim ban and anti-immigrant policies," Romero said in a statement.

Trump said the New York attacker, once in the US, sponsored the immigration of 23 other people in a process detractors call "chain migration" – when an immigrant sponsors relatives as immigrants.
"He was the point of contact, the primary point of contact for – this is preliminarily – 23 people that came in or potentially came in with him," Trump said. "And that is not acceptable. We want to get rid of chain migration. And we have wanted to do that for a long time."
The US Department of Homeland Security confirmed Wednesday that the suspect in the attack came to the United States from Uzbekistan through the diversity visa program in 2010. That year 3,356 people from Uzbekistan were awarded visas to come to the US under the program, according to figures from the State Department.
Chain migration is not a legal term but has been used to refer to the act of a legal permanent resident sponsoring family members to immigrate to the US, a move anyone with a valid green card can make.
The program allows as many as 50,000 people into the US annually. It takes applications from residents of countries that send few immigrants to the US in the previous five years.
Diversity visa recipients in 2015, the most recent numbers available, made up about 48,000, or 5%, of all 1 million immigrants who got a green card through various programs such as employment or family sponsored visas.
Sarah Pierce, an associate policy analyst with the Migration Policy Institute, told BuzzFeed News that many don't believe the program will survive under the Trump administration since it had already been under attack.
"This will be used to make a big political statement but this has been a program that's been on the chopping block for a long time," Pierce said. "There might be a big show of eliminating it, but it's not a big or unexpected change."

Part of the issue is it's hard to track the contributions these individuals make to the United States compared to employment-based immigrants so it's politically easier to call for the termination of the diversity visa program, Pierce said.
The online application for the diversity visa lottery program was shut down due to technical issues in October. That forced an unknown number of people who'd used the site before it was temporarily shuttered to reapply. It alarmed some people because they feared many of these applicants, who may lack access to a computer, would be unaware that they needed to reapply.

Applicants for the 2019 green card lottery have until Nov. 22 to apply.
The program was created to help people from Ireland immigrate and get legal status in the United States. Would-be Irish immigrants were having a difficult time getting a green card after the Immigration Act of 1965 got rid of a quota system that awarded visas on the basis of national origin in favor of one that favored reuniting families and attracting skilled labor to the US.
As a result, Irish-American lawmakers made the diversity visa program a part of the Immigration Act of 1990, Pierce said. Since the first lottery took place in 1995 the program has become a major source of immigrants from Asia and Africa.

In 1995, the first year of the program, Poland and Ireland had the most recipients, and European countries accounted for almost half of all diversity immigrants, according to a report from the Migration Policy Institute.
By 2014, African countries were the main source of diversity immigrants, 23,190 of 50,000, and Europe was in third place after Asia.
In 2015, the latest figures from the US Department of Homeland Security, 47,934 people got permanent residency through the diversity program. About 41% of those were from Africa, 30% from Asia, and 24% from Europe. African immigrants who came through the diversity visa program were 19% of all people who got a green card in 2015.
For years government reports noted that lawmakers have called for ending it, many citing security and terrorism concerns.
A 2007 report from the US Government Accountability Office said the diversity visa program was vulnerable to fraud committed by and against applicants, but found no evidence that diversity visa immigrants posed a terrorist threat.
Later, a 2011 report from the Congressional Research Service said lawmakers who wanted to eliminate the program cited potential terrorism concerns, citing difficulties in performing background checks. The report cited the case of an Egyptian immigrant who shot and killed two people at LAX in 2002 after getting a green card through the diversity lottery.
Still, the report said winners of the program have to go through the same background checks that all green card applicants undergo.
Sayfullo Habibullaevic Saipov, the 29-year-old terror suspect, isn't the only Uzbeki who won a green card in the diversity lottery and later allegedly plotted an ISIS-inspired terror act in New York City.
Last Friday, a Brooklyn federal judge sentenced Abdurasul Juraboev to 15 years in prison after he pleaded guilty to providing material support to a foreign terrorist organization. He was charged with a group of six Uzbeki men with providing financial support to ISIS and holding an online discussion of a possible terror attack at Coney island.
Juraboev was first charged in 2015 after he bought a ticket to Turkey, in order, according to recorded conversations, to cross into Syria and join ISIS. He'd also threatened to kill President Obama.
The 27-year-old citizen of Uzbekistan, Juraboev, won a slot in the diversity visa program in 2011, after his brother entered him in it. He moved to Brooklyn soon after.
Trump also blamed Sen. Chuck Schumer, who supported the 1990 legislation that included the provision creating the diversity visa program, when speaking out against the attack.
But Schumer called for ending the program in 2013 when he was part of the "gang of eight" bipartisan lawmakers trying to pass comprehensive immigration reform. The bill, as part of negotiations, would've killed off the diversity lottery program.
"I guess it's not too soon to politicize a tragedy," Schumer said in a tweet.
"President Trump, instead of politicizing and dividing America, which he always seems to do at times of national tragedy, should be bringing us together and focusing on the real solution – anti-terrorism funding – which he proposed to cut in his most recent budget," Schumer said.

Pierce said she has expected for some time that the visa program's eventual demise was a certainty.
"This horrific event isn't going to change the fate of the program, but it could move up the elimination of it," Pierce said.