The Trump Administration Said It's Not Expelling A Group Of Immigrant Children Held In A Hotel
A group of 17 unaccompanied children will be allowed to make their cases in the US instead of being quickly expelled like thousands of immigrants have under a coronavirus policy.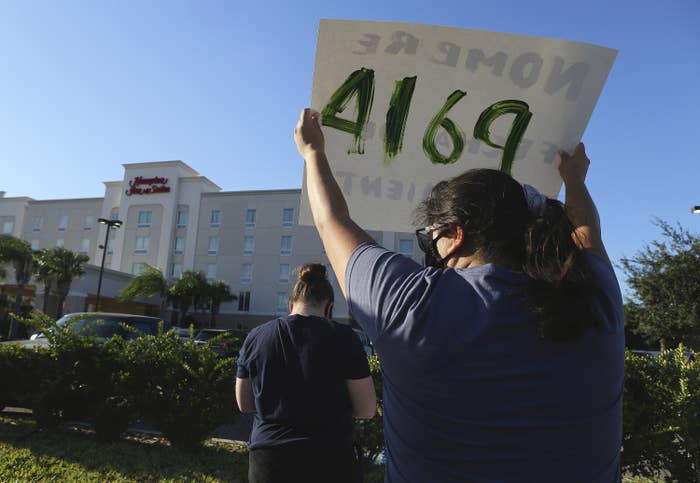 MCALLEN, Texas — The Trump administration on Monday said it will not expel a group of immigrants, including an unaccompanied child, detained at a Texas hotel under a policy that has immediately sent back thousands at the border.
Last week, the Associated Press reported that Immigration and Customs Enforcement was holding unaccompanied minors, some as young as 1, in hotels before quickly removing them without allowing them to go through the US's legal immigration system. A private contractor for ICE would take children to three Hampton Inn & Suites hotels in Arizona and at the Texas–Mexico border before sending them to their home countries.
As a result of a lawsuit filed by the ACLU on behalf of the Texas Civil Rights Project, 17 immigrants, including adults and children, detained at a Hampton Inn in McAllen, Texas, will instead be sent to a US refugee agency. The hotel was the center of a protest over the practice last week, and where a TCRP attorney trying to reach the children was pushed into an elevator wall by men in plain clothes. Immigrant children and families would wave at advocates from the hotel's windows or hold up signs saying they didn't have telephone access.
"The government hereby represents that the unnamed single minors who were at the identified hotel ... will be processed," attorneys for the government said in court documents filed Monday.
The adults and children covered by the lawsuit only represent a portion of all immigrants being quickly expelled from the US.
"The Trump administration must stop secretly deporting children, and not just grant hearings to the children we learn about," the ACLU said in a statement.
Efrén C. Olivares, legal director of the Racial & Economic Justice Program with the TCRP, said in a statement that the recent day's efforts by advocates helped expose a practice that has affected thousands of immigrants and asylum-seekers.
"But for the efforts of the brave people who exposed this illegal practice ... the government would be perfectly happy to expel children without a trace," Olivares said.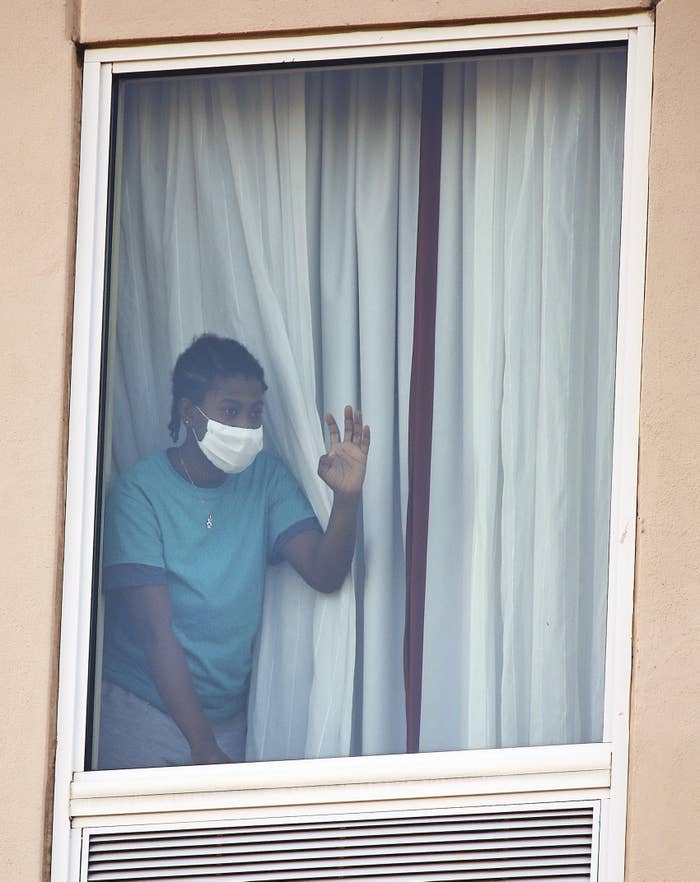 In March, the Trump administration said it would immediately send immigrants and asylum-seekers trying to enter the US back without detaining or processing them — a major departure from the way the US would previously treat immigrants at the border. The policy applied to all immigrants, including unaccompanied minors.
The decision by the administration to avoid pursuing a removal under the new policies comes as advocates and politicians have increased pressure over the government's use of hotels to hold children in immigration custody. Last week, the Associated Press reported that the government had used hotels frequently in recent months to remove children under the new policy. The National Center for Youth Law also reported in a court declaration in a separate case overseeing the care of detained juveniles that more than 200 kids from April to June had been removed under the new policy after being held in hotels.
A court-appointed monitor in that case found that more than 30 unaccompanied children like the ones held at the Hampton Inn in McAllen were in Texas hotels under the supervision of federal contractors. The monitor said the hotels should no longer be used for unaccompanied children due to a lack of oversight.
"Children and families are not usually taken outside during their time in hotels. Younger children may sometimes play in enclosed pool areas for short supervised periods, but generally residents have little to no access to recreation," the court-appointed monitor said. "Minors in temporary housing also lack access to education and therapy/counseling. Visitation is not permitted, but residents can call or video chat friends, family, and legal counsel upon request."
Previously, unaccompanied children from Central America picked up by Border Patrol agents would be sent to the Office of Refugee Resettlement, where they would be housed in shelters as they officially started applying for asylum and waited to be reunited with family members or other sponsors in the US.
The ORR referral process was created by the Trafficking Victims Protection Reauthorization Act, which was signed by then-president George W. Bush in 2008. Under the law, CBP officials are generally required to refer the children within 72 hours to the refugee agency.
In addition to the unaccompanied children detained at the McAllen hotel, immigrant families had also been moved over the weekend in the cover of Hurricane Hanna, Olivares said.
"We'll continue our efforts to make sure that they are not disappeared and that we continue to expose black sites like this, whether they be in a Hilton or another hotel or another government prison," Olivares said. "But this isn't enough. Congress must investigate."
UPDATE
Due to a government error, an earlier version of this story misstated the number of unaccompanied children who were not expelled as a result of the lawsuit. A total of 17 immigrants, including adults in families, were not immediately deported without a hearing.