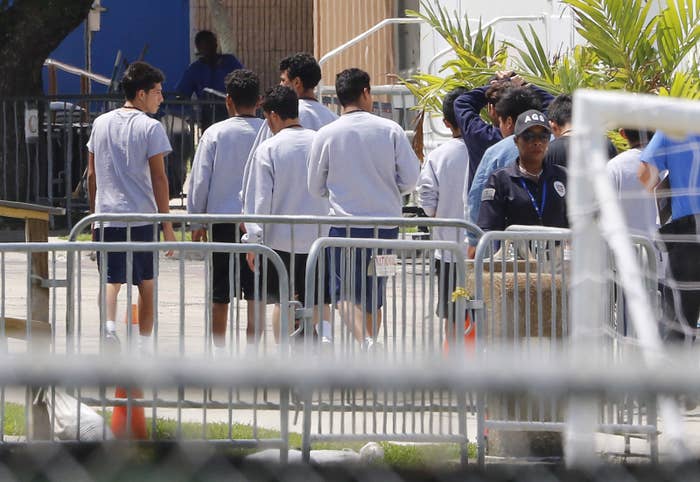 The Trump administration is canceling English classes, legal aid, and recreational activities like soccer for unaccompanied immigrant children being held in federal shelters, citing budget constraints as the number of detainees continues to grow.
The Office of Refugee Resettlement told contractors who run the facilities this week to begin scaling back or shutting down activities for unaccompanied children "that are not directly necessary for the protection of life and safety."
Critics slammed the move as punitive and illegal. Carlos Holguin, a lawyer who took part in a lawsuit that helped set standards of care for children in custody, told the Washington Post he would file new legal action "if they go through with it."
"What's next? Drinking water? Food? Where are they going to stop?" he said.
But Evelyn Stauffer, a spokesperson for the Administration for Children and Families, a division of the Department of Health and Human Services that oversees the care of unaccompanied children, said the number of immigrants at the border has been straining ORR's ability to care for the children.
"Additional resources are urgently required to meet the humanitarian needs created by this influx — to both sustain critical child welfare and release operations and increase capacity," Stauffer said in a statement.
As part of a court settlement, known as the Flores settlement agreement, shelters holding unaccompanied minors should provide educational services in a classroom setting Monday through Friday. The classes should focus on the development of basic academic competencies and English.
Unaccompanied minors should also have access to at least one hour a day of recreational activity and one hour of leisure activities, according to the settlement. Cutting funding for these activities could be a violation of the agreement.

Denise Bell, researcher for refugee and migrant rights at Amnesty International USA, said ORR funding is used to give "Know Your Rights" presentation, legal screening to all unaccompanied minors in its custody, and direct representation. The screening determined the child's eligibility for immigration relief.
It's unclear what exactly is being cut, Bell said, or if it would get rid of the legal service provider doing the presentations, screenings, and representation.
"I don't see how that could happen without violating Flores," Bell told BuzzFeed News. " If that is it...this is effectively treating children as adults and requiring them to fend for themselves in an incredibly complex legal environment."
In May, Border Patrol agents apprehended 11,507 unaccompanied children along the border, an increase from 8,900 in April. At the ports of entry, border agents apprehended 386 unaccompanied kids in May, about the same as the month before.
Jessica Bolter, a research assistant at the Migration Policy Institute, said the more than 11,000 unaccompanied children taken into custody between ports of entry in May was the highest number on record. It's the first month that's topped the prior peaks of May and June 2014 when the Obama administration saw a then-unprecedented number of unaccompanied minors at the border.
HHS is trying to get an emergency appropriation of $2.88 billion to increase shelter capacity. Unaccompanied children detained at the border by DHS agents are sent to ORR shelters. From there, the agency tries to place the children with sponsors, usually family members. Many of the children are fleeing violence and extreme poverty in Central America.
On May 17, the Trump administration notified Congress of an anticipated deficiency in ORR's unaccompanied minors program, saying it was on pace to run out of money and would likely need supplemental funding.
Border Patrol has apprehended 56,278 unaccompanied children since the start of the fiscal year in October.