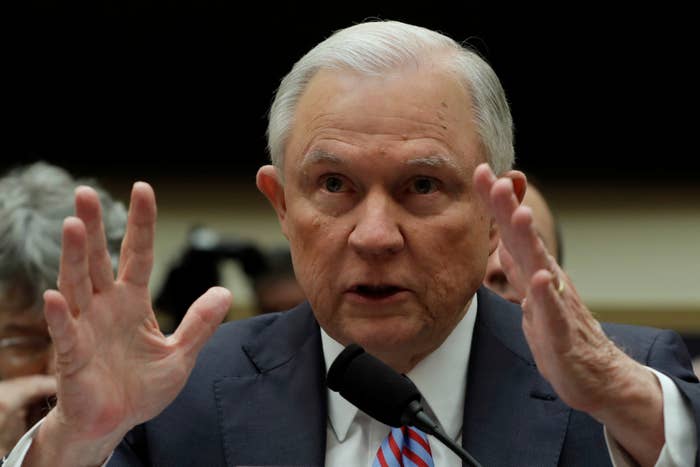 On Wednesday, the US Department of Justice put 29 states, counties, and cities on notice, demanding that they show they're cooperating with federal laws by sharing information with immigration authorities in what appears to be a tactic for the Trump administration to continue its fight to defund so-called sanctuary cities.
The jurisdictions that received the letters include Seattle, Los Angeles, and the state of Vermont, among others.

The letters come after a federal judge thwarted the Justice Department's efforts to withhold federal grants from sanctuary cities by ruling that the effort was unconstitutional. In a response to a lawsuit by Chicago, US District Judge Harry Leinenweber issued a nationwide preliminary injunction in September that blocked the Justice Department from requiring cities to comply with new federal grant requirements aimed at sanctuary cities.
Chicago had argued that the Justice Department didn't have the authority to issue new rules in July that required jurisdictions applying for federal funds to provide immigration agents access to local jails to interrogate suspected undocumented immigrants and to give the Department of Homeland Security 48 hours notice before releasing someone federal authorities wanted to take into custody. The judge agreed that Chicago was likely to prevail in a trial.
But he also did not block a Justice Department requirement that cities applying for grants certify that they are in compliance with an existing law, Section 1373, that restricts cities from withholding certain information about a person's citizenship status from DHS officials.

It was that section that the Justice Department cited in its notifications Wednesday.
Attorney General Jeff Sessions said in a statement that cities, states, and counties that adopt so-called sanctuary policies adopt the view that protecting criminal undocumented immigrants is more important than the protection of law-abiding citizens and of the rule of law.
"I urge all jurisdictions found to be potentially out of compliance in this preliminary review to reconsider their policies that undermine the safety of their residents," Sessions said. "We urge jurisdictions to not only comply with Section 1373, but also to establish sensible and effective partnerships to properly process criminal aliens."
In the letter obtained by BuzzFeed News to Seattle, the DOJ took issue with a municipal code and executive order prohibiting Seattle city employees from asking about a person's immigration status.
"The Department is concerned that this appears to restrict the requesting of information regarding immigration status, in violation of section 1373," the letter said.
The Justice Department said all 29 jurisdictions have until Dec. 8 to demonstrate that their laws, policies or practices comply with Section 1373.
In a statement, the department said it has the authority to determine whether these jurisdictions are complying with Section 1373.
"While jurisdictions must submit their certification of compliance with 1373, the Justice Department reserves the right to audit that certification if it becomes aware of potential violations," a Justice Department official told BuzzFeed News.
This could clear the way for the Justice Department to try again to withhold funds if the agency determines the jurisdictions are not complying with Section 1373. The September preliminary injunction noted that complying with Section 1373 was a condition of receiving the grants.
"The most natural reading of the statute authorizes the Attorney General to require a certification of compliance with all other applicable federal laws, which by the plainest definition includes Section 1373," Judge Leinenweber said.
The letters issued Wednesday say the Justice Department hasn't made a final determination on compliance, however, and that it hasn't taken any action at this point.
This also isn't the first time the Justice Department issues these types of letters to jurisdictions.
Most recently in October, the Justice Department sent letters to Cook County, Illinois, Chicago, New Orleans, New York City, and Philadelphia, warning them they may have violated Section 1373. The jurisdictions had until Oct. 27 to respond with additional evidence before the department made a final determination. The Justice Justice Department has taken no action.
On Thursday, Devin O'Malley a DOJ spokesperson, said Sessions met with New Orleans Mayor Mitch Landrieu and Michael Harrison, superintendent of police at the New Orleans Police Department to discuss information sharing.
"Attendees discussed the City's laws, practices, and policies—and the Attorney General was pleased to hear that the City of New Orleans has committed to sharing information with federal law enforcement authorities," O'Malley said in a statement.
It was unclear what specific information New Orleans would share with federal authorities.
The jurisdictions receiving Wednesday's letters were:
Albany, New York; Berkeley, California; Bernalillo County, New Mexico; Burlington, Vermont; Contra Costa County, California; City and County of Denver, Colorado; Fremont, California; Jackson, Mississippi; King County, Washington; Lawrence, Massachusetts; Los Angeles, California; Louisville Metro, Kentucky; Middlesex, New Jersey; Monterey County, California; Multnomah County, Oregon; Newark, New Jersey; Riverside County, California; Sacramento County, California; City and County of San Francisco, California; Santa Ana, California; Santa Clara County, California; Seattle, Washington; Sonoma County, California; Washington, DC; Watsonville, California; West Palm Beach, Florida; the state of Illinois; the state of Oregon; and the state of Vermont.