Transgender Women Can Now Be Housed In Women's Facilities Under New Immigration Rules
New guidelines announced on Monday will allow transgender women to be housed in women's immigrant detention facilities, a move long sought by activists.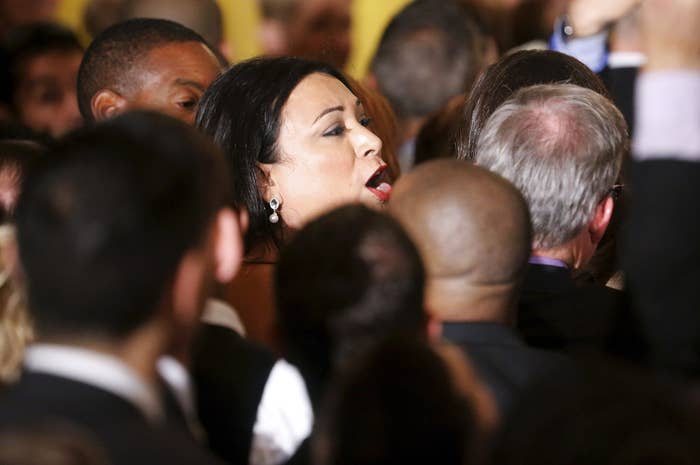 U.S. immigration officials on Monday announced that transgender detainees will now be able to be housed with the population that matches their own gender identity, a move aimed at better protecting a population more vulnerable to sex abuse while in detention.
The changes, outlined in an 18-page memo, will take effect at facilities over time as U.S. Immigration and Customs Enforcement employees are trained under the new system.
Andrew Lorenzen-Strait, the deputy assistant director for custody programs for ICE, said the guidelines give the agency's employees the tools and resources to properly house, care, and protect transgender detainees.
"We want to give transgender detainees the chance to say 'Hey I'm trans and this is my gender expression, I want you to take that into account," Lorenzen-Strait told BuzzFeed News.
Lorenzen-Strait, who will be the National LGBTI coordinator overseeing the changes, said ICE spent six months developing the guidelines and spoke with trans detainees at length about them.
He believes there are up to 75 transgender people in ICE custody, but the figure can't be confirmed because the agency didn't keep track of all trans detainees.
Under the new changes, ICE's data systems will also be updated to record a person's gender identity. Officers will also receive training to help identify someone's gender identity early on.
The memo comes days after an undocumented transgender woman interrupted President Obama at a reception for LGBT Pride Month to highlight the concerns of trans detainees.
Detained transgender women run the risk of being placed in centers with men or in isolation for extended periods of time under the guise of keeping them safe, advocates say.
ICE officials said the guidelines were not issued as a result of public pressure, but part of a years-long effort to reform the detention of transgender detainees.
Groups like the #Not1More campaign, who are calling for an end to all deportations, in a statement said that in their experience implementation of the changes will be inconsistent and with little oversight or accountability.
In 2012, ICE announced it was updating its detention standards in an attempt to keep detainees safe and secure. On Monday officials with the agency said only 62% of detainees are in a facility that adheres to the the standards.
The National Immigration Justice Center said the guidelines gives trans detainees the basic dignity they're entitled to, but they doesn't provide enough details about how it will stop the risk of sexual abuse they face in detention. The group also took issue with the use of segregate units, which they say are comparable to solitary confinement.
Keren Zwick, managing attorney for NIJC's LGBT Immigrant Rights Initiative, said she was happy to see ICE announce the guidelines.
"But as with any ICE initiative, the devil is in the details," Zwick said. "We continue to have significant concern that the implementation of this guidance will be slow, insufficient, and that it will result in hubbing transgender women in remote areas where they cannot have meaningful access to counsel."
Transgender women in men's prisons in California were 13 times more likely to be sexually abused than other inmates, according to a 2009 study by UC Irvine.
A 2013 investigation by the Government Accountability Office found that of every five victims of sexual abuse in detention, one is transgender.