Transgender Immigration Cases Could Affect Future Asylum Seekers
The cases of three transgender women could set a precedent for how immigration courts distinguish between gender identity and sexual orientation when ruling on asylum cases, attorneys say.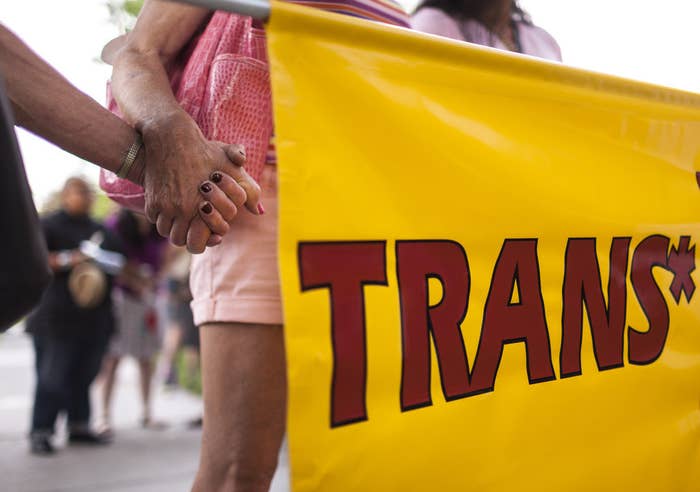 Before seeking refuge in the United States, Lucia Mondragon-Alday, a transgender woman, said she endured years of abuse in her native Mexico.
Mondragon-Alday told immigration officials she was raped 10 times by Mexican police, according to court documents. Then months before she made her way to the U.S. border, she witnessed her roommate get killed before she herself was burned alive and left for dead by the same men.
Today she's one of three transgender immigrant Mexican women seeking protection from deportation in cases that could affect how immigration courts treat transgender people, their attorneys said.
The Ninth Circuit Court of Appeals is currently weighing the cases of Mondragon-Alday, Daniella Godoy-Ramirez and Edin Avendano-Hernandez. A Los Angeles immigration judge and the Board of Immigration Appeals have previously denied their petitions.
Munmeeth Soni, an attorney with the pro-bono Public Law Center who is representing the three trans women, told BuzzFeed News that a favorable ruling could set a precedent for immigration courts to recognize a transgender person as belonging to their own distinct social group, and help make explicit that gender identity is different from one's sexual orientation.
The distinction is important because, as Mondragon-Alday's story illustrates, transgender people in Mexico face far more challenges and dangers in Mexico that gays and lesbians, who have made some civil rights inroads in recent years.
So not being viewed by U.S. officials as gay could bolster a transgender immigrant's case for not being sent back.
Soni said the courts currently incorrectly group transgender people with gay individuals. As a result, they overlooked the distinct experiences and challenges her three transgender clients faced when their cases were denied.
Los Angeles immigration Judge Lorraine Munoz, who ruled on the three cases, and the BIA said a mix of official and unofficial reports presented during the hearings indicated that conditions for the LGBT community had improved in parts of Mexico when they ruled the women wouldn't face persecution if they returned.
The reports noted that same-sex marriage in certain parts of Mexico was legal and that gay couples have adoption rights in Mexico City.
Speaking before the Ninth Circuit, Aimee J. Carmichael, an attorney for the U.S. Department of Justice said Mondragon-Alday failed to prove there was a pattern and practice of persecution against transgender people in Mexico.
"The evidence doesn't show that the government is systematically persecuting transgender individuals," Carmichael said. "The Mexican government is making an effort to protect these individuals."
Soni said passing same-sex marriage laws in some areas of the country doesn't protect the transgender community from further violence and discrimination.
Niels Frenzen, director of the USC Law Immigration Clinic, said the dangers transgender people face compared to gay men and lesbians can be greater, especially if the person is visibly trans or lives in a rural area of Mexico.
Frenzen, who has represented transgender asylum seekers, said there's no reason for immigration courts to use rights afforded to gay men and lesbians in certain parts of Mexico to downplay the fears of transgender people, Frenzen said.
"No one is contesting that Mexico City hasn't made some progress on paper," Frenzen said. "But how does that translate to the rights of LGBT people broadly and of different socio-economic status?"
If the Ninth Circuit rules in favor of the women, Soni hopes their cases could help establish that members of the LGBT community from Mexico face a fear of suffering future harm if they return despite the passage of those same-sex marriage and adoption rights laws.