Three More Women Accuse Bill Cosby Of Sex Abuse
One of the women claims Cosby used one of her Gucci high heels as a champagne chalice before drugging and raping her in a Santa Monica hotel room.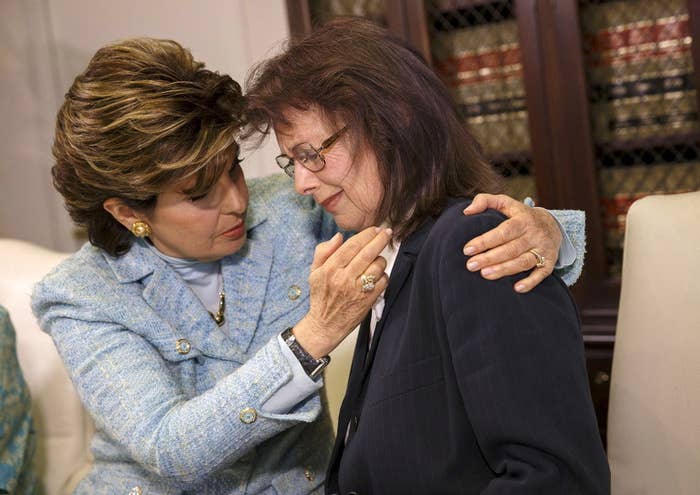 Two actresses and a former American Airlines flight attendant alleged that Bill Cosby raped, assaulted, or sexually harassed them — adding to a growing chorus of women who have made similar claims.

Flanked by attorney Gloria Allred at a news conference Wednesday, the women detailed the alleged abuse that they say occurred in the 1970s and '80s.
Linda Whitedeer, who broke down and asked Allred to take over during portions her statement, said she was assaulted in 1971 as Cosby interviewed her alone inside a director's office. Whitedeer was divorced from Fred Apollo, a vice president and department head of live TV for the William Morris Agency.
Allred said that after Whitedeer was ordered to take a seat, Cosby forced his penis inside of her mouth.
"I couldn't breathe. I was in shock," Whitedeer said. "He gloated over my humiliation. He planned it. Even to this day, I am still ashamed that I went into shock."
Colleen Hughes said she was raped in the early '70s while working as a flight attendant for American Airlines. On a flight to Los Angeles, she said Cosby invited her and a fellow attendant to lunch. After landing, the comedian drove with Hughes to a hotel in Santa Monica and waited for her to get ready.
After she exited the shower, Hughes said Cosby was drinking champagne out of her Gucci pumps.
"I said, 'Ewww, don't do that, that's gross. I just walked 3,000 miles in those shoes,'" Hughes said. "He raised the shoe toward me offering me the drink in my shoe ... and said, 'A princess should always drink champagne out of a glass slipper.'"
Hughes said she then drank champagne out of a glass he had ready for her. She said she then passed out.
When she woke up hours later, she realized she had been raped, Hughes said. Her clothes were strewn across the room, and she was covered in semen. Cosby was nowhere to be seen, Hughes added.

When Hughes saw Cosby on another flight years later, she said he appeared to have forgotten her and started to flirt again, calling her a "fine Irish lass."
Hughes said she told him to sit down and keep "that thing in his pants."
Hughes then told Cosby that he had already had her once and didn't want to be drugged by him again.
"Bill turned pale and said, 'Did you report that to anyone?'" Hughes said. "I said, 'Not yet, no. You are Bill Cosby — who would believe me? But if you touch anyone of the crew, I will report you.'"
Eden Tirl, another actress, said she was harassed after she worked on an episode of The Cosby Show in 1989. She was summoned to his dressing room and he started to ask her questions about her boyfriend and what she was willing to do to make it in the entertainment industry.
Anticipating that something would happen, Tirl told Cosby that he was "Jell-O pudding pops and Fat Albert to me. You are my childhood."
"He barked back instantly, 'Don't say that — they all say that,'" Tirl said.
Tirl said Cosby told her to turn around, stepped toward her, and put his hands over the backs of her hand. She said Cosby moved their hands together like an exercise actors do known as "the mirror exercise." He then pulled her into him and wrapped both their arms around him, Tirl said.
He "whispered in my ear 'See, that's all we were going to do, make love. That's making love," Tirl said. Cosby then turned her around, hugged her, and left without saying another word, she added.
Allred on Wednesday also used the news conference to relay a message to Cosby's attorney, Monique Pressley, who an interview with HuffPost Live, said: "I don't think that 10, 20, 30, 40 years later people get to decide to come forward."
"I have a message for Ms. Pressley," Allred said. "Instead of trying to change the subject from the specific allegations against Mr. Cosby to vague generalizations and truisms about the criminal justice system, I challenge you to debate me, since I now represent more than 21 of them."
Pressley responded to the challenge on Twitter.
At the end of the news conference, Allred said that she expected to depose Cosby on Oct. 9 in the case filed against him by Judy Huth, who accused the actor of molesting her when she was 15.
Allred also said that while it was too late for the three women to take any form of legal action, it wasn't too late for them to have their voices heard and make their case in the court of public opinion.
"The court of public opinion may matter significantly in this case to hold him accountable, and we are not finished yet," Allred said. "These are not the last three to come forward."