Father Charged With Fatally Stabbing Three Young Sons Appears In Court Sobbing
Luiz Fuentes faces three counts of murder after his sons were found dead inside a parked SUV in Los Angeles not far from a school. He could face the death penalty if convicted.
The man charged with fatally stabbing his three young sons and leaving their bodies in a parked SUV in Los Angeles appeared in court Wednesday sobbing and whispering "forgive me" to the audience.
Luiz Fuentes, who was also found with stab wounds inside the SUV, faces three counts of murder with the special circumstance allegation of multiple murders and another for using a knife.
On Wednesday, as deputies wheeled him into a downtown Los Angeles courtroom for his arraignment, Fuentes kept softly saying "forgive me" to two women in the audience as he cried but kept his head down for most of the hearing.
His arraignment was postponed to Oct. 7.
In the meantime, the 33-year-old is being held without bail. He could face the death penalty if convicted, although Los Angeles County prosecutors say they have yet to decide whether they will pursue capital punishment or life in prison without the possibility of parole.
The Los Angeles County coroner identified the brothers as Luis Alfanso Fuentes, 10, Juan Daniel Fuentes, 9, and Alexander Fuentes, 8. All three died of stab wounds.Their bodies were discovered by a pedestrian Wednesday near an elementary school.
Police responded to the scene at about 7:15 a.m. Sept. 9 for a call regarding an assault with a deadly weapon in the 300 block of East 32nd Street in South L.A. The SUV was parked behind a back entrance to Dolores Huerta Elementary School, but the three children weren't students there.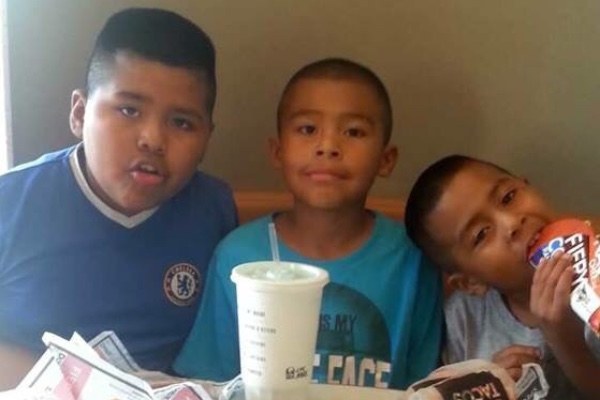 René Chanquin started a Go Fund Me page to pay for burial costs, raising more than $27,000 as of Thursday.
"The three boys had their whole lives ahead of them and were like any child their age, playful and happy," Chanquin wrote. "We are hoping and praying to bury the boys next to their mother who died back in 2008 of natural causes."