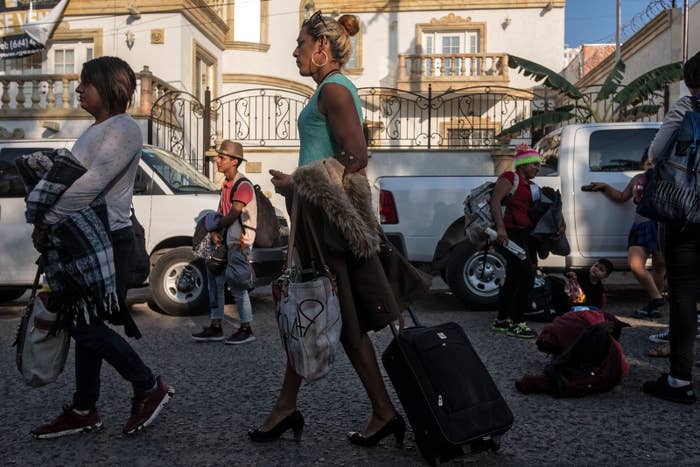 TIJUANA, Mexico — Standing on the beach in Tijuana on Wednesday, Christian caught his first glimpse of the United States. The country he was hoping to call his own was partially obscured behind a metal border fence in the process of being reinforced with barbed wire by construction crews surrounded by US soldiers.
Christian, who declined to give his last name out of fear of damaging his potential asylum case, was part of an LGBT contingent of the caravan that separated from the main group in Mexico City to head for Tijuana. The contingent said it faced discrimination from within the caravan in addition to the dangers that such a visible group faced on the journey through Mexico.
"We went ahead of the main caravan because we put our lives at risk on the road," Christian told BuzzFeed News. "My heart feels lighter now that we're here, we're so close."
The gay 24-year-old from Guatemala said that someone threw a bottle at him during the caravan's march north. When the group, which includes several transgender women, would try to hitchhike while traveling with the main caravan, drivers who were offering a lift to other members of the caravan would deny them rides or leave them stranded along desolate highways, Christian said.
There is another LGBT group currently still traveling with the main caravan, which is expected to arrive in Tijuana in the coming days.
The group of about 80 arrived in Tijuana on Sunday afternoon after 54 hours on the road, riding inside two buses paid for by RAICES, an immigrant advocacy organization based out of San Antonio, Texas.
RAICES raised $18,000 for this LGBT contingent of the caravan and spent $6,100 for bus tickets and $4,000 for an Airbnb. The advocacy organization used the remainder of the money to send a legal team to Mexico.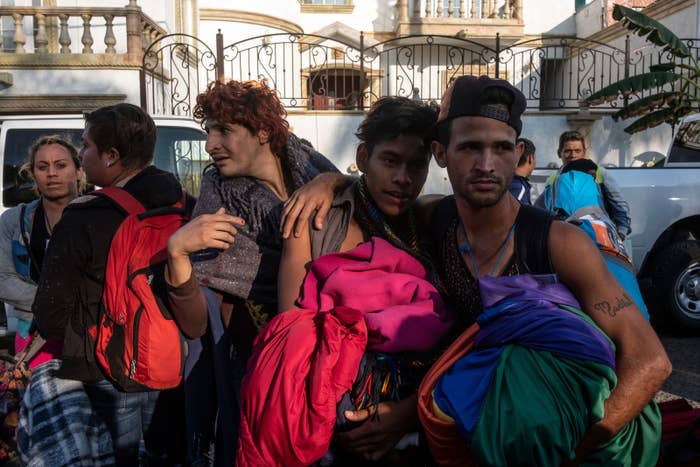 Once they'd arrived, the gay, bisexual, and transgender migrants would cook for each other or listened to music while their compatriots met with attorneys Inside the compound of homes where they lived while they planned their next steps and potential immigration cases.
Joe Rivano Barros, field officer for RAICES, first linked up with the caravan in Mexico City to determine the group's needs. Moving the LGBT group ahead of the caravan because of the discrimination and dangers on the road was high on the list.
There was also a concern that if this LGBT group arrived with the main caravan — which is estimated to include around 5,000 people — they would have to wait a long time for their chance to request asylum in the United States, Rivano Barros said.
The current wait list for asylum-seekers in Tijuana is about 1,000 people long, with the wait pegged at four to five weeks. Immigration attorneys who work with refugees at the border were concerned that the wait for asylum would more than double once the main caravan arrived in Tijuana, a process that's already bottlenecked. A new policy from the Trump administration set into place last week is also intended to funnel would-be asylum-seekers to ports of entry, potentially lengthening the process further.
Waiting can be dangerous for migrants who have to spend weeks in border communities before they can ask for asylum from US border authorities — they're often seen as easy targets by organized crime. That danger is augmented for LGBT migrants who can be more visible and are at increased risk of being sex trafficked by cartels in Tijuana.
"Being at the end of that line could be a death sentence for them," Rivano Barros told BuzzFeed News. "Also the US response could be a lot different once the caravan gets to Tijuana, and if the policies change, we want to make sure this group gets what they're legally required to receive under international law."
Cristian Sanchez, an attorney with RAICES who has been meeting with the LGBT group in Tijuana to discuss potential immigration cases, said many of them are interested in requesting asylum.
"I've seen a variety of cases from assaults to rapes at the hands of authorities, cartels, and even within families," Sanchez told BuzzFeed News. "These people have been harassed and terrible things have happened to them solely because of who they are."
Attorneys are also explaining what the asylum process looks like in the US and Mexico, as well as the almost guaranteed weekslong detention in the United States once they turn themselves in to immigration authorities.
"It's an uphill battle, but they're just trying to save their lives and many will die if they return home," Sanchez said.
Christian said he was shot several times by members of a local gang in Guatemala because he was gay, still, hiding his sexual orientation was never an option.
"I love being gay even though my life is at risk back home because of it," Christian said. "Life is still beautiful."