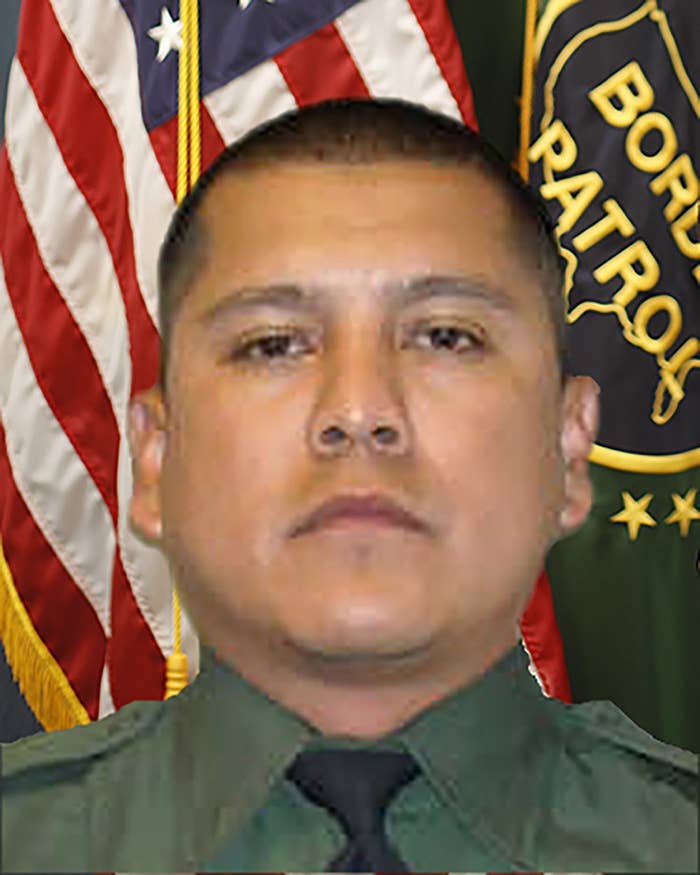 More than 24 hours after two Border Patrol agents were injured, one fatally, in a rural Texas county, there was still no official explanation for what happened.
A spokesman for their union said, however, that the two agents appeared to have been hit by rocks, a conclusion that Customs and Border Protection did not confirm. It said only that the dead agent, Rogelio Martinez, died as "a result of injuries sustained while on patrol."
Martinez, 36, and a second agent, who has not been identified, were responding to unspecified "activity" while on patrol near Interstate 10 near Van Horn, Texas, when they were injured, CBP said in a statement Sunday. The second agent then called in for assistance and said they were both injured.
CBP provided no additional information about the activity the agents were investigating, or the cause of their injuries. A spokesperson for the agency referred questions to the FBI, which took over the investigation Sunday.
Jeanette Harper, a spokesperson with the FBI, said that on Saturday at about 11:20 p.m. Border Patrol agents located Martinez and another colleague near a culvert area adjacent to Interstate 10, about 12 miles east of Van Horn, Texas.
"Both Agents sustained traumatic head injuries, along with other miscellaneous physical injuries such as broken bones," Harper said.
Martinez succumbed to his injuries on Sunday morning and the results of an autopsy are pending. The other agent remains in the intensive care unit at a hospital in El Paso, Texas.
Art Del Cueto, a spokesperson for the National Border Patrol Council union, said agents on the ground said the injuries were likely caused by rocks.
"They didn't find a weapon and the injuries were consistent with an attack by rocks," Del Cueto told BuzzFeed News. "From what we know, the agents were responding to sensor traffic."
No one had been arrested in the case, Del Cueto said.
Martinez's death would be the first time a Border Patrol agent had been killed by rocks after years in which officers and the union have said rock throwing prompted agents to shoot at immigrants.
"People always say, 'It's just rocks; why did they have to use their guns to protect themselves?'" Del Cueto said. "Rocks can kill you, that's the bottom line. It's not pebbles people are throwing; these are big boulders."

The issue of confronting rock throwers has long been a problem for Border Patrol. A 2013 report commissioned by CBP found that agents repeatedly stepped in front of fleeing cars to justify opening fire, and that agents shot at rock throwers from across the border instead of simply moving out of harm's way.

Texas Governor Greg Abbott announced Monday that the state is offering a $20,000 reward for information aid Monday that the state was offering a $20,000 reward for information "leading to the arrest and conviction of the person or persons responsible."

In a statement Monday, however, the FBI did not confirm that the agents had been attacked. Culberson County Sheriff Oscar Carrillo also expressed skepticism about the union officials' account of the incident, telling the Washington Post Monday that the agents may have fallen.
"The evidence is not obvious as to what happened out there," Carrillo told the paper. Martinez's injuries, he added, "were consistent with a fall."

"Why is the other guy hurt? That's the unknown," he said. "What happened to him?"
Acting Secretary of Homeland Security Elaine Duke said her office was fully supporting the ongoing investigation to determine the cause of death.

"On behalf of the quarter of a million frontline officers and agents of DHS, my thoughts and prayers go out to the family and friends of Agent Martinez and to the agent who is in serious condition," Duke said in a statement.
Politicians including President Trump took to Twitter on Sunday to decry Martinez's death and renew calls for increased enforcement on the border.
"What upsets me is how quickly this was politicized," Del Cueto said. "The reality is we have a dead agent and he was murdered."

Martinez started working with Border Patrol in August 2013, CBP said, and was from El Paso, Texas.