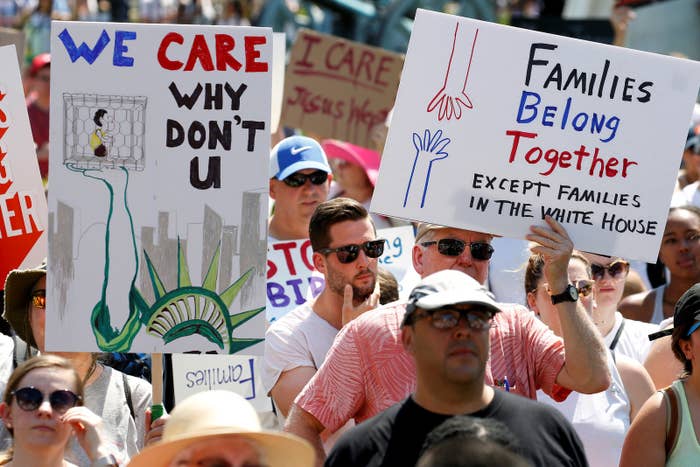 Facing a looming deadline to reunite kids and families separated at the border under the Trump administration's "zero tolerance" policy, the federal government is using DNA testing to link children with their parents.
The Department of Health and Human Services, which includes the Office of Refugee Resettlement that is tasked with housing unaccompanied minors, said on a call with reporters that it would use DNA testing to expedite reunification.
As part of a preliminary injunction last week, US District Court Judge Dana Sabraw gave the government until July 26 to reunite families. In cases involving children under age 5, Sabraw allowed the government only until Tuesday, July 10, to accomplish the reunions.
HHS Secretary Alex Azar told reporters that the typical method of verifying parentage with documents such as a birth certificate would take too long if the agency is to comply with the court order.
During the call with reporters, a reporter for the New York Times asked whether the various agencies now tasked with reuniting kids with parents by Tuesday could've avoided the race to the deadline with more planning at the outset.
Azar avoided answering the question and instead, turned the blame on the parents, who he said had broken US laws by entering the country illegally. "There is a surefire way to avoid separation from your children and that is present yourself at a legal border entry and make the case that you believe you have for coming into this country," he said.
Still, it was difficult not to conclude that the resort to DNA matching to speed reunions meant the Department of Homeland Security and HHS had not planned for the obvious eventuality that separated parents and children would have to be reunited.
Advocates have complained for weeks that they have been unable to use the DHS telephone and computer systems to locate children and parents. There have also been multiple reports of parents who do not know where their children are being held or who have been deported without their children. Additionally, HHS and DHS have declined to offer precise numbers of the number of children US officials have separated from their parents.
In any case, the agencies are clearly scrambling to comply with the judge's deadline for reunifications.
Jonathan White, a commander in the US Public Health Service and the assistant secretary for preparedness and response at HHS, said the DNA will be collected via cheek swab by a contractor and will only be used for the purposes of linking up kids with their parents. But before a DNA test is conducted, the agency first must have a claim of a relationship between a child and an adult, White said. He did not say how that claim would be established.
But Azar said that Customs and Border Protection, Immigration and Customs Enforcement, and ORR are manually reviewing the files of the more than 11,000 kids in their custody to ensure that HHS didn't miss any separated children.
Politico reported that last week Azar himself had been reviewing files, staying past midnight in the Secretary's Operations Center, the agency's 24/7 command center for critical information — yet another sign of how chaotic the separation and reunification process has been.
During the call, HHS officials said the department had fewer than 3,000 children in its custody who'd been separated from their parents, but did not give specific numbers. The officials said the department is holding 100 children under age 5 who've been separated from their families — and who must be reunited with their parents by Tuesday.

Under the administration's zero tolerance policy, which calls for the prosecution for illegal entry of every adult caught crossing the border without proper documents, parents crossing with kids ended up in federal custody to face charges. The administration claimed that that left it with no choice but to separate them from their children, who could not be jailed. Images and recordings of kids crying for their parents set off a backlash from Republicans and Democrats, and President Donald Trump quickly issued an executive order directing the Department of Homeland Security to keep detained families together.
But there was little evidence that the administration had a mechanism for quickly reuniting families, prompting Judge Sabraw's order.
Advocates for immigrants took a dim view of HHS's plans to use DNA to match children to parents.
Jennifer Falcon, a spokesperson for the advocacy group RAICES, noted that the program will give the US government the ability to track the families, including young children who have never faced criminal charges.
"This would allow the government to conduct surveillance on these children for the rest of their lives," Falcon said. "This is a further demonstration of administration's incompetence and admission of guilt."
Immigration advocates working with the separated families previously told BuzzFeed News that DNA tests won't really help. In most cases, the main obstacle isn't identifying lost children but overcoming the logistic and legal hurdles to putting families back together.
It further drives home the point that federal government never registered parents and kids properly, Falcon said.
"The children, some as young as 2 months old, cannot possibly give permission for this," Falcon said.