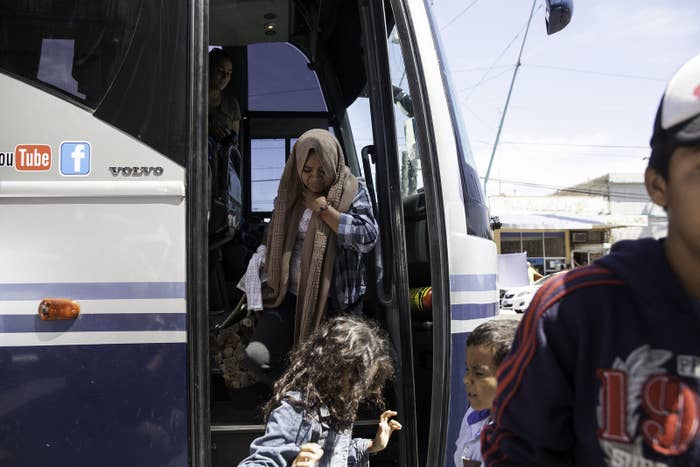 A migrant caravan that began its journey through Mexico a month ago has reached the US border, where its arrival will set up a confrontation between the Trump administration's anti-immigration policies and US laws that require the United States to grant asylum to people with valid persecution claims.

A group of about 130 women and children arrived Tuesday afternoon in Mexicali, on the Mexican side of the US border, after an overnight bus trip from Hermosillo, in Mexico's Sonora state. They were expected to be followed by as many as 500 other migrants late Tuesday and Wednesday.
While media attention to the caravan has dropped in recent weeks, the Trump administration has been keeping a watchful eye on the caravan's progress. Kirstjen Nielsen, secretary of the Department of Homeland Security, said Monday that her agency was monitoring "the remnants" of the caravan.
"If members of the 'caravan' enter the country illegally, they will be referred for prosecution for illegal entry in accordance with existing law," Nielsen said in a statement. "For those seeking asylum, all individuals may be detained while their claims are adjudicated efficiently and expeditiously, and those found not to have a claim will be promptly removed from the United States."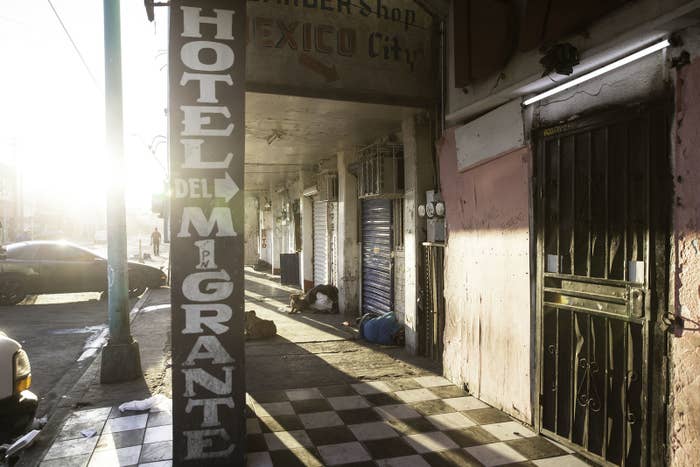 Attorney General Jeff Sessions also issued a statement Monday, saying the migrants and "their smugglers" had ignored the willingness of the Mexican government to allow them to stay in Mexico.

"Our nation has the most generous immigration system in the world, but this is a deliberate attempt to undermine our laws and overwhelm our system. There is no right to demand entry without justification," Sessions said in a statement. "Promoting and enforcing the rule of law is essential to protecting a nation, its borders, and its citizens. But, as President Trump has warned, the need to fix these loopholes and weaknesses in our immigration system is critical and overdue."
That statement was countered by Amnesty International Tuesday morning, which pointed out that "seeking asylum is not a crime in the USA or anywhere."
"The efforts of US officials to tarnish asylum seekers as criminals are cynical fabrications that ring hollow," the statement said, attributing the comment to Erika Guevara Rosas, the group's Americas director.

Officials of Pueblos Sin Fronteras, the volunteer group that organized the caravan, have said throughout the journey that migrants have the right to ask the US for asylum and that the United States must grant them the opportunity to do so.

Tristan Call, an organizer with Pueblos Sin Fronteras, said the US is trying to punish people who have a right to ask for asylum.
"The United States is punishing them so they won't be able to get asylum," Call told reporters outside Hotel del Migrante, a migrant shelter in Mexicali. "They're punishing the most vulnerable people. These are people who the last thing they saw was their home in ashes. The last thing they saw was a funeral."
Call said they told migrants who were going to seek asylum to ask for it in Tijuana because it was easier to get lawyers and legal assistants to go there to help than it was in Mexicali. Pueblos Sin Fronteras plans on holding additional legal workshops for migrants this week in Tijuana.
Alex Mensing, an organizer with Pueblos Sin Fronteras, said the right to refuge is established in US law.
Sergio Tamai, director of Hotel del Migrante and Angeles Sin Fronteras, a migrant aid group, said he'd been told to expect 250 people Tuesday on buses, and that another 400 people who are traveling atop trains should arrive shortly after. But in the end the first migrants to arrive would not be staying in Mexicali, but would be taken almost immediately to Tijuana, a two and a half hour drive to the west. Why plans had changed was not immediately known.
Maria Delma, 29, who is from Honduras, sat inside a dark area of the shelter after grabbing some food and drinks from local organizers who were waiting for them. Maria Delma said she was happy to be so close to the border, where she plans to ask for asylum along with her son and brother. Also present at the shelter were representatives for the Mexican state of Baja California and Grupos Beta, an arm of the National Institute of Migration (INM).
"It feels like we're one step away," Maria Delma told BuzzFeed News.
On the other side of the room sat Sergio, 40, also from Honduras, who was traveling with his wife and 10-year-old daughter. They had left their country after her daughter was unable to attend school because of threats from gang members whose entreaties for help she had refused.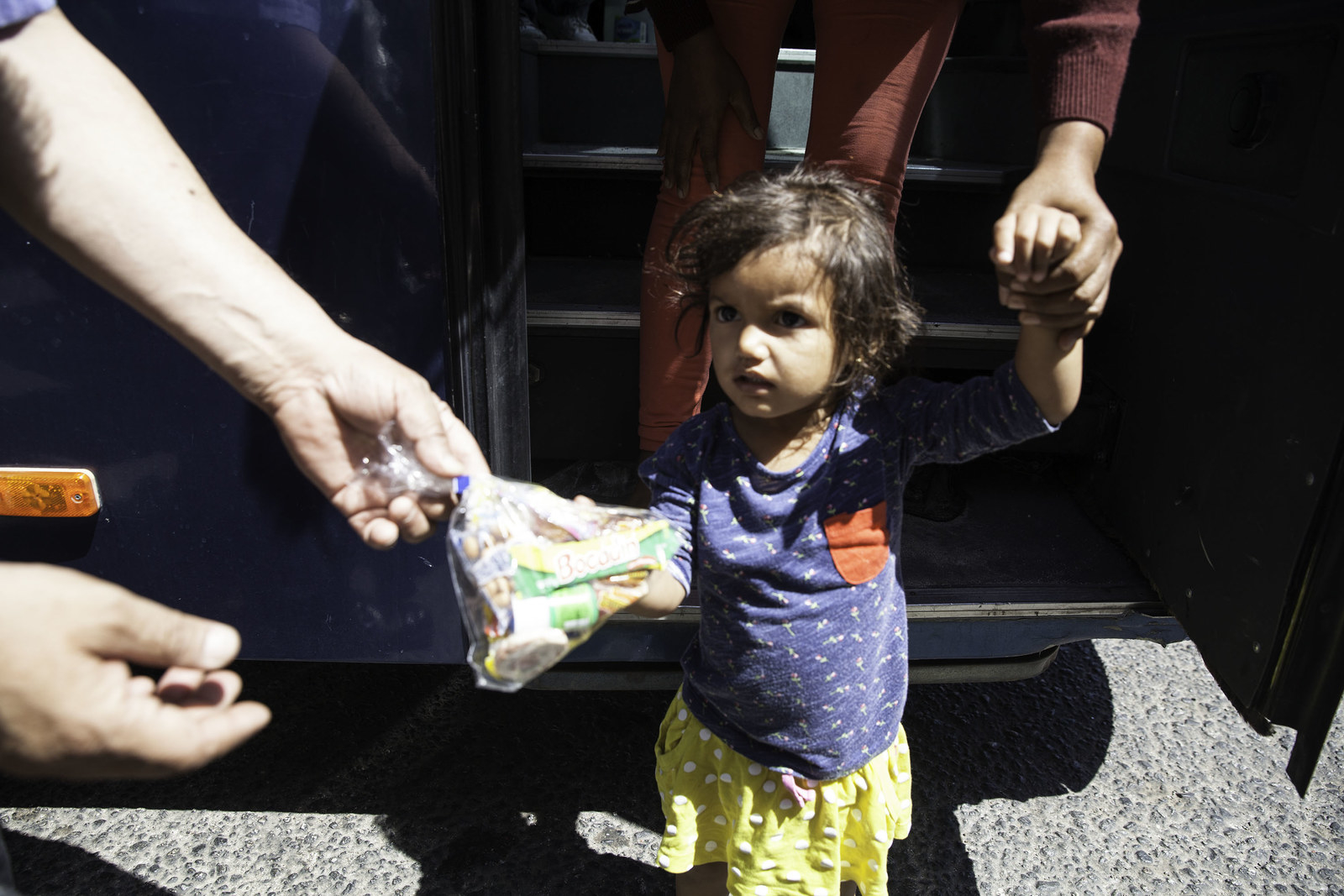 It's not uncommon for children in Honduras to be recruited at a young age to collect "gang taxes," Sergio said. The family hopes to ask for asylum, but was told by attorneys during legal workshops in Puebla that his case was not strong.
"It's 'so so' they said, so it's in God's hands now," Sergio said. "They told us through my brother-in-law that if we go back they would kill us so it was better if we stayed in Mexico rather than go back to Honduras."
Tamai said it's important for Mexicans to help Central Americans making the trek through their country.
"How can we support an immigration system that forces people to hide and jump on trains where they're attacked and assaulted," Tamai told BuzzFeed News.
The Trump administration had claimed a victory after the caravan was stopped in Mexico's Oaxaca state by Mexican immigration authorities who said they were going to disband it after giving people documents that gave them permission to remain in Mexico for up to 30 days.
The caravan, however, did not disband and left Mexico City with about 600 people who were headed to the US or northern parts of Mexico. There appeared to be no efforts by the Mexican government to stop the caravan after it left Mexico City.
Trump renewed calls for Mexico to stop the caravan and for funding for his border wall.