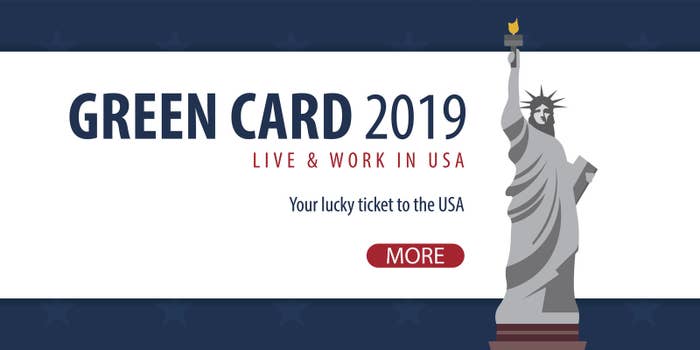 LOS ANGELES – The online application process for a program that grants permanent US residency to as many as 50,000 people a year was shut down for nearly a week, and an unknown number of people who'd used the site before the shutdown will need to reapply.
A State Department email said technical issues required the temporary closing of the 2019 green card lottery site, which takes applications for so-called diversity visas from residents of countries that send few immigrants to the US. The problem stemmed from the State Department system's failure to account for country of eligibility, if the applicant was applying from a country other than their birthplace.
"We regret the inconvenience to Diversity Visa entrants," the email said. "In order to ensure fairness and protect the integrity of the process for all those concerned, however, we must restart the entry process for this year. This was not a result of any outside interference or hacking attempt."
The email said the statement should be attributed to a State Department official.
The new registration period is expected to open Wednesday at noon ET and close Nov. 22, 2017. People who applied between Oct. 3 and 10 won't be considered and will need to submit a new application, officials said.

Sarah Pierce, an associate policy analyst with the Migration Policy Institute, said the glitch presents a major issue for people who applied during the period that's been nullified.

"This is a shame because it's highly likely that a large chunk of the people who applied during that time are not going to have the resources to apply," Pierce told BuzzFeed News. "A large portion of the diversity visa applicants are individuals who are not privileged enough and might have trouble accessing the application, which is entirely online."
Pierce said she wouldn't be surprised if a large group of those people are unaware their application has been nullified and have to reapply.
"There's really no way to make it up to those people," Pierce said.

The issue comes during a heated debate around immigration and a Trump administration that is trying to toughen immigration policies. Two separate bills, one in the Senate and one in the House, are trying to eliminate the diversity immigrant program.
Pierce said the program has been on the chopping block, especially under this administration.
"Few of us expect it to survive the next major immigration reform, just because a lot of politicians have had it in their mind for elimination for a while," Pierce said.