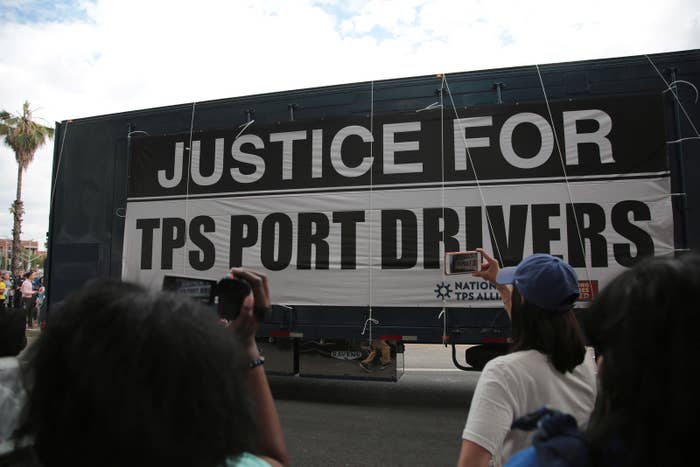 Six big rigs driven by members of the Teamsters union pulled up in front of an immigration detention center in downtown Los Angeles on Wednesday as dozens of people were protesting the Trump administration's decision to end a program that temporarily granted legal status to thousands of immigrants.
The trucks' presence symbolized what has become a rare and surprising alliance between a US labor organization and advocates for immigrants who may soon face deportation orders.
The decision by the Teamsters to combine their three-day strike over an independent contractor labor dispute with the fight for immigrants who are set to lose their legal status under the Temporary Protected Status (TPS) program makes sense to union leaders. Many of their members would be vulnerable to detention and deportation if the revocation of their current immigration status goes forward.
More than 300,000 people set to lose TPS in the next year and many are union members, said Pablo Alvarado, the executive director of the National Day Laborer Organizing Network. Unions representing port drivers, painters, and warehouse workers have no choice but to jump into the immigration debate over TPS.
"This is the first time I see the Teamsters mobilize alongside TPS holders and it's a good thing," Alvarado told BuzzFeed News. "They're making the statement that worker's rights are migrant's rights."
The top industry for TPS beneficiaries is construction, with some 51,700 recipients working in the field, according to the Center for Migration Studies. Other industries also have thousands of TPS workers: 32,400 in restaurant and food services, 15,800 in landscaping services, 10,000 in child care, and 9,200 in grocery stores.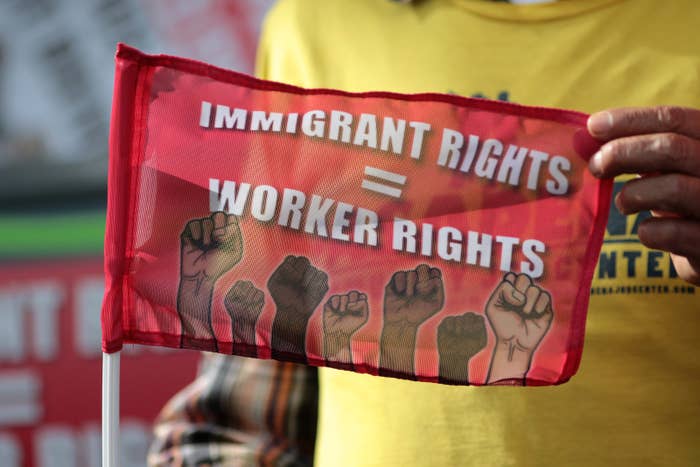 TPS holders are in a unique position from other immigrants in the United States. For years they've been able to work legally, were protected from deportation, and could travel abroad. But now that the Trump administration has ended TPS for six countries — Honduras, El Salvador, Nicaragua, Haiti, Nepal, and Sudan — they face the prospect of either returning to their home countries or joining the estimated 11 million undocumented people in the United States, living in the shadows, and facing deportation under an administration that's going after anyone without legal documentation.
Many of them have been living in the country for years and have children who are US citizens. Alvarado said the loss of TPS would force many families to make painful decisions, such as leaving their children behind, and likened it to the Trump administration's family separation crisis at the border this spring.
"Separating 2,300 kids created such a crazy humanitarian crisis and crisis of morality," Alvarado said. "Imagine what it would mean to separate 400,000 TPS families, a lot of them with US citizen children?"
Cesar Rodriguez, a 46-year-old TPS holder from El Salvador, has been a port driver for 10 years. He came to the United States in 1996 and was undocumented until he received the protected status from the government in 2001 after an earthquake devastated his home country.
"TPS recipients are an important part of my industry," Rodriguez told BuzzFeed News.
TPS allowed him to get a Social Security number and his truck drivers license, a license he stands to lose, Rodriguez said. He has three children who are US citizens, and he worries what will happen to them if he or his wife, who also has TPS, are forced to go back to El Salvador.
Apart from the Trump administration walking back their decision to rescind the TPS program for people like Rodriguez, the only option is a legislative fix from Congress.
"I felt so bad when I heard they were terminating TPS for us, I just kept thinking about my children," Rodriguez said. "I came here to work, to get things we could only dream of back home, and now they want to send us back to a country that's filled with gangs and poverty?"
As Ron Herrera, vice president of the Western Region for the International Brotherhood of Teamsters, walked toward a street intersection in Wilmington, California, that union members were going to shut down in protest, he agreed that in the past they didn't take up immigration issues like TPS.
"We're a little late and we were never at the front, but when the dynamics of our people changed we had to change with it," Herrera told BuzzFeed News. "We realized a majority of workers we're trying to organize are TPS holders and immigrants. A lot of them were predominantly immigrant Hispanic."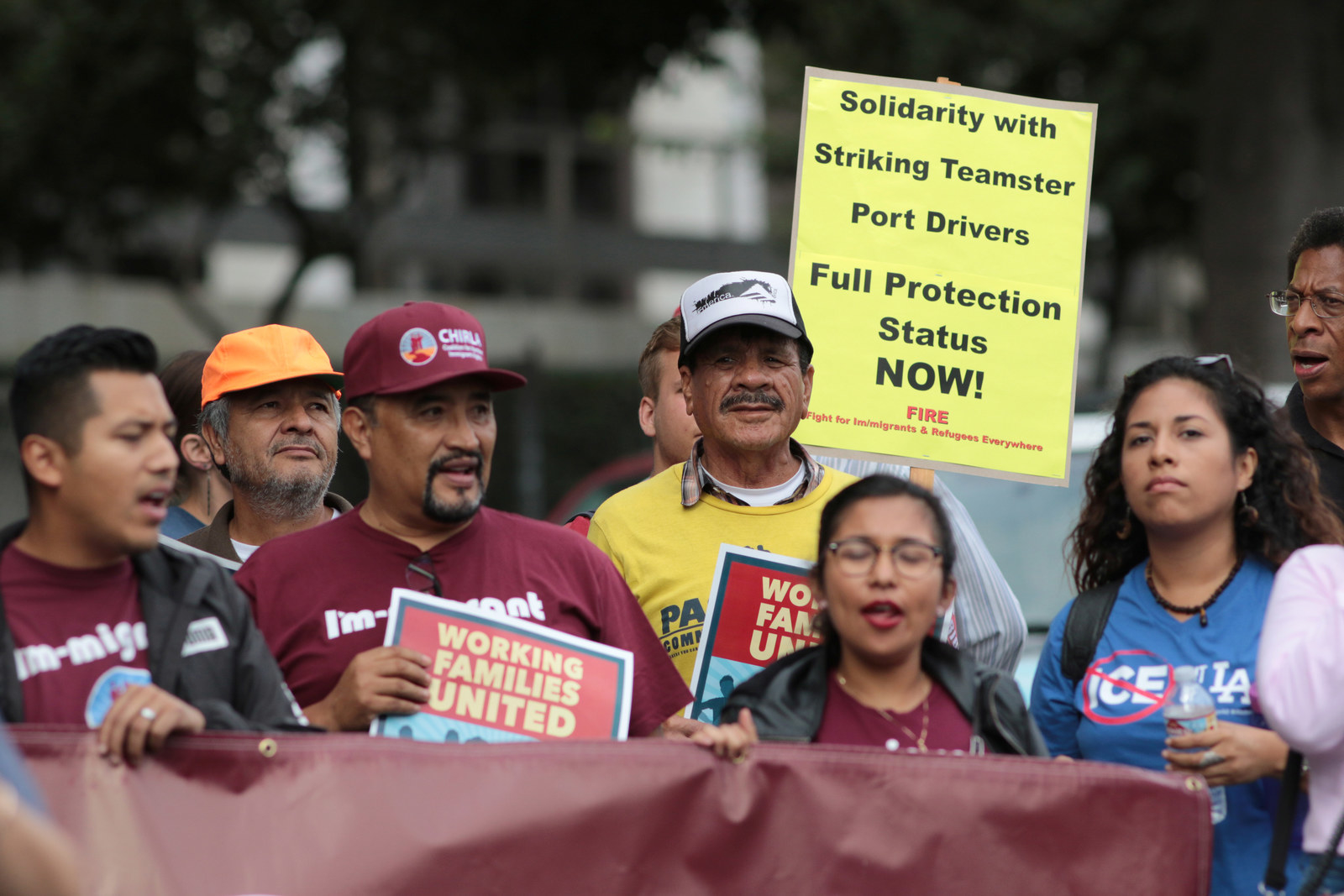 Also at the demonstration were members of Working Families United, a coalition of immigrant advocacy organizations pushing for an extension of TPS.
One of the members of the coalition is the International Union of Painters and Allied Trades (IUPAT). Ken Rigmaiden, general president of IUPAT, said some may think it is out of character for a trade union to advocate for immigrants, with some making the argument that they're taking jobs away from US workers, but Rigmaiden doesn't see it that way.

"People come to this country and they want to work and I'm not the immigration police," Rigmaiden told BuzzFeed News. "But I do know that we have a shortage of skilled workers, and if we don't control our market share as a union we do not have power."
A 2018 report from ManpowerGroup found that skilled trades like electricians, welders, and mechanics are the hardest vacancies to fill. Nearly one in six employers said filling skilled trade roles was harder to fill than the previous year.
IUPAT is open to anyone, regardless of where they were born and raised, so long as they go through the apprenticeship process and become a participating union member, Rigmaiden said. His union is increasingly becoming more Latino, much like the rest of the country, Rigmaiden said, and it's important that they stand up for their members when it comes to TPS, Deferred Action for Childhood Arrivals, or Immigration and Customs Enforcement raids.
"We have members who are impacted in some way or another by ICE raids, TPS, and DACA," Rigmaiden said.
Maria Elena Durazo, general vice president of UNITE HERE, a labor union representing more than 270,000 people in industries such as hotels and transportation, said President Trump has said immigrants are taking jobs from US workers and that TPS recipients are among those immigrants.
"That's ridiculous," Durazo told BuzzFeed News. "For the Teamsters to be so bold to come out in support of TPS and saying they're not taking anything away from them is important and sends the message that immigrants' rights are also workers' rights."