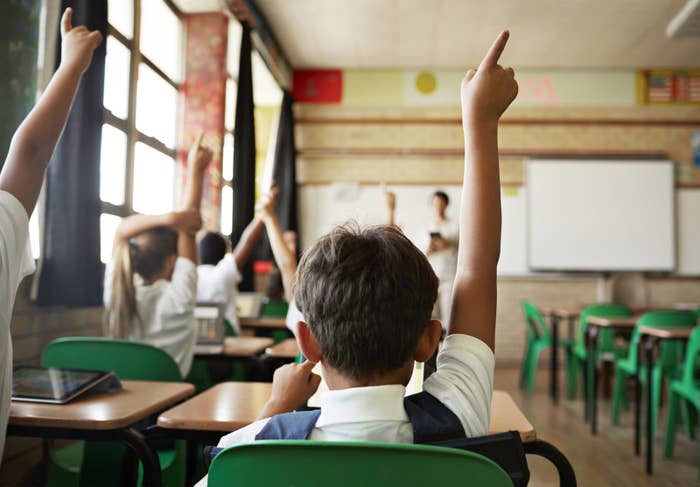 A teacher in Illinois has been reassigned after being accused of telling her third-grade English-learning students not to speak Spanish, punishing them when they did, and threatening retaliation if they complained for complaining to their parents.
In a letter to parents at Emerson Elementary in Berwyn, the principal said Jennifer Kruger would be reassigned in the coming days. The move comes after the Mexican American Legal Defense and Educational Fund (MALDEF) sent a letter to the school highlighting complaints from parents of the English-learning students and threatening to take further action if the situation wasn't resolved.
MALDEF said students who were caught speaking Spanish were told to sit on the bare floor while their other classmates were allowed to sit on carpet. The letter also said Kruger, who banned students from speaking Spanish, threatened retaliation if the students told their parents.
"Kruger's conduct was unprofessional and harmful to her students' education," Steven Monroy, staff attorney for MALDEF, wrote in the letter. "It is also illegal."
The alleged conduct may have violated the Civil Rights Act and Illinois law barring discrimination, MALDEF stated.
Sandra Hernandez, a spokeswoman for MALDEF, told BuzzFeed News that while it was unclear what form of retaliation the teacher threatened, "she did tell students that she could be the nice teacher or the mean teacher, and implied it was up to them and their behavior, including complaining to their parents."
Kruger did not return an email seeking comment.
Jean Suchy, principal at Emerson Elementary, referred inquiries to Mary Havis, superintendent of the Berwyn South School District 100, who did not return repeated requests for comment.
In a letter to parents, Suchy said Kruger would be moved into a reading teacher position at the school for the remainder of the year.

According to the Illinois Report Card, 23% of Emerson Elementary students are English learners and 72% of all students at the school are Latino. Last year, the school had 373 students.