Suspected Burglar Dies In Chimney After Homeowner Lights Fireplace
The homeowner said he heard a man screaming from inside the chimney after he lit a fire.
A suspected burglar in California died Saturday after getting stuck inside a chimney, authorities said.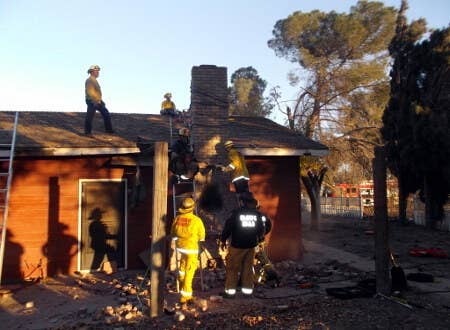 The Fresno County Sheriff's office said a homeowner in Huron, California, heard a man yell from inside the chimney when he lit a fire in his fireplace.
The homeowner quickly tried to put out the fire as the house began to fill with smoke.
When firefighters arrived about 10 minutes later, the suspected burglar appeared to be breathing and moving inside the chimney.
Firefighters broke the chimney in an attempt to rescue the suspect, but the man was dead by the time authorities reached him, the Fresno County Sheriff's office said in a statement.
"A preliminary investigation shows that the suspect had climbed into the chimney overnight in an attempt to burglarize the home and became stuck," the sheriff's office said. "The homeowner came home [Saturday] after being gone [Friday], so he did not know anyone was inside the chimney prior to lighting the fire."
An autopsy to identify the cause of death is pending, authorities said.