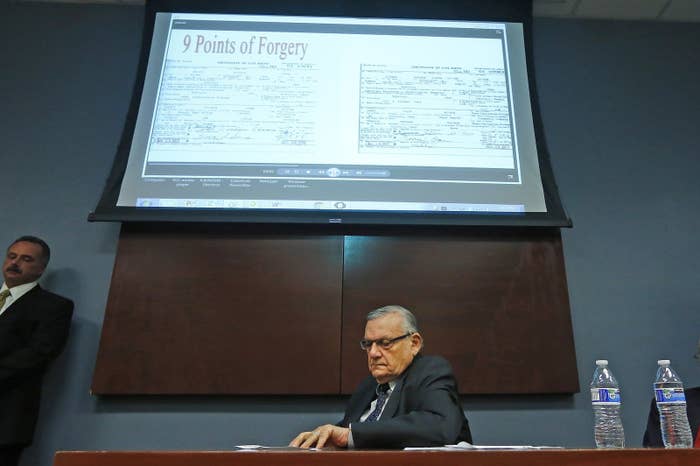 Arizona sheriff Joe Arpaio on Thursday announced the results of a yearslong investigation that he claims proves President Barack Obama's birth certificate is a forged document.

"I do not care where the president was born. It had nothing to do with that. We were going to investigate a possibly forged document," Arpaio, the outspoken Maricopa County sheriff, told reporters. "What we've concluded is that it's a fraudulently created document that has been represented as an official copy of the original birth certificate of President Obama."
The outgoing sheriff, who lost his re-election bid in November after being charged with violating a court order to stop racially profiling Latinos, has remained an ardent leader of the birther movement, a conspiracy theory that has long been debunked.

Even President-elect Donald Trump, another famous birther and Arpaio supporter, conceded in September that Obama was born in Hawaii.

But Arpaio has remained steadfast, promising to continue looking into Obama's birth certificate.
Citing forensic results from two investigations — one in Hawaii and one in Italy — Maricopa County Chief Investigator Mike Zullo on Thursday said Obama's longform birth certificate was forged using one that belonged to Johanna Ah'Nee.
"Words, letters, and hand-placed date stamps have been digitally copied from Ah'Nee's birth certificate and pasted onto Obama's longform birth certificate," Zullo said. "We're pretty confident with these results."
In all, Zullo said there were nine points of forgery on Obama's birth certificate that included dates, stamps, markings, and angles.
Both forensic firms independently concluded that the birth certificate was forged, he added.
"This carries federal penalties," Zullo said.
Neither the Trump transition team, nor the White House, immediately responded to BuzzFeed News' requests for comment.
Arpaio plans to turn over the findings to the federal government this month in the hopes that members of Congress will hold a public hearing into the matter, he said.
He finished the news conference by telling reporters he wouldn't take any questions because he "sometimes gets diarrhea of the mouth."
"I hope we enlightened you to what the real story and evidence is all about regarding this fake, fake birth certificate," Arpaio said.