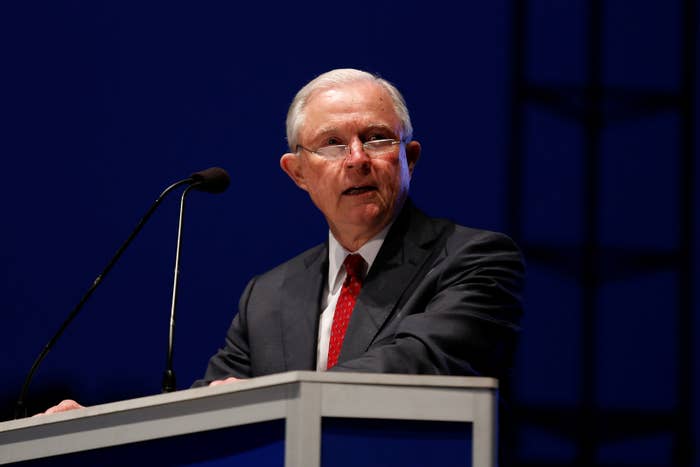 In a sweeping decision that reverses an Obama-era immigration policy, Attorney General Jeff Sessions told immigration judges Monday to stop granting asylum to many victims of domestic abuse and gang violence.
Overruling an immigration appeals court decision that had granted asylum to a woman who was abused by her husband, Sessions said victims of private crimes, not state-based crimes, such as domestic abuse are not eligible for asylum.
"Generally, claims by aliens pertaining to domestic violence or gang violence perpetrated by non-governmental actors will not qualify for asylum," Sessions wrote in his opinion. "The mere fact that a country may have problems effectively policing certain crimes — such as domestic violence or gang violence — or that certain populations are more likely to be victims of crime, cannot itself establish an asylum claim."
Because Sessions is the head of the Department of Justice and immigration courts fall under the agency, he is able to overrule previous court decisions and dictate the policies that immigration judges must follow. His decision is the latest effort by the Trump administration to get rid of "loopholes and weaknesses" in the immigration system that allows people to stay in the country.
It's unclear how many people would be affected by this decision but advocates put it in the thousands and denounced the decision. Many Central Americans fleeing gang violence had relied on the appeals court's decision to make their case for asylum.
Still, the decision does not stop victims of domestic violence from applying for asylum in the US. It does make it increasingly difficult.

"The Trump administration just handed a death sentence to thousands of women and families fleeing domestic and gang violence by barring them from accessing asylum in the US," said Jess Morales Rocketto, political director of the National Domestic Workers Alliance, an advocacy group. "Nothing this administration does is about our nation's security; it's about advancing Trump's anti-women and anti-immigrant agendas. Trump and Sessions will not rest until women are stripped of our rights, and there are no immigrants left."
Beth Werlin, executive director of the American Immigration Council, said the decision is another attempt to close the doors on immigrants.
"The attorney general's decision — if permitted to stand — will no doubt result in sending countless mothers and children back to their abusers and criminal gangs," Werlin said. "Turning our backs on victims of violence and deporting them to grave danger should not be the legacy sought by any administration."

Sessions' ruling came in the case of a woman from El Salvador, identified only as AB, who requested asylum in the US after suffering domestic abuse at the hands of her husband. The Board of Immigration Appeals in 2016 said AB was part of a particular social group, a requirement of US asylum law, and qualified for asylum because she was part of a class of "Salvadoran women who are unable to leave their domestic relationships where they have children in common" with their partners.
But Sessions ruled that the appeals board was incorrect in determining that AB was part of a specific social group. "An alien may suffer threats and violence in a foreign country for any number of reasons relating to her social, economic, family, or other personal circumstances," Sessions said. "Yet the asylum statute does not provide redress for all misfortune. It applies when persecution arises on account of membership in a protected group and the victim may not find protection except by taking refuge in another country."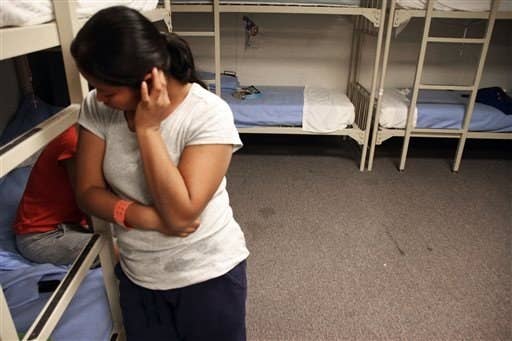 In order to be granted asylum, people need to prove they have been persecuted or have a well-founded fear they will be persecuted on account of race, religion, nationality, or membership in a particular social group or political opinion.
In recent years, victims of domestic violence started to get support for being granted asylum as members of a particular social group. A 2009 brief submitted by Janet Napolitano's Department of Homeland Security wrote a brief suggesting ways domestic violence victims can be identified in order to qualify for asylum based on being part of a particular group.
The ruling led to a trend in social group definitions being scrutinized less strictly, according to the Cornell Law Review.
In 2014, at a time when there was a spike in Central American women caught at the US-Mexico border reportedly fleeing violence, the Board of Immigration Appeals ruled in favor of giving asylum to a Guatemalan woman who was abused and raped by her husband for years.
The appeals board, which is under the Department of Justice, said Aminta Cifuentes was part of a particular social group: married women in Guatemala unable to escape their husbands. This decision was cited in the case Sessions overruled Monday. It too was overruled.
"I now overrule it," Sessions said. "The opinion has caused confusion because it recognized an expansive new category of particular social groups based on private violence."
In Monday's opinion, Sessions criticized the BIA decision, made under then-attorney general Eric Holder. He said the recognition was made "without performing the rigorous analysis required by the Board's precedents."
The BIA, Sessions said, had previously said that applicants seeking asylum have to prove their social group is made up of members who share a common immutable characteristic, defined with particularity, and socially distinct within their societies.
Asylum applicants also had to show that being members of that particular group was a central reason for their persecution, and if they were victims of private crime, they had to show their government was unwilling or unable to protect them.
"Instead, the Board accepted the concessions by the Department of Homeland Security ('DHS') that the respondent suffered harm rising to the level of past persecution, that she was a member of a qualifying particular social group, and that her membership in that group was a central reason for her persecution," Sessions said. "[T]he decision assumed its conclusion and did not perform the necessary legal and factual analysis."