San Francisco Sheriff Says ICE Didn't Provide Legal Basis To Hold Undocumented Immigrant
The San Francisco County Sheriff's Department has come under intense criticism for releasing an undocumented immigrant who is accused of later fatally shooting a woman.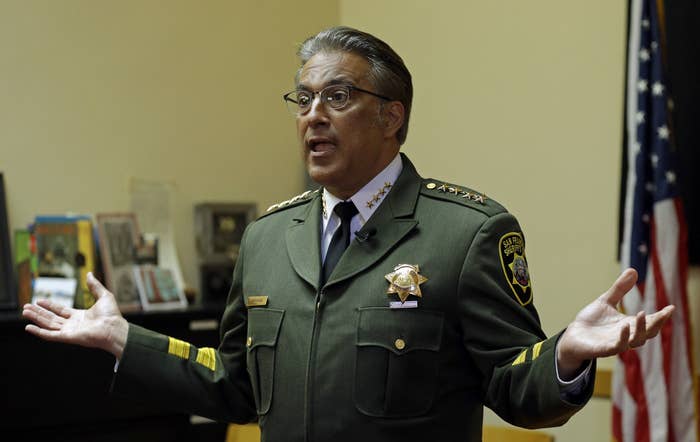 Defending his department's release of an undocumented immigrant who is accused of subsequently killing a woman, San Francisco's sheriff said Friday that immigration authorities didn't provide deputies with a legal basis to detain or transfer him into federal custody.
Sheriff Ross Mirkarimi said at a news conference that his department followed local laws when they released Francisco Sanchez, even though an immigration detainer – a request from U.S. Immigration and Customs Enforcement to hold someone for up to 48 hours – was applied to his name.
"ICE did not provide San Francisco sheriff's with a warrant or judicial order for immigration proceedings," Mirkarimi said.
ICE didn't immediately respond to a request for comment.
San Francisco has two laws meant to protect undocumented immigrants from deportation and encourage them to cooperate with police without fear.
One 1989 law prohibits any city or county agency, commissioner, or employee from enforcing immigration law. And a 2013 law bars law enforcement from honoring immigration detainers unless the suspect has a violent criminal record or an outstanding arrest warrant.
Dozens of cities across the U.S. have adopted similar laws over the years. Some were encouraged by a federal judge's ruling last year in Oregon, which found an immigrant woman's civil rights were violated when she was detained on an ICE hold.

Sanchez didn't didn't have an warrant or a judicial order against him when he allegedly shot Kathryn Steinle on July 1 as she walked along the city's waterfront with her father. Sanchez is a five-time deportee with seven felony convictions, though none of them are violent. Steinle is a Pleasanton, California native and had recently moved to San Francisco to work for a medical technology firm.
Mirkarimi, whose department has come under scrutiny for releasing Sanchez, shifted the blame to the feds.
"We all need to take a step back and summon the collective wisdom, while resisting the political opportunism, to effectively prevent further tragedies without eroding constitutional protections," he said.
San Francisco Mayor Ed Lee blamed Mirkarimi and said he had "dropped the ball" by not notifying ICE of Sanchez's release. In an interview with KQED, Lee said there is nothing in the city's sanctuary ordinance that prohibits the sheriff's department from communicating with ICE or notifying them of someone's release.
"It's a simple phone call," Lee said.
On Friday, the San Francisco Police Department said the gun recovered from the bay was the same gun that fired the bullet that struck 31-year-old Steinle in the upper torso.

Officer Grace Gatpandan, spokeswoman with the San Francisco Police Department, told BuzzFeed News the gun belonged to an agent with the Bureau of Land Management. Officers investigated the theft after it was reported stolen from a vehicle, but exhausted all leads, Gatpandan said.
Dana Wilson, a spokeswoman from the Bureau of Land Management, said the gun was reported stolen from one of their agents on June 27. The agent was traveling through San Francisco on his way to an assignment. Wilson declined to link the gun to the weapon used in Steinle's killing.
In addition to the immigration detainer, Mirkarimi questioned why the federal Bureau of Prisons also decided to notify his office about a 1995 bench warrant Sanchez had for a marijuana-related charge. Mirkarimi said that whenever they pick someone up on a bench warrant, the person is brought to the sheriff's office – though it is highly unlikely that San Francisco prosecutors prosecute a marijuana charge.
Federal authorities, he said, could have deported him on their own without notifying his office. Sanchez had been in federal custody at least three times since the bench warrant was issued. He was deported by ICE an undetermined amount of times since 1995.
ICE officials have previously told BuzzFeed News that the detainer was actually a request to notify them when Sanchez was released so they could pick him up, not a request to hold him extra time. San Francisco authorities maintain that the sheriff's department received a "typical detainer, which is a voluntary request to hold someone."
Mirkarimi said he met with Alejandro Mayorkas, deputy secretary of the U.S. Department of Homeland Security in February. At the meeting the sheriff said he told Mayorkas that San Francisco requires a warrant or judicial order to detain someone.

As ICE continues to roll out a new deportation program, Mirkarimi stressed that federal authorities need to address how local laws like San Francisco's conflict with their requests. He welcomed direction from federal officials on how they can implement the program and not break San Francisco's laws.
The new Priority Enforcement Program relies on the Department of Homeland Security screening fingerprints obtained at local jails, much like its controversial and now-defunct predecessor.

But in most cases, instead of police holding people under the new program, they notify ICE agents when someone is about to be released. In certain circumstances, agents can ask that police hold someone.

The new program is part of a broader initiative to deport people federal officials consider a priority. At the top of the list, outlined in a Department of Homeland Security memo last year, is anyone who has a criminal conviction, intentionally participated in a criminal gang, or poses a danger to national security.