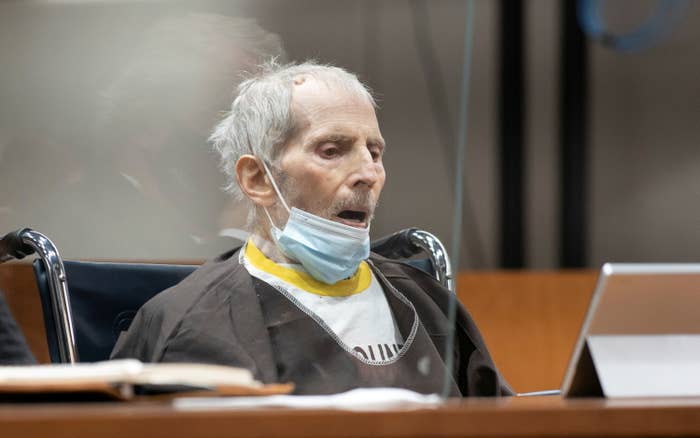 Robert Durst, the multimillionaire who was the focus of the HBO documentary The Jinx, has tested positive for COVID-19, his attorney told BuzzFeed News on Saturday, days after he was sentenced to life in prison without the possibility of parole for murdering his friend.
Dick DeGuerin, Durst's defense attorney, said his client was in poor health and was having difficulty breathing Thursday when he was sentenced for murdering his friend Susan Berman in 2000. Durst's health was the reason DeGuerin said he tried to get the trial delayed.
"On Thursday he looked like hell," DeGuerin told BuzzFeed News. "He's in terrible condition. He's about to die, I think."
DeGuerin said Durst was fully vaccinated against COVID-19, but declined to provide any additional information about the 78-year-old's health.
DeGuerin told the Daily Beast and the Los Angeles Times that Durst was on a ventilator, but he declined to confirm that to BuzzFeed News.

The Los Angeles County Sheriff's Department, which is currently detaining Durst, said that because of HIPAA, the federal health privacy law, the agency can't disclose medical information.
Durst was found guilty of murder Sept. 17, as well as lying in wait and killing a witness — "special circumstances" that mandated the harshest possible sentence. California currently has a moratorium on the death penalty.
During the trial, prosecutors argued that Durst gunned down Berman because she had helped him cover up the killing of his first wife, Kathleen McCormack Durst, in 1982. BuzzFeed News previously reported that by finding the special circumstance regarding killing a witness true, the jury signaled that they believed prosecutors' arguments that Durst had also killed Kathleen Durst, whose body has never been found.

Durst was not charged with Kathleen Durst's death, though much of the trial had focused on his first wife and her disappearance. In their victim impact statements, Berman's family pleaded with Durst to tell the McCormack family where they could find Kathleen Durst's body.