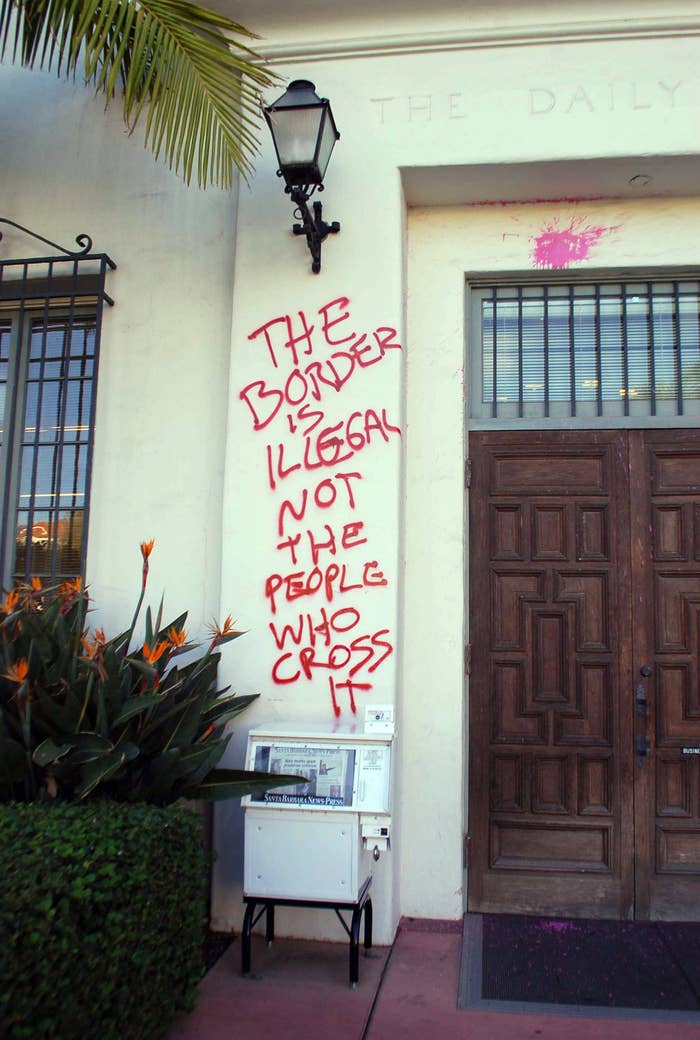 The offices of the Santa Barbara News-Press was the site of a protest and vandalism this week after it used the word "illegals" in a front-page headline about undocumented immigrants registering for driver's licenses.
On Thursday, someone spray-painted the phrase "The border is illegal not the people who cross it" on the exterior of the newsroom. The graffiti was referring to a Jan. 3 headline on A1 that read: "Illegals line up for driver's licenses."
Under a new state law that took effect Friday, some 1.4 million undocumented immigrants are expected to apply for driver's licenses over the next three years.
People Organizing for the Defense and Equal Rights of Santa Barbara Youth, which had earlier staged a protest outside the Santa Barbara News-Press, condemned the vandalism.
"We heard about the graffiti, but we're not associated with it and we don't approve of it," Gonzalo Rios, a member of PODER, told BuzzFeed News.
The organization had argued that the headline was biased and didn't adhere to the Associated Press stylebook.
"The word illegals is demeaning and dehumanizing to Santa Barbara's Latino community," Rios said.
Don Katich, director of news operations for the News-Press, defended the headline.
In a statement, Katich said the newspaper had been using the word "illegals" for nearly 10 years.
"It is an appropriate term in describing someone as 'illegal' if they are in this country illegally," Katich wrote in a statement. "When breaking the law becomes the norm, America is no better than other lawless nations."
Except in direct quotes, the current Associated Press style is to use the term "illegal" only when referring to an action, not a person. The agency, whose style guide many news organizations follow, also says to not use the terms "illegal alien," "an illegal," and "illegals."
In an article about the vandalism the News-Press reported that, like other news organizations, it doesn't always follow AP Style.
The headline was written on the front page on Jan. 3.