The Friendship, Faith, And Terrifying Path To The San Bernardino Attack
Enrique Marquez's years-long journey from next-door neighbor to the San Bernardino shooters to telling a 911 operator "the fucking asshole used my gun."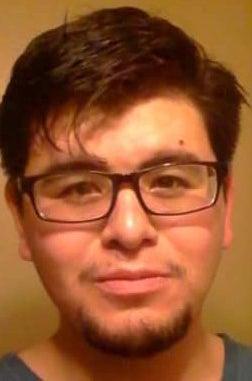 From a next-door friendship to an alleged conspiracy to commit terrorism, Enrique Marquez's relationship with the man who would eventually participate in the deadliest terror attack in the U.S. since 2001 was laid out in a criminal complaint released Thursday.

Marquez's path to Islamic radicalization and, authorities allege, conspiracy to commit domestic terrorism evolved quickly after he met Syed Rizwan Farook — who with his wife, Tashfeen Malik, gunned down 14 people in San Bernardino on Dec. 2 — in 2004.
Marquez's past caught up to him on Thursday, when he was arrested by FBI agents and charged with conspiring to commit terrorism, illegally purchasing assault rifles, and defrauding immigration authorities via a sham marriage.
Here's the timeline of events, as outlined in the federal indictment, of what led to Marquez's arrest.
---
Next-door friends, and a turn to radical Islam
2004: Marquez moves to Riverside and meets Farook. The next-door neighbors meet in Farook's garage and have a shared interest in working on cars.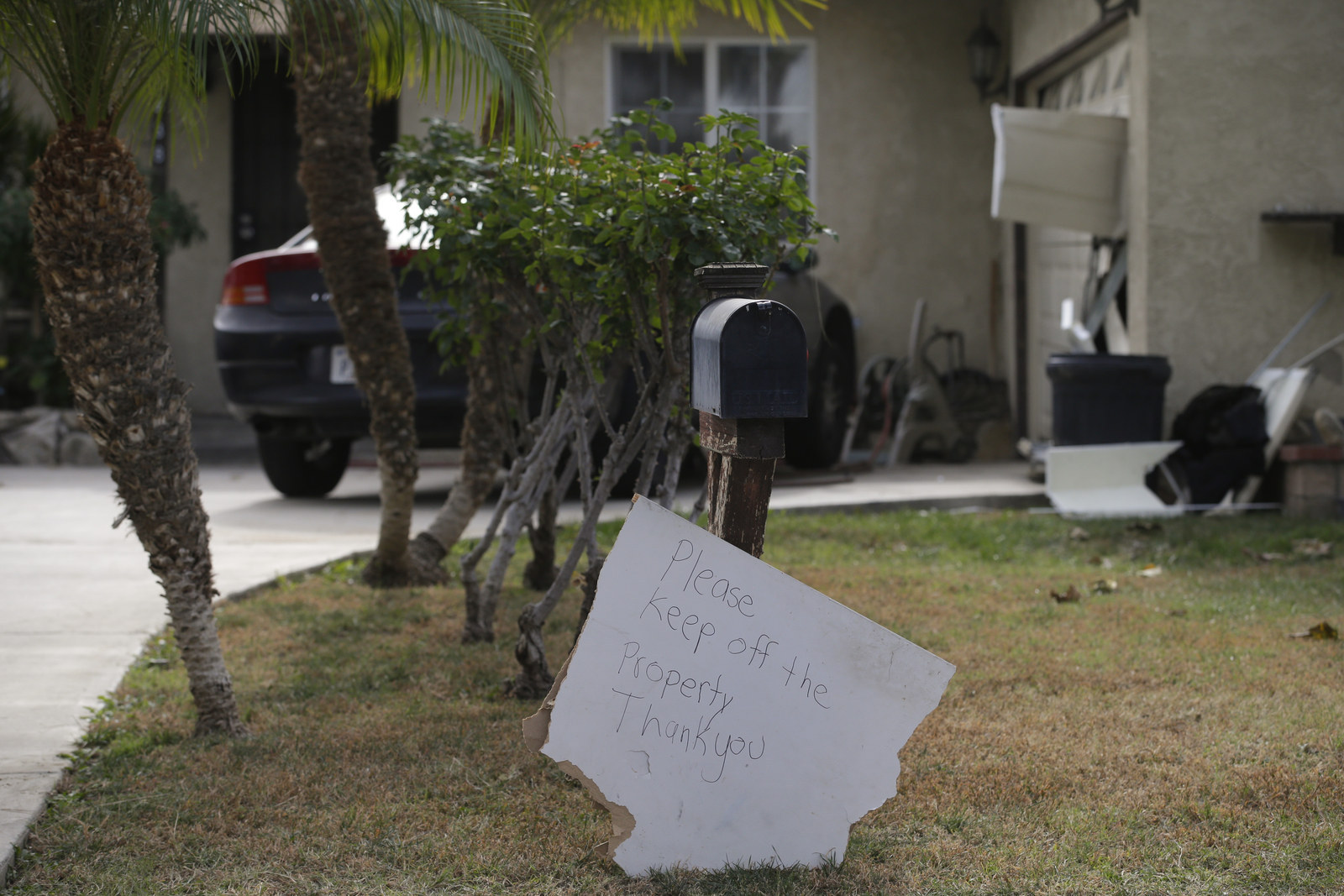 2005: Farook introduces Marquez to Islam. And according to the complaint, Farook begins educating Marquez about the religion.
2007: Marquez converts to Islam, setting off a period in which authorities allege Farook radicalizes him by introducing him to the "extremist views of the now-deceased imam and Islamic lecturer Anwar al-Aulaqi."
2009: Farook tells Marquez he has been thinking about joining the military, expressing frustration with the conflict between Israel and Palestine. Farook also expresses "disdain toward Muslims in the military who kill other Muslims."
2010–2011: Marquez listens to and watches a series of lectures on radical Islam and spends most of his time at Farook's home.
August 2011: Farook tells Marquez he is interested in joining al-Qaeda in the Arabian Peninsula.
---
Earlier plots unrealized
Late 2011: Marquez and Farook begin plotting to commit terrorist attacks, specifically discussing an attack on Riverside City College, where both men had studied.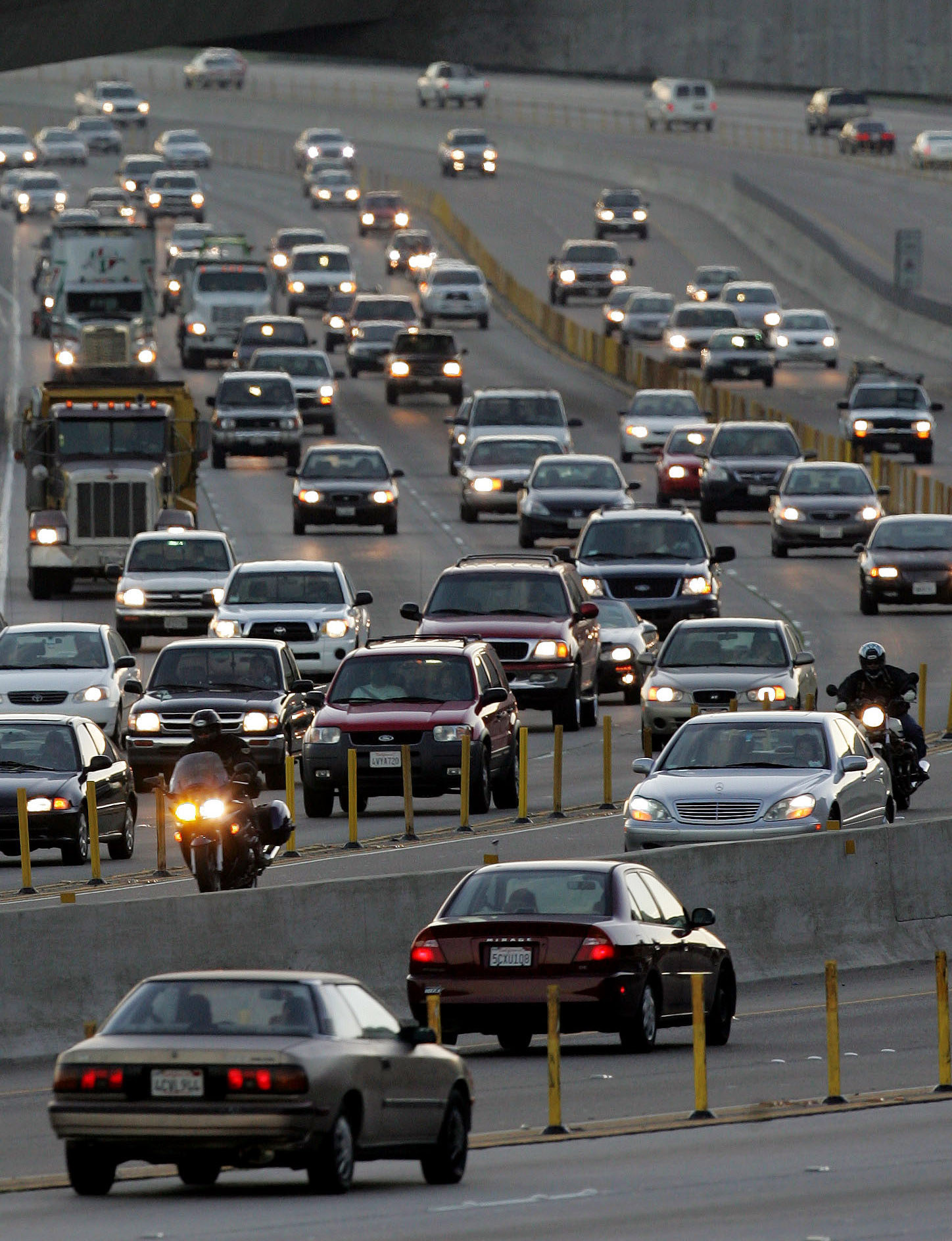 Marquez told investigators they considered attacking the library or the cafeteria in an effort to maximize casualties. The men, he added, believed they could start the attack by throwing pipe bombs from an elevated position, then escape and attack another spot.
Marquez and Farook also considered a "rush hour" attack on State Route 91. The two men planned to throw pipe bombs into traffic, after which Farook would walk through the stopped cars, shooting people.
Around this time, and continuing into 2012, officials allege that Marquez also bought AR-15 rifles and hundreds of rounds of ammo for Farook.
2012: Marquez buys a bottle of smokeless powder to use in an explosive. The two men also practice shooting at firing ranges and acquire accessory gear for their rifles.
2013: Contact between Marquez and Farook begins to fade, and they eventually cease planning terrorist attacks.
---
A sham marriage for profit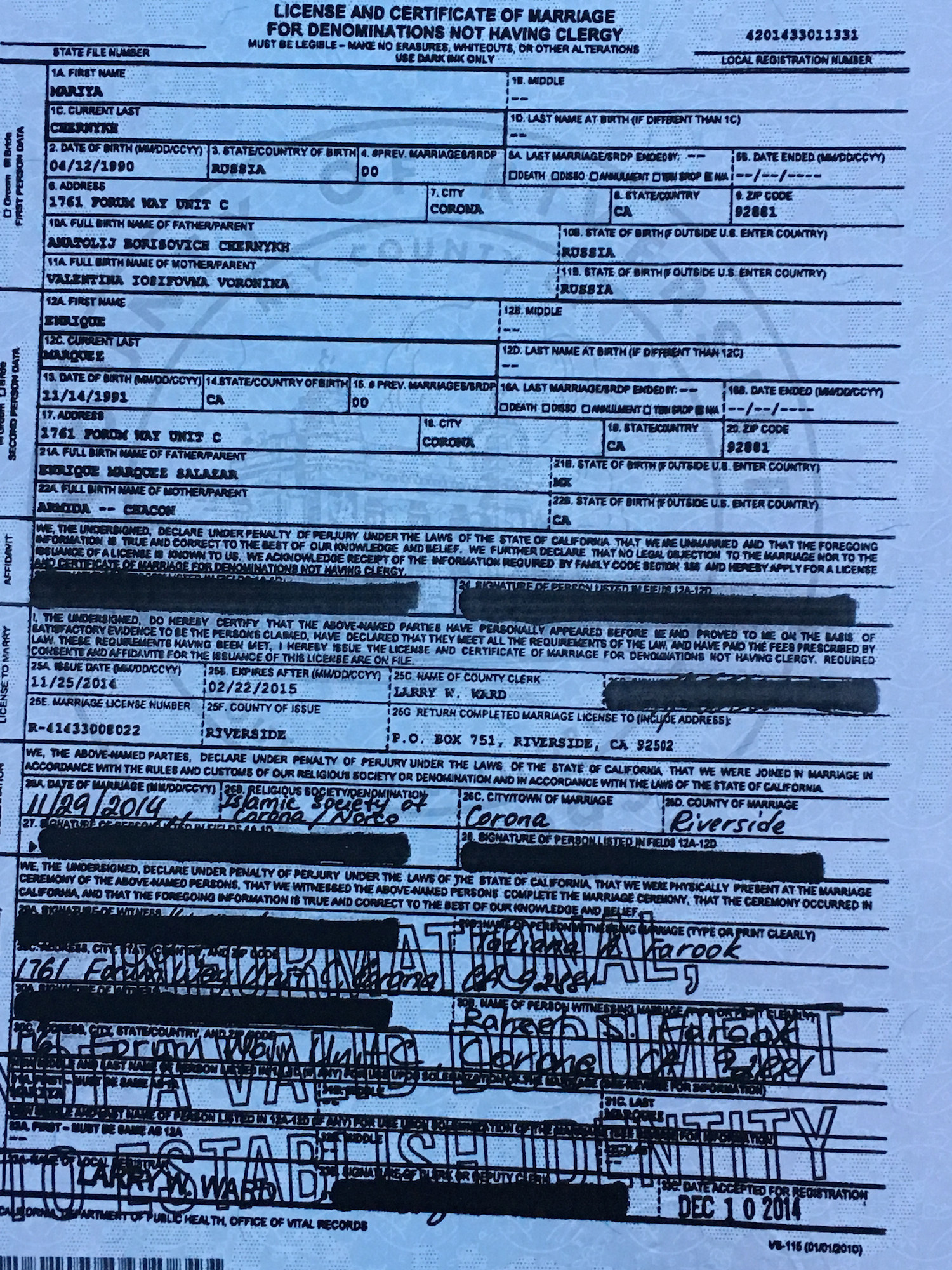 2014: In November, Marquez begins a sham marriage with the sister of Farook's sister-in-law, who is described in the documents only as M.C. The complaint states that M.C. is a Russian citizen and arrived in the U.S. in 2009.
Over the ensuing months, Marquez submits a series of documents and false information representing himself as married to and living with M.C., but according to the complaint, M.C. was actually paying him $200 a month for the sham marriage. The goal, according to the complaint, was to help M.C. with her immigration status and allow her to remain in the U.S.
The complaint characterizes the marriage as immigration fraud.
---
"The fucking asshole used my gun"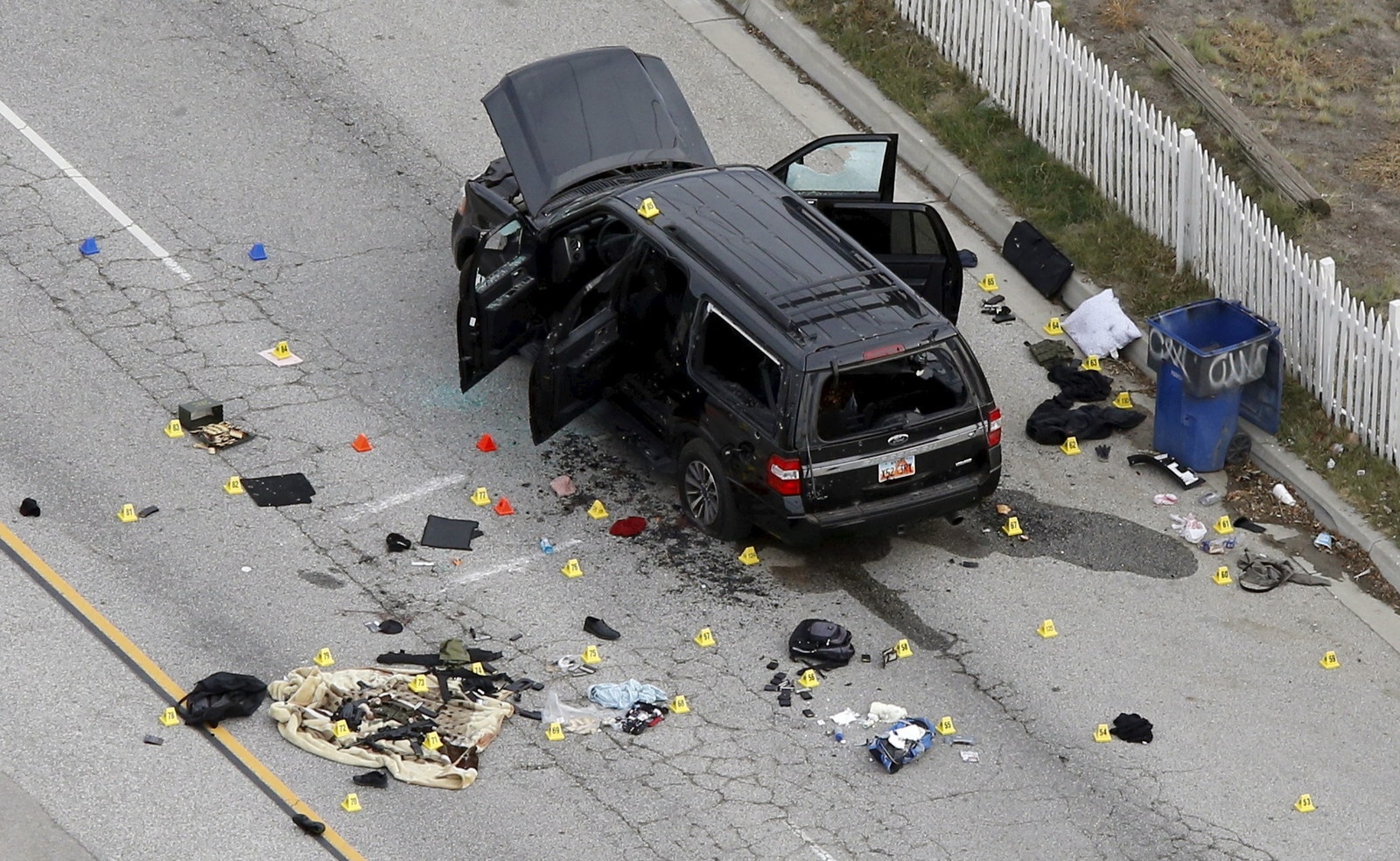 Dec. 2, 2015: Farook arrives at his office's holiday party at the Inland Regional Center. During that time, his wife, Tashfeen Malik, searches social media for ISIS-related materials. Almost two hours after arriving, Farook leaves the gathering in a black SUV.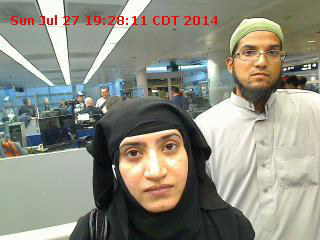 The SUV returns about 20 minutes later with at least one person, believed to be dressed in black tactical gear, opening fire at people inside and outside the center. Fourteen people are killed and another 22 injured at the center before the SUV leaves the scene again, setting off a massive manhunt.
Shortly after the shooting, someone using a Facebook page associated with Malik wrote: "We pledge allegiance to Khalifa bu bkr al bhaghdadi al quraishi." Authorities believe it is a reference to Abu Bakr Al Baghdadi, the leader of ISIS.
Hours after the initial attack, authorities spot a black SUV near Farook and Malik's rented townhouse in Redlands, California, and a chase ensues. The pair eventually die during a shootout with authorities.
---
A 911 call before rehab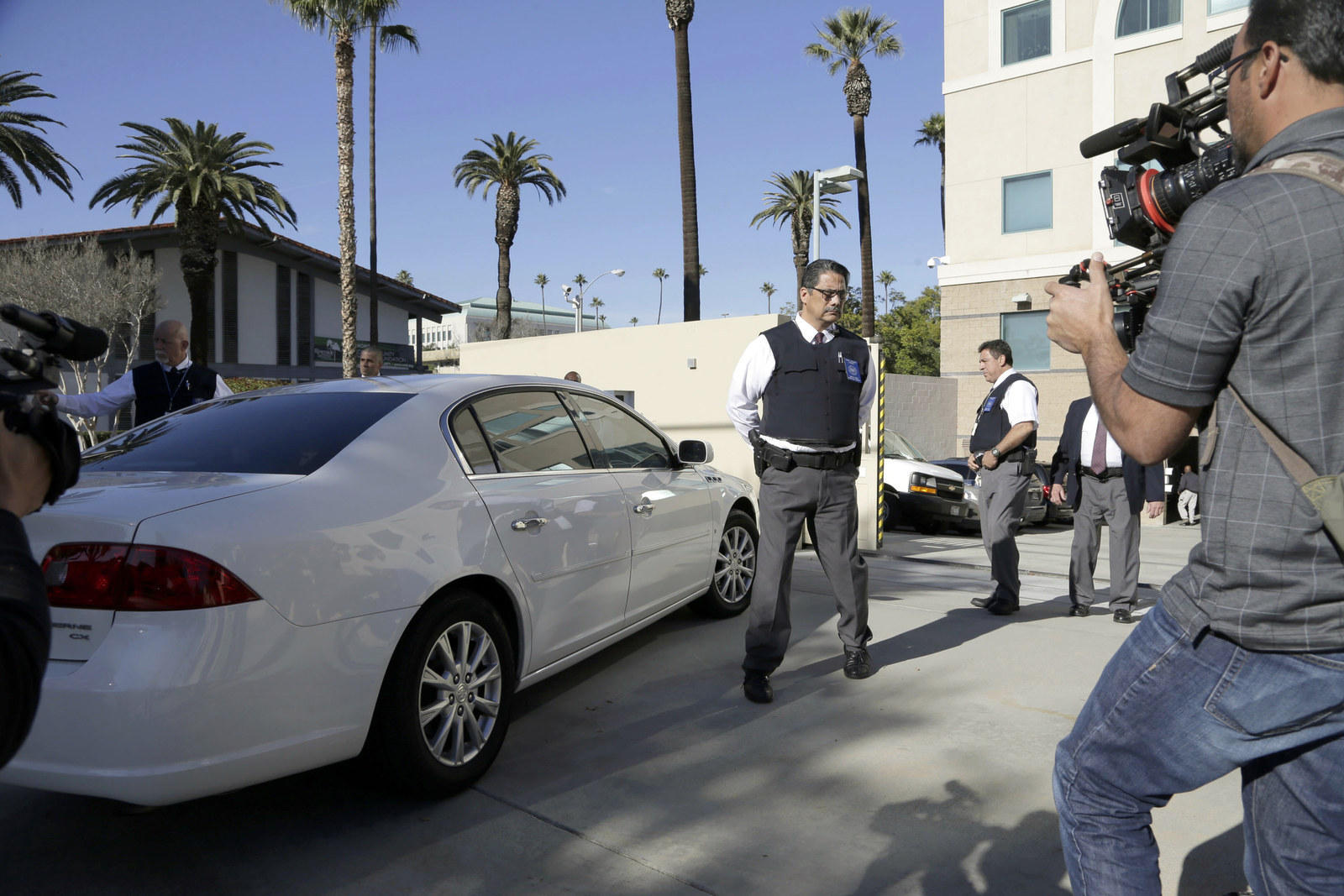 Dec. 3, 2015: Marquez calls 911 hours after the shooting, telling the operator he wanted to kill himself because Farook "did the San Bernardino shooting."
"The fucking asshole used my gun in the shooting," Marquez tells the operator. "I couldn't have it at home because I have brothers and then I got moved."
"To me, he was reliable enough for him for storage," Marquez later told the operator.
"Oh, you had him store your gun?" the operator asked.
"Yeah. And then he [unintelligible]." Marquez said. "Why did he have to do it?"
"What was the guy's name that had your gun?"
"It's Syed Farook," Marquez said.
Marquez then checks himself into the UCLA Harbor Medical Center, where he tells staff he drank nine bottles of beer after learning federal agents had visited his home to ask about him. He is then placed on an involuntary hold.
According to the complaint, when his mother visits him at the medical facility, Marquez reveals that he didn't know the "fucking asshole [Farook] was going to do that."
Dec. 17, 2015: FBI agents arrest Marquez on charges that he conspired to provide material support to terrorists in 2012, illegally purchased assault rifles, and defrauded immigration authorities.
Marquez appears disheveled and shows no emotion during his brief appearance in a federal courtroom in Riverside, the Associated Press reports, during which he gives one-word answers before being remanded into U.S. Marshals' custody.