43 Vigils Across U.S. For 43 Students Killed In Mexico
The #USTired2 campaign is holding demonstrations in 43 U.S. cities calling for an end to financial aid to the Mexican government because of alleged human rights abuses by security forces there.
The fallout over the presumed killing of 43 students in southern Mexico continues Wednesday with a series of planned vigils in U.S. cities -- one for each missing student.
Roberto Lovato, lead organizer for the #USTired2, alleged that U.S. agencies have armed and trained law enforcement officers who have been responsible for the deaths of hundreds of Mexicans during their drug war.
"These are the same police and security forces that have perpetuated some of the worst human rights violations in Latin America in the last 30 years," Lovato said.
But instead of protesting the Mexican government, the #USTired2 campaign is calling for the U.S. to stop funding the counter-drug and anti-crime efforts south of the border through an initiative established in 2008.
Since that time, the U.S. has appropriated about $2.4 billion in assistance to Mexico through the Merida Initiative, according to a report from the Congressional Research Service. More than $1.2 billion of that money has been delivered.
The #USTired2 campaign is a riff on Mexico's #YaMeCanse, meaning "I'm tired," which swept social media in response to the 43 deaths.
Upset with the federal government's response to the killings, thousands took to Mexico City's historic Zocalo square on Monday demanding the resignation of President Enrique Peña Nieto two years after taking office.
It was the latest in a series of demonstrations since the the all-male students went missing in southern Mexico on Sept. 26. Mexican authorities said the students were kidnapped and likely killed by members of a drug cartel after being corralled by local police on the order of Jose Luis Abarca, mayor of Iguala, Guerrero.
He and his wife were arrested in the Mexico City area days after fleeing authorities.
The Obama Administration is seeking an additional $115 million for the Merida Initiative in its 2015 budget request.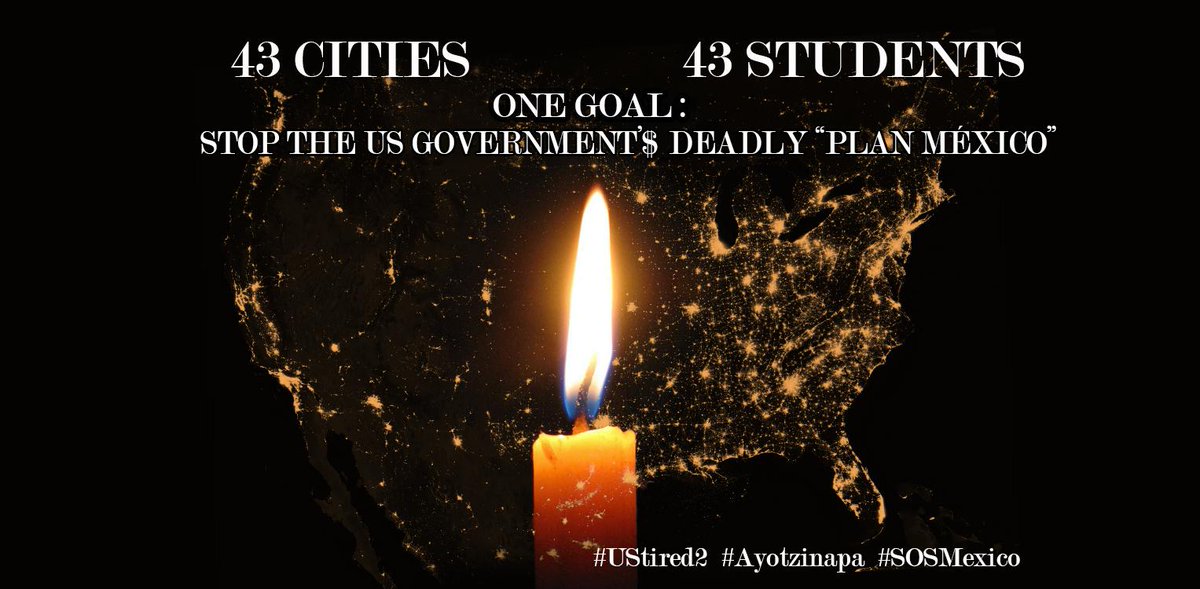 #USTired2 organizers tie the request for an end to funding of Mexico's security forces with the Leahy Law, legislation that prohibits the government from providing foreign aid to military units when U.S. officials have credible information that they've violated human rights.
"Most of the action has been focused on the Mexican consulate and Pena Nieto," Lovato said. "Our strategy is to focus on where we can be the most influential, which is on the U.S. government and what those politicians do with our votes and tax dollars."
In a statement, the Mexican embassy said the disappearance of the 43 students was regrettable. Officials said every single institutional effort has been focused on locating the victims.
"Mexico is fully aware of its human rights obligations," the statement said, "and beyond the existence of any mechanism of international cooperation, Mexico reiterates the commitment of all relevant Mexican authorities to ensure those rights are respected and protected."
On Thursday in response to the protests, Peña Nieto announced an overhaul of the nation's law enforcement agencies on the same day authorities found 11 headless bodies in the southern state of Guerrero.
An official with the Mexican government with knowledge of security cooperation between the two countries said the Merida Initiative has provided crucial training to its police officers, judges and prosecutors, as well as some weapons.
Still, the amount of money the United States has allocated through the initiative is small compared to what Mexico spends annually. Last year Mexico allotted $13 billion dollars to security, said the official, who was not authorized to speak publicly on the matter.
"It's not relevant at all in terms of money, but it's relevant in terms of the services that it provides," the official said. "It has strengthened Mexico's institutional capabilities."
Organizers are planning demonstrations in front of the federal buildings in Los Angeles and Houston, while in Madison, Wisconsin, demonstrators plan to gather in front of the state capitol. Organizers expect more than cities to participate.
Odette Chavez-Mayo, a freshman at Antioch College who is organizing a vigil in Yellow Springs, Ohio, agreed. The dollar amount doesn't matter, she said, what matters is what Mexican authorities are doing with the training they receive.
"It's oppressive," Chavez-Mayo said.
The 18-year-old Mexican native, represents the grassroots nature of Wednesday's events, having reached out to the #USTired2 campaign about holding a vigil in Ohio, despite never organizing anything before.
Chavez-Mayo said she was driven by anger and frustration she felt when she read about the missing students and the government's response.
"This is blowing up and people are going to see this on their feeds whether they want to or not," Chavez-Mayo said. "Social media has played a huge role in getting the message out and organizing people."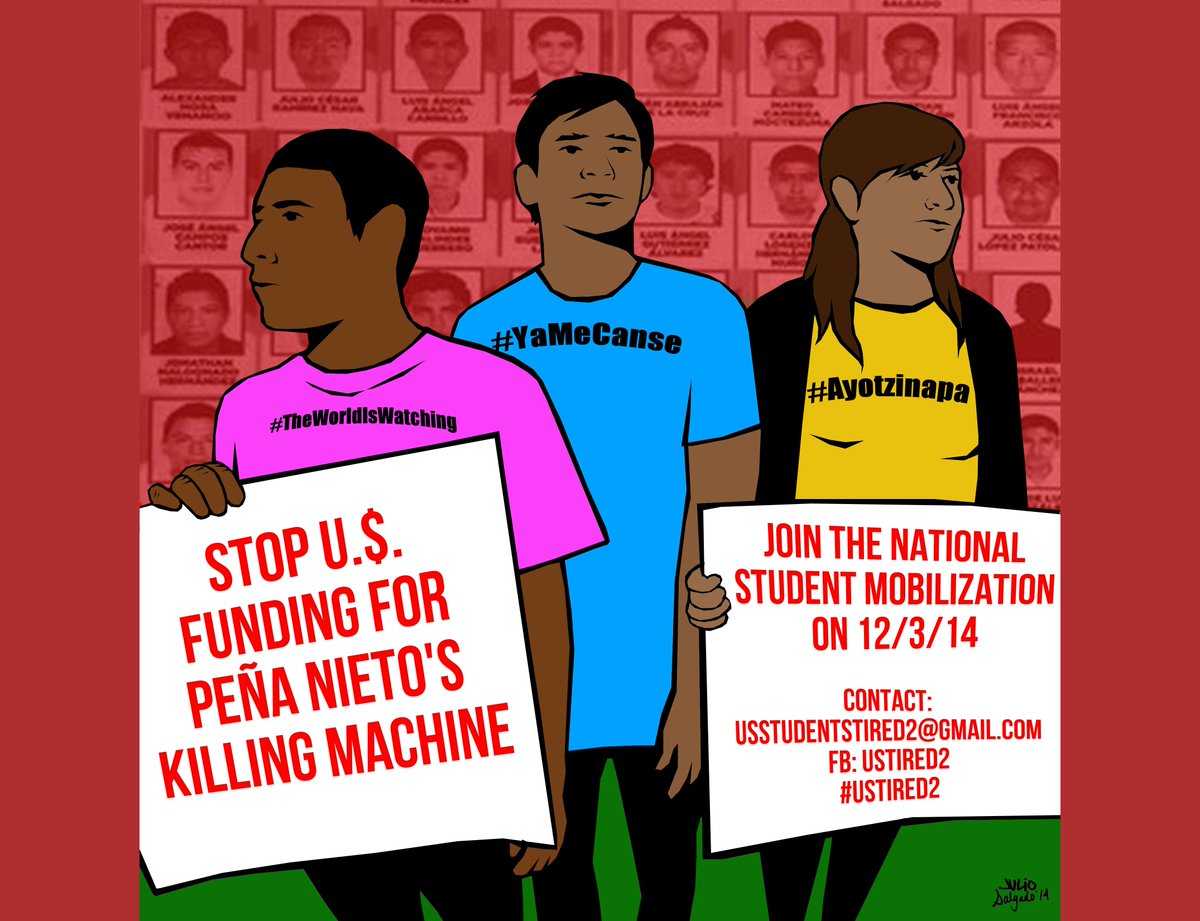 Julio Salgado, art director for Dreamers Adrift, created a poster for Wednesday's campaign. He was approved for the president's 2012 Deferred Action for Childhood Arrivals (DACA) program, which gives legal status to undocumented youth, but didn't receive it yet so he can't go to Mexico to protest..
"I wanted to show my solidarity with my fellow Mexicans through my art," Salgado said. "I have family in Mexico, it scares me, and I don't want to be scared to go back to my country."
For those who can't travel abroad, it's important to do whatever it takes to hold the U.S. government accountable for helping the current Mexican government, he added.
"People are dying in my country and the U.S. government plays a role in that," Salgado said.